Across the College of Health Professions and Sciences, students participate in internship experiences to enhance their learning and best prepare them for their future careers — all of which involve working with people and providing care. So when COVID-19 changed how professionals interact with their patient population, program leaders had to modify how students could safely engage in these critical learning experiences.
To best prepare students for their internship, the college offered training on COVID-19 transmission, exposure protocols, and procedures for students to follow when going out on internship. Internship coordinators for the college worked closely with internship sites to ensure procedures were in place to uphold the health and safety of students and all people they would be encountering.
While some programs require internship experiences, others have it as an option for students to take.
"Internships, field work and capstone experiences provide practical applications of theories learned in the classroom and directly translate the concepts into real-life applications," said Suha Saleh, assistant dean for undergraduate affairs. "These experiences often validate a student's career choice and provide them with the skills they need to be successful upon graduation."
Since March, each program in the College of Health Professions and Sciences has modified procedures and requirements to keep students on track for graduation and best prepare them for the current atmosphere in which they will be working.
"Even long after COVID is gone, students will need these skills in adaptability, integration of technology and the ability to follow pandemic protocols and procedures as they enter their careers," said Bari Hoffman, associate dean of clinical affairs for the College of Health Professions and Sciences.
Preparing for Internships: Receiving the COVID-19 Vaccine
In early January 2021, UCF started distributing COVID-19 vaccine to eligible populations, including healthcare workers. Students on internship at healthcare sites with direct patient care qualified to receive the vaccine. Many students took advantage of that opportunity.
Kimberly Singh, a third-year student in the physical therapy program, was among those who received the vaccine. She said it gave her an additional level of safety and assurance as she continued her clinical internship.
"Throughout my clinical, I have been particularly careful to limit any exposure to the virus, both for my own health and for the health of the patients I interact with," she said. "Being vaccinated gives me more protection and confidence to continue safely working with patients."
School of Social Work
Currently, there are 140 social work undergraduate students placed in internships, both in person and virtually. Another 160 will be placed in internships for the fall 2021 semester. This includes sites such as healthcare agencies, hospice and nursing homes.
Perseus Le, a student pursuing a master's degree in social work, said he had to change internships when COVID-19 started to rise and everything transitioned to virtual. He was able to participate in a virtual internship with the Academic Center for Excellence in Parramore.
This semester, Le was able to go in-person to the school to finish his internship. Le said he prefers working with students in-person versus online and is happy he got the chance to do so.
"It's a lot better when you are in-person because you get to meet the students, you get to work with them one-on-one and now groups are going to be much easier," he said.
School of Kinesiology and Physical Therapy
Division of Kinesiology
In the Division of Kinesiology, students have the option to participate in internships, also known as practicums in the program.  The experience allows students to engage with sites that prepare them for their future career goals.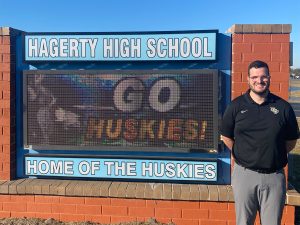 When the pandemic struck, Ben Dilecce, a fourth-year student in the Division of Kinesiology, was concerned that sites would withdraw internship opportunities.
"Everyone is very tight on regulations and keeping places safe, especially when it comes to allowing people who aren't with their company in because that's a risk factor," he said. "They have to trust that I am doing everything I can be to be safe between visits."
Dilecce said the COVID-19 course provided by his program helped prepare him to work at his practicum site at Hagerty High School in Oviedo working with the student athletes there.
This experience has shifted Dilecce's perspective on the future of healthcare services and his future career ambitions as an athletic trainer.
"It's a lot of behind-the-scenes work to protect students' health to make sure that they are safe. COVID has taught me a lot in the practicum realm. There are some things that I am learning about that I don't think I would have learned if there was no COVID-19," Dilecce said.
Division of Physical Therapy
Faculty in the Doctor of Physical Therapy program made several adjustments to ensure that students were adequately prepared for their required internships and to keep students on schedule for graduation.
After a summer of virtual learning, second-year students came to campus to complete a clinical skills boot camp in small groups led by faculty. The students had to show proficiency in their clinical skills before continuing on to their first clinical experience in the fall.
Third-year students who were scheduled to start their clinical experiences in May 2020, were postponed until the end of June, shortening their 12-week experience to 9-weeks, but still meeting accreditation requirements.  During the three weeks they weren't in the clinic, the students participated in several case studies via Zoom lead by licensed physical therapists across the country.
Laurie Neely is the Director of Clinical Education for the program and was able to quickly reassign students to clinical sites when some sites put clinical education on hold, making things as smooth and easy as possible for the students.
"Despite having one clinical experience shortened by three weeks, the class of 2020 is anticipated to meet the requirements set forth by the university and our accrediting body to graduate on time in May as planned," Neely said.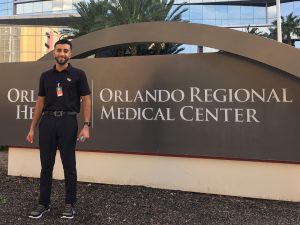 Uzair Hammad, a third-year DPT student, spent the fall semester in the acute care setting at an AdventHealth hospital, but he was nervous about the uncertainty that surround so many clinical sites.
"When the pandemic hit, a lot of us lost our clinical sites that we were scheduled to go to," he said. "I don't know how she did it, but Neely made sure that anyone impacted was placed in a replacement site before we were even scheduled to start. It was a scary moment for us, but she came through for us."
When the pandemic first hit, Hammad says he was "paralyzed" with worry, but the program offered support, not just academically, but with his mental health as well.
"It made me feel less alone. As a student, one of our main concerns was not only the safety of our health, but also graduating on time and accomplishing the goals that we had set out to achieve. The professors, by joining forces with us, made me feel more comfortable knowing that the leaders in the field understood my perspective and were doing everything to ensure my success," Hammad said.
Athletic Training Program
Students in the Master of Athletic Training program rely heavily on local high schools for their internships where they provide medical care for athletes at games and competitions, as well as during their training.
But a number of schools reduced the number of people coming on campus to help limit the spread of COVID-19.  While this limited the amount of sites for students to complete their required practicum courses, program leaders were able to assign students to alternative sites, many within UCF's own athletic program.
"We are very grateful for the sites that remained open as this allowed us to place every student in a high-quality site with a great preceptor," said Kristen Schellhase, director of the UCF athletic training program.
Ai La, who is in her final semester in the athletic training program, interned with the UCF football team during fall 2020 and described her experience as "fast-paced with a lot of changes."
Daily symptom check-ins, weekly COVID-19 testing, and limited outside contact from "the bubble" were some of the protocols that were taken to ensure staff and athletes were safe during the pandemic. La viewed this experience as an opportunity for further growth and development in her field.
"Within athletic training, it's all about adaptability, because anything can change at any second and we have to learn how to do something on the fly," she said. "With COVID and all these protocols and everything, things change all the time, so I have to learn how to pivot quickly in a moment. After six months of doing this, I have learned how to be a better overall athletic trainer."
Department of Health Sciences
For undergraduate students majoring in health sciences, internships play an important role in helping them decide their future career path and are often required when applying to graduate/professional school programs in medicine, dentistry, pharmacy, and  many other healthcare professions.
When the pandemic started, many sites discontinued taking health sciences interns out of an abundance of caution and to afford the sites more time to develop their protocols around interns' involvement.
"Several opportunities were unavailable due to COVID-19, but many of our community partners were eager to have our students back as the interns play a vital role in their programs," said Erin Rolle, internship coordinator for the Department of Health Sciences.
There have also been positive benefits to finding new ways to conduct internships and prepare students for them, Rolle said.
"Several internships are now  virtual, which in some ways is opening doors for more collaboration via Zoom between interns at other universities and in other cities," she said. "Mentorship has become more intentional as virtual sessions are being scheduled."
Sydney Horn, a fourth-year health sciences student, said she wanted to take an internship to have clinical experience on her resume before applying to graduate school.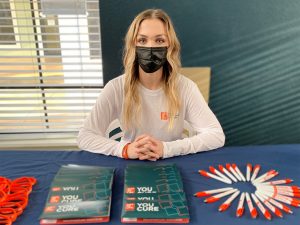 "I was actually looking for an internship or shadowing opportunities last spring," Horn said. "I was starting to get some interest through LinkedIn, but then the pandemic struck, and all of those opportunities went away."
Horn said the experience was stressful at first, when her internship opportunities were withdrawn. She felt she was losing an important experience and the competitive edge an internship would give her. But program leaders were able to find a new internship experience for her to complete virtually, and Horn said it proved to be more beneficial than she had envisioned.
She interned at GIFT of Life Marrow Registry, where she serves as a campus ambassador educating other students about the life-giving gift of bone marrow donation.
"I have a mentor that I can talk to any time. I feel well supported by my internship and faculty throughout this time," Horn said.
School of Communication Sciences and Disorders
Graduate students in the School of Communication Sciences and Disorders are required to take two internships; one part-time internship (20 hours/week) during their fifth semester at the UCF Communication Sciences and Disorders clinic, and one (40 hours/week) during their final semester at an agency in the community.
Many internship sites continued their involvement of UCF CSD interns by incorporating telehealth into their internship experience. In-person therapy still continued, and this spring semester 62 CSD graduate students had in-person internship opportunities. Many of these internships took place in schools, pediatric private practices, hospitals and outpatient clinics.
Daniella Lopez, a second-year student in the master's program, interned at the UCF Listening Center during the fall.
She said being able to continue internships was crucial for herself and other future speech-language pathologists to prepare for real-life experiences.
"It is important that the new wave of SLPs joining the educational, medical, and clinical arenas of our broad scope of practice have the clinical opportunity to learn from and be mentored by those practicing in the field so that we may continue to provide services that truly help people communicate, speak, eat, think and live better," she said.
Lopez credits both the School of Communication Sciences and Disorders and the University of Central Florida for helping her prepare to enter her internships safely.
"They have led by example by continuing to aim for high-quality learning in classes, and high standards of professionalism in clinic," she said. "My time in the program during the pandemic has made me a better researcher, clinician and professional who can work to adapt to the unexpected."
When UCF announced that the first round of COVID-19 vaccinations would be prioritized for faculty, staff and students over the age of 65 and for healthcare workers, Lopez was among the first to receive her first dose. She has received both doses of the vaccine at UCF.
"I truly appreciate the opportunity to receive the vaccine conveniently at UCF because it gives me a little more peace of mind that I am truly doing my part to further protect and advocate for our clients' health and wellness," Lopez said.
The rapidly changing landscape of COVID-19 has required adaptability and commitment, from students, program leaders and community partners, to make these learning experiences possible. Christopher Ingersoll, founding dean of the College of Health Professions and Sciences, says he is proud of the work faculty and staff have done to ensure students stay engaged in these important learning opportunities.
"It was not easy," said Ingersoll. "But we are committed to ensuring our graduates are workforce ready, and that means having the knowledge and skills to provide care during a global health crisis. Skills and lessons are reinforced during internship experiences and our students have proven they are ready to step into their roles as professionals and help our community."