Rehabilitation Innovation Center
College of Health Professions and Sciences
Where Collaboration Leads To Healthcare Solutions
The CHPS Rehabilitation Innovation Center is where we cultivate ideas that best leverage healthcare technology, education, care delivery, and wellness and prevention strategies to transform healthcare. This first-of-its-kind facility is located in Research Park, near many of the CHPS Rehabilitation and Wellness Services clinics.
The Center is run by College of Health Professions and Sciences faculty and staff, and supports the college's mission to transform healthcare and improve lives. We achieve this through convergent research and practices that pioneer the human-technology frontier with integrated care delivery.
The Center serves as a convening hub for UCF faculty, staff, students and partners who utilize interprofessional collaboration and next generation technology to revolutionize student education and the future of clinical practice.
We bring together cross-functional teams for research to create actionable intelligence that can be applied to the way students learn, discover, transition to practice, and deliver contemporary care to patients who are treated in facilities and in their homes. The center also serves as a beacon for experts throughout the country, and a one-stop-shop for rehabilitative solutions.
The Center integrates the research, teaching and clinical service missions of the College of Health Professions and Sciences. The Center has a variety of "residents" which include research labs, collaborative creative spaces, unique community programs and innovative learning environments. By working together, we incubate ideas, discover new pathways that result in improved health outcomes, and discover new ways of using technology to accomplish educational, research, and service-delivery goals.
Global Technologies Lab 
The largest room in the Center, this space is home to  Dr. Hologram, which produces a lifelike person in hologram form to train future healthcare professionals. The technology offers both live and pre-recorded experiences.  In addition to "beaming" in speakers, the Lab hosts a variety of health and wellness classes and community-facing programs.
Blended Learning Interactive Simulation Suite (BLISS)
This immersive, mixed reality room is used for both student learning and patient care. The suite has 270-degree, floor-to-ceiling touchscreen walls that display curated video and audio, providing an immersive view of any event, location or experience — either real or created. The technology allows students to respond to treatment scenarios or practice skills in a more realistic environment. It's also used to provide therapy to patients at some of UCF's community clinics.
Smart Apartment
This mock apartment is specially equipped with some of the latest technology to enable patients with physical restrictions to independently access lighting, televisions, communication devices, medical supplies and personal items. It's also equipped with a voice activated Hoyer lift that enables a patient to be moved from the bed to other locations in the room. The space is used to train clinicians, patients and caregivers how to adapt a home for safety and better navigation.
Maker Space
Equipped with 3-D printers and simple electric and mechanical engineering equipment and tools, this space is used to adjust toys and household items for patients with rehabilitative needs, creating solutions that help those with disabilities improve their quality of life and better function in the world.
Simulation Rooms
These mock hospital rooms are designed and function like an acute care hospital room with simulation technology to address complex airway and mobility conditions.  They help train interdisciplinary healthcare teams in new procedures and protocols, facilitate practice of advanced techniques and provide learners with valuable interprofessional experience for delivering and communicating care to patients and teams.
NICU (Coming Soon)
This room will hold a variety of premature manikins, along with the tubing and technology typically found in a NICU setting, to help provide students with the confidence and full-suite of technical skills needed to care for fragile infants.
Observation A/B
Two dedicated rooms for observation of all Innovation Center labs are available via private network audio and video technology for research, teaching and training purposes.
Emerging Technology Lab
This lab is a flexible space for teams to incubate new ideas, develop new technologies or explore new ways of using existing technology.
Collaboration Lab
This conference room can seat approximately 10 people. This space is equipped with a large monitor for collaboration via technology sharing platforms.
Film Studio
The studio is used to record volunteer patients' lived experiences and/or standardized patients' assessments for the holoportation technology and is available to be used to produce video or podcasts for teaching and research productions.
CHPS Labs
The College of Health Professions and Sciences offers a broad range of research labs in the areas of kinesiology, physical therapy, athletic training, speech-language pathology, and social work. Our researchers use the Innovation Center as a hub for collaboration.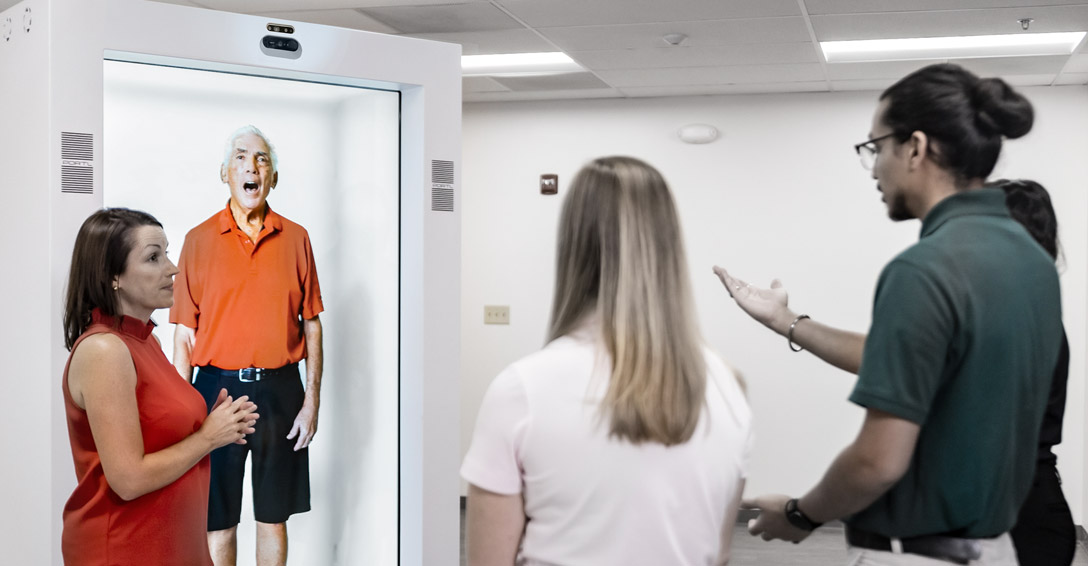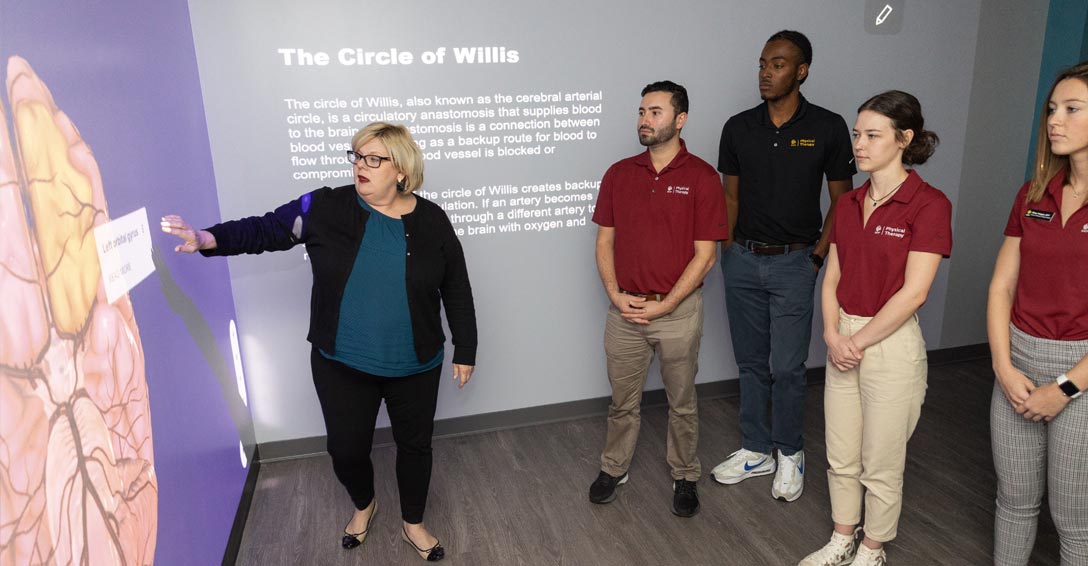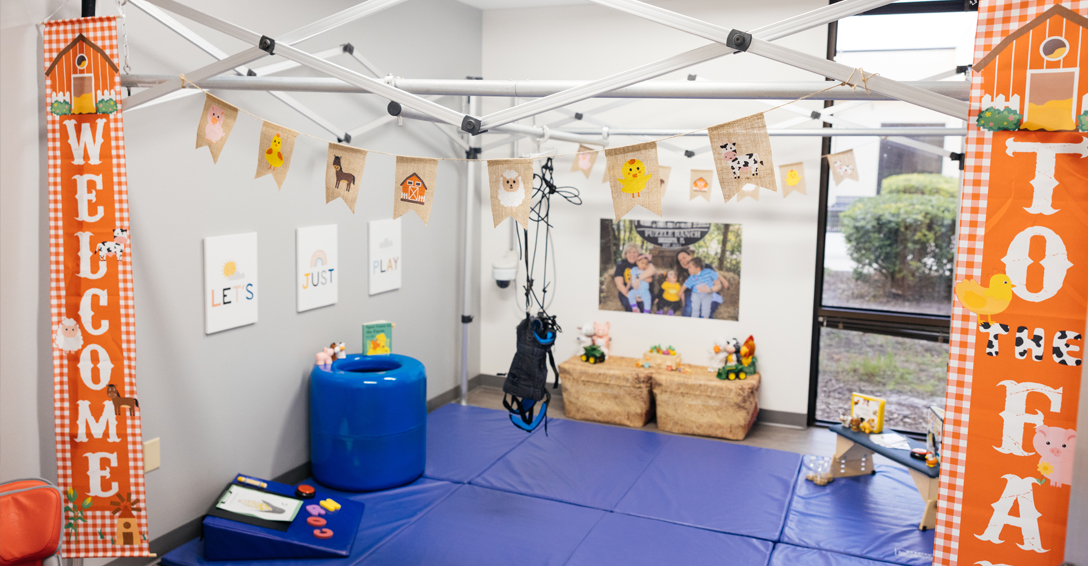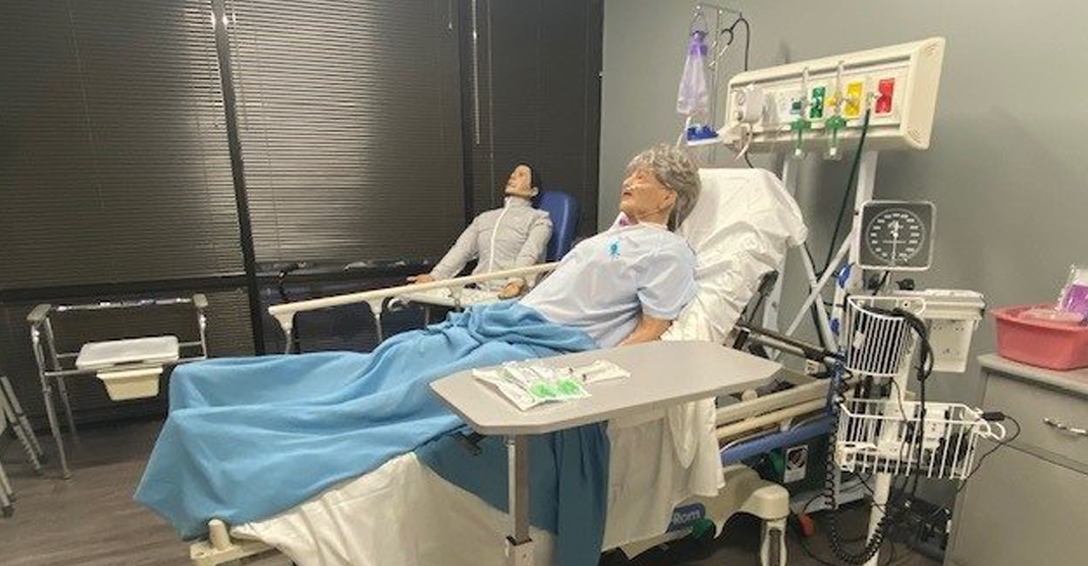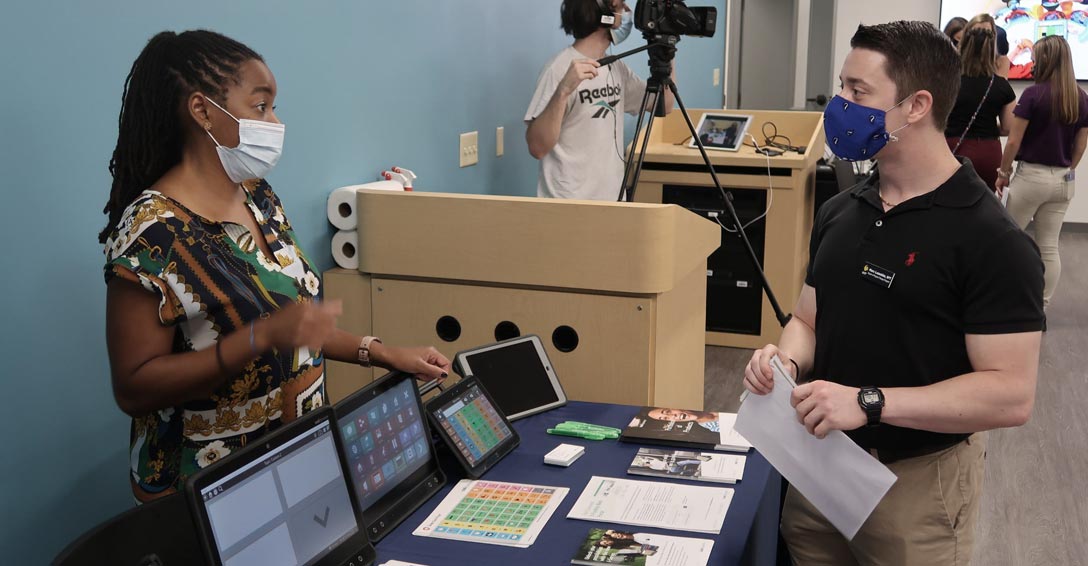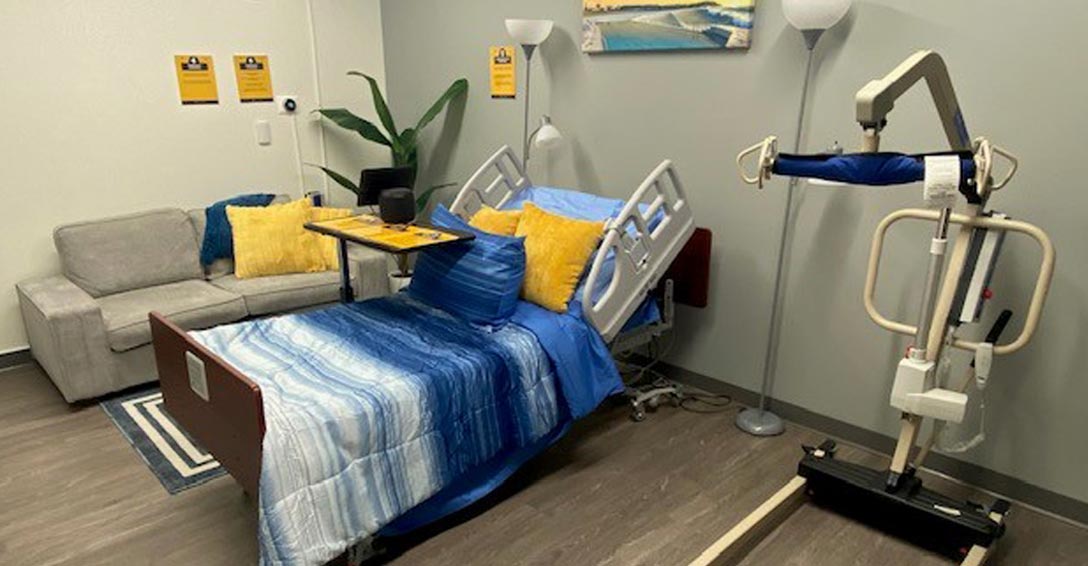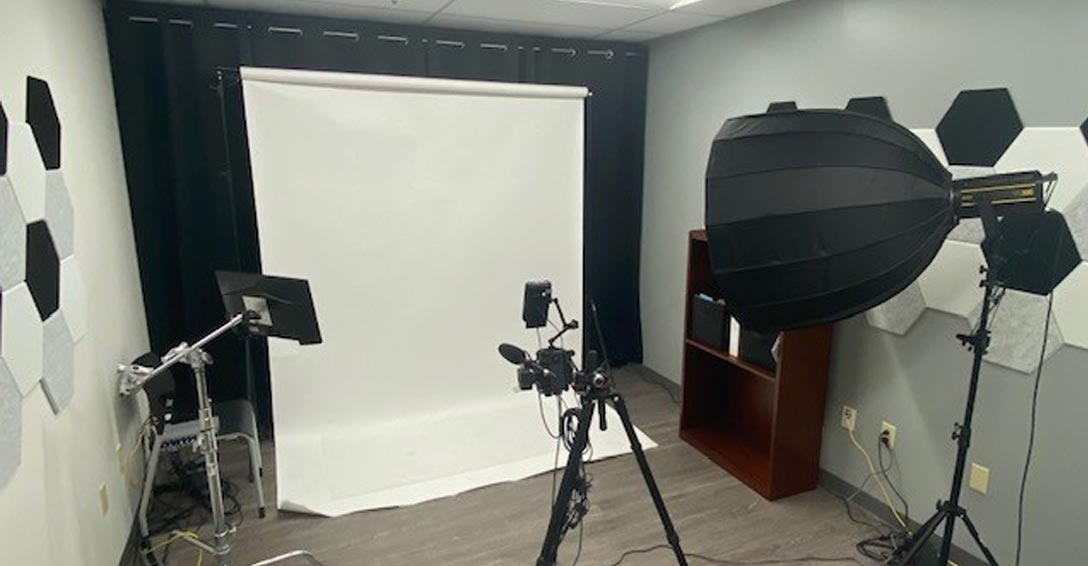 We Want to Partner with You
Our goal is to revolutionize evidence-based service delivery in allied healthcare and allied health education. We can achieve that through collaboration with other healthcare and health industry partners, digital health industry partners and programs including, engineering, computer science, modeling/simulation, performing and visual arts experts and others
We invite you to join us in creating solutions for complex healthcare problems. Please reach out with your ideas.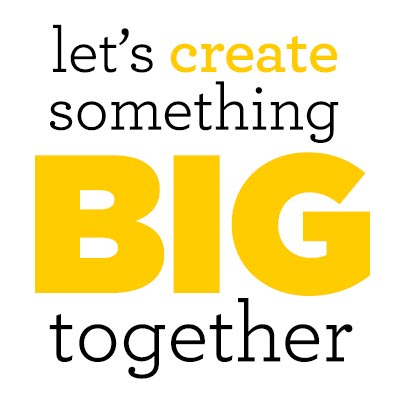 Technology That Transforms
Part of our mission at the Rehabilitation Innovation Center is to uncover new technology that creates new pathways for learning. The pandemic highlighted the urgency to provide novel approaches to healthcare education as the scope and complexities of patient care can evolve rapidly.
An example of one of the first technologies to be implemented in the Center is the PROTO's "Dr. Hologram" in 2021, made possible by a gift from Brooks Rehabilitation. The college is leveraging its expertise in  the allied health professions by harnessing the power of shared immersive experiences and holoportation technology to train future healthcare providers, staff, caregivers, and the community.
This type of technology is only the beginning of technology to be leveraged, developed, implemented, and branded within the CHPS Innovation Center by faculty, students, and industry/community partners. We invite you to contact us to explore more opportunities.

Our Mission:
To advance rehabilitation services through access to novel education and interdisciplinary practice, groundbreaking technologies, and clinical trials.
Our Vision:
To be a destination for translational health research via technology innovation and interprofessional collaboration.
Our Goals:
Revolutionize rehabilitative clinical practice

Transform the educational model of the next generation clinician
Increase research in new and emerging areas of clinical practice, treatment technology, and training models
Contact us to explore partnerships, device development, healthcare trainings, continuing education and more!
3280 Progress Drive, Suite 700
Orlando, FL 32826