UCF Communication Disorders Clinic
The FAAST Center is open by appointment only. Support is also offered through teletherapy appointments. Please email [email protected] or call 407-823-4876
The Florida Alliance for Assistive Services and Technology (FAAST) has six Regional Demonstration Centers which provide services to increase awareness, access and acquisition of assistive technology for all Floridians. Assistive Technology (AT) can be defined as "any item, piece of equipment, or product system, whether acquired commercially off the shelf, modified, or customized, that is used to increase, maintain, or improve functional capabilities of a child with a disability" (Public Law 101-476). There is a wide range of AT device categories, such as: activities of daily living, adaptive toys and games, communication, computer access, environmental access, mobility, and seating and positioning.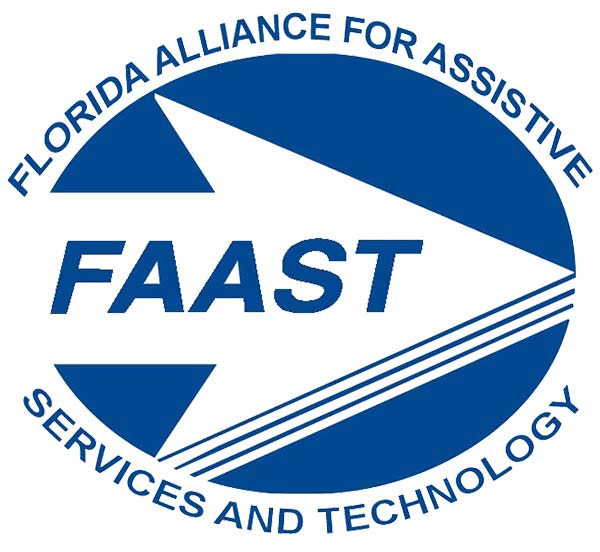 Information and Assistance
We respond to requests for information and/or put individuals in contact with other agencies, organizations or companies that can provide them with needed information on AT products, devices, services, funding sources or other related disability supports.
Assistive Technology Equipment Loans
We have a device loan program where assistive technology devices may be borrowed for a short period of time to
assist with decision making in selecting and acquiring appropriate AT options
serve as a loaner while waiting for a repair or funding
provide an accommodation on a short-term basis for a time limited event
support training, self-education and/or other types of professional activities
We offer device demonstrations to allow individuals to compare the benefits and features across devices or groups of devices in order to make informed choices about AT options.
Our training activities are instructional events tailored to specified purposes and audiences. Examples of trainings include classes, workshops and presentations with goals of increasing participant skills, knowledge and competency.
3280 Progress Drive, Suite 250
Orlando, FL 32826-2215
Email: [email protected]
Phone: 407-882-0468
Fax: 407-882-0483
Walk-in Hours
Monday to Friday from 9 a.m. – 5 p.m.
Supports are provided for individuals with disabilities, their family members and their service-providers/other caregivers living in the following counties: Brevard, Orange, Seminole and Volusia counties.
Augmentative and Alternative Communication Assessments
The FAAST Center has a close partnership with the UCF Communication Disorders Clinic. As such, we are able to partner with the clinic in offering referrals and in facilitating assessments for augmentative and alternative communication (AAC) assessments. The UCF Communication Disorders Clinic accepts a range of insurances and can assist with obtaining funding to secure an AAC device.
AAC includes all forms of communication (other than speech) that are used to help individuals
express needs and wants
exchange information
develop social closeness
maintain social etiquette
People with significant speech or language problems rely on AAC as a form of AT to supplement speech or to replace existing speech that is not functional. AAC is most often used in combination with speech to maximize functional communication.
The following application forms should be completed for individuals seeking AAC services; contact information and submission details are included in the following forms:
Augmentative and Alternative Communication Research
Jennifer Kent-Walsh, Ph.D., FAAST Center director and professor of communication sciences and disorders, is the principal investigator for several externally funded research projects. Local children are eligible to enroll in these investigations, including two current investigations funded by the National Institutes of Health; Kent-Walsh and her faculty colleagues Nancy Harrington and Carolyn Buchanan currently are seeking to identify 3- and 4-year-old children to participate in these ongoing investigations. Please click on the following link to see additional information and contact information. Compensation is provided for all participants.  NOTE: In-Person Participant Sessions are currently paused due to COVID-19, but screenings for future participation in these research studies are currently being scheduled remotely.