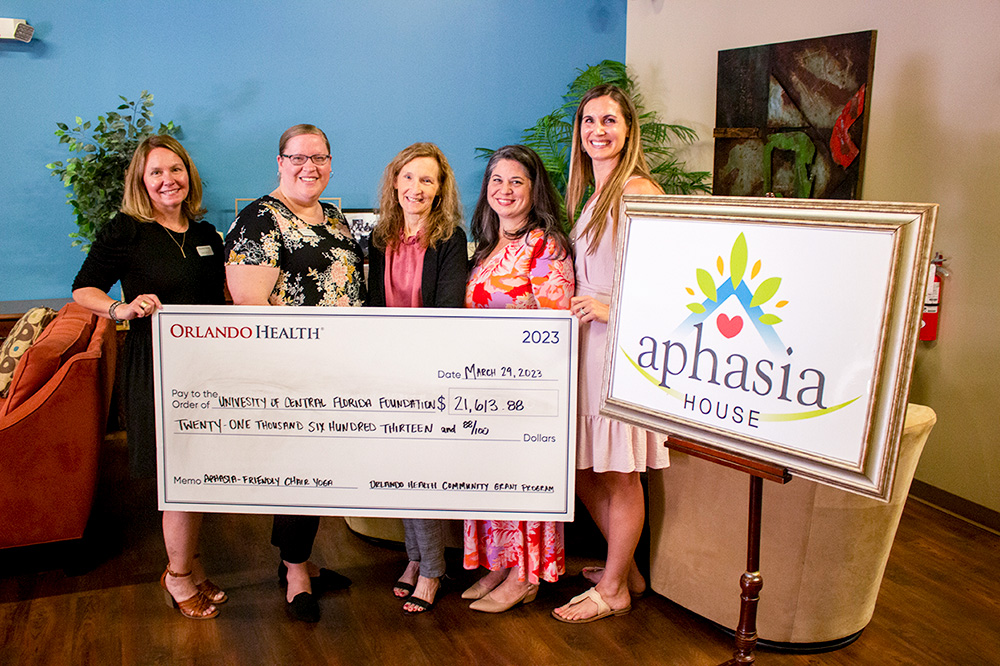 The Aphasia House at the University of Central Florida was awarded a grant through the Orlando Health Community Grant program for more than $21,000 to aid people that have acquired brain injury (ABI) and their care partners through a specially adapted chair yoga program that incorporates aphasia-friendly language and physical modifications, making it accessible for those with communication and physical impairments.
The chair yoga therapy program is unique in that it focuses on making yoga accessible to people with aphasia, a language processing impairment caused by stroke and other types of acquired brain injury. It will be provided at the Aphasia House one day a week starting this summer, and will be offered to Orlando Health patients, as well as those at the Aphasia House, the Aphasia and Related Conditions Research Lab in the School of Communication Sciences and Disorders, and Aphasia Family, a UCF-based aphasia support group.
This group based yoga therapy combines breathwork, mindfulness, meditation, movement and community, and such practices have demonstrated the potential to increase resiliency and coping, reduce physiological and psychological consequences of ABI and improve quality of life.
According to the Centers for Disease Control and Prevention, ABI is a leading cause of disability in the United States with approximately 11 million survivors living with permanent disabilities that are often caused by traumatic brain injury or stroke. In particular, reduced quality of life is frequently reported and occurs at a higher rate in people with aphasia than in peers with ABI without aphasia.
Lauren Bislick, interim director of the Aphasia House and an assistant professor of communication sciences and disorders, says that of the yoga programs commercially available, only a few are adapted for those with physical impairments, and none were tailored to meet the specific communication needs of ABI survivors with aphasia. Bislick teamed up with Karen Cornelius, a yoga therapist with 14 years of experience working with patients with chronic conditions. The pair, with support from other members of "Team Yoga" – a stakeholder engagement research team, developed an adapted aphasia-friendly chair yoga program and began piloting it in Fall of 2021, even testing a remote delivery of the program in which participants successfully completed sessions through Zoom.
"We worked with various specialists to create a well-rounded approach to provide the best care for patients and developed resources that would incorporate language and physical support," says Bislick. "After working with Karen, who is an expert on yoga therapy, on how aphasia impacts language expression and comprehension (e.g., slow speaking rate, simplified language, pictorial supports), we combined what Dr. Jennifer Tucker [UCF Physical Therapy clinical associate professor] addressed on mobility concerns and safety for this population. The project highlights that yoga therapy uses the principles and practice of yoga to empower one's health and wellbeing."
The award from Orlando Health will provide for a yearlong delivery of the aphasia-friendly chair yoga program, with the overarching goal to create a sustainable and accessible program, where clients will have the option of attending in person at the Aphasia House, or remotely from Orlando Health or their own homes. Patients unable to drive will be provided with transportation assistance. UCF students in speech-language pathology and physical therapy programs will attend the sessions to assist patients and their caregivers with the therapy.
Additionally, a new online, on-demand video database will be developed to enable enrolled participants to practice yoga outside of scheduled sessions at their convenience. Plans are in place to use the technologies at the Rehabilitation Innovation Center, such as the hologram machine and immersive space to further enhance the program and accessibility.
The grant also includes funding for the delivery of workshops to local speech-language pathologists, occupational therapists and physical therapists to share information about how key components of the yoga program could be incorporated in an aphasia-friendly format into their practices.
"We're grateful to Orlando Health for their partnership and look forward to working with them to offer this novel program to our aphasia community and ABI survivors, as well as their co-survivors," says Bislick. "We have a shared goal, and that's helping our patients thrive physically, emotionally and mentally."