UCF Communication Disorders Clinic
Being diagnosed with aphasia is a life-changing event.
The loss of your ability to communicate can affect every aspect of your life. Speech therapy can help improve your ability to share your needs and connect with loved ones.
At UCF's Aphasia House, we offer an intensive, comprehensive therapy program that helps those with aphasia make progress on their long-held goals, like talking with their grandchildren or ordering their favorite restaurant meal, no matter if they have had aphasia for years, or have been newly diagnosed. Each session is provided by a team of graduate student clinicians who are directly supervised by licensed UCF clinical aphasia educators, and the therapy is tailored to help you achieve your personal goals and reach your rehabilitation potential.
We utilize the latest clinical research to create a personalized course of therapy for everyone we serve. And, because research has shown us that people with aphasia have higher rates of recovery when they receive therapy in a homelike setting, we have special therapy rooms designed to remind them of their favorite things: we have a garden room, a music room, a working kitchen, and a garage, just to name a few.
We invite you to join our UCF family. We are here to help. Please reach out so we can discuss your specific needs and goals.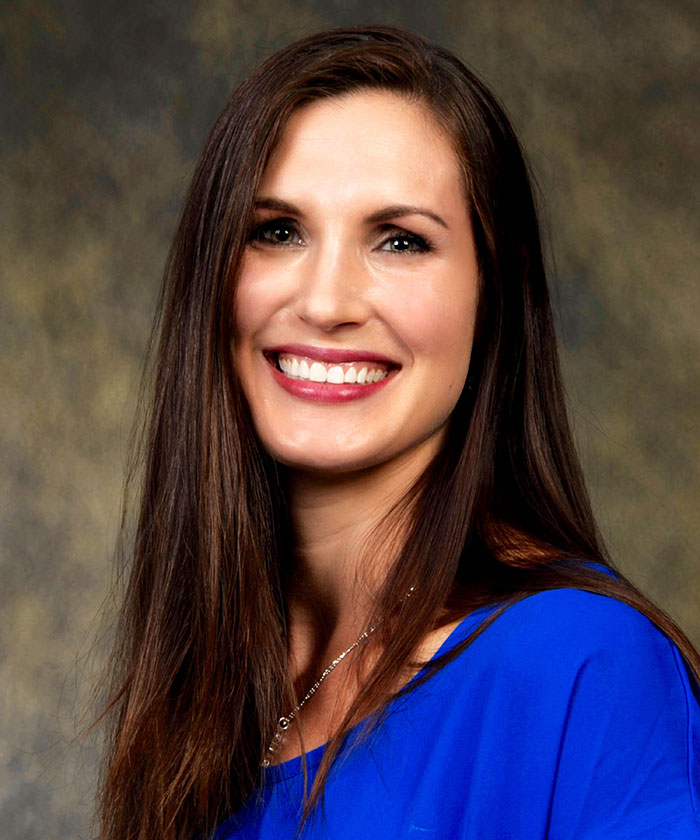 Assistant Professor, Director of Aphasia House
Communication Sciences and Disorders
Location:
HS II
Room: 0101G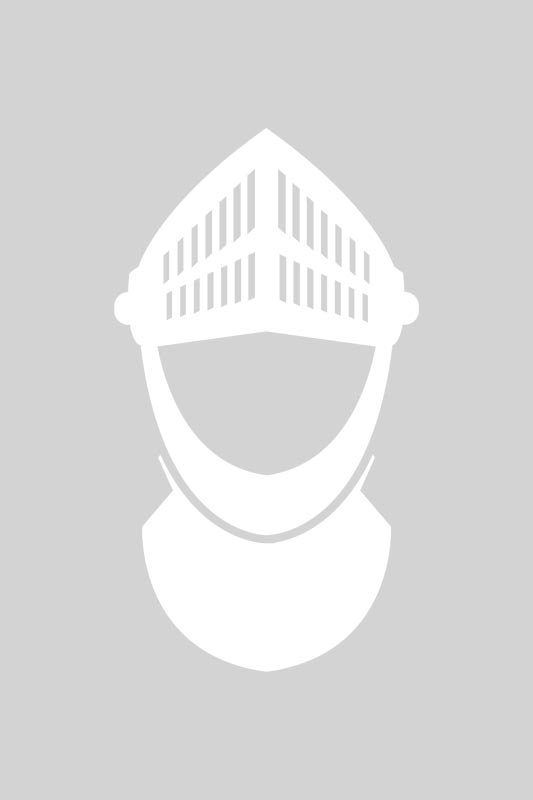 Clinical Instructor
Communication Sciences and Disorders
Get a FREE Consultation
Sign up to discuss your individual needs and find out how the UCF Aphasia House can help you and your family!
Individual therapy, typically Monday through Thursday, 9:00am -1:00pm, for six weeks
Opportunities to receive physical therapy services are available
Option to participate in Aphasia Family and Yoga Club, offered on Friday
Observation room for family and friends
Access to state-of-the-art augmentative and alternative communication devices through FAAST
Affiliation with local extended-stay rental accommodations
Five six-week sessions offered annually
Fall 2023
Session 1: August 28th – October 5th
Session 2: October 9th – November 15th
Spring 2024
Session 1: January 16th– February 22nd
Session 2: February 26th – April 11th (with a 1-week break for Spring Break, March 18th – 23rd)
Aphasia House is open to individuals with aphasia who meet the following criteria:
medically stable
able to endure the intensive nature of the program
independent in mobility and self-care or accompanied by a caregiver at all times
Aphasia House has a long-standing relationship with the Scott Coopersmith Stroke Awareness Foundation (SCSAF). The foundation recently awarded funding for two young stroke survivors who needed intensive services but were financially unable to participate in our program without external support. ― Amy Englehoven, Ph.D., Former Aphasia House Director
SCSAF is incredibly thankful for our partnership with the UCF Aphasia House and values the work that both students and faculty and staff do for stroke survivors. It is our mission to provide support for local survivors, and we [were] happy to approve the grant requests for these two applicants! ― Deanna Coopersmith-Marquez, SCSAF President

Aphasia Family is a free community group for people with aphasia. Our mission is to restore learning, increase socialization, and enhance awareness through service. We meet from 12:30-2:30 pm (EST) every Friday at Aphasia House, with asynchronous Zoom options. Thus, members of Aphasia Family can join us in-person or through Zoom. Each week, we engage in activities such as reading, word games, crafts, discussions, and creative activities. Our UCF undergraduate and graduate student volunteers help facilitate these weekly meetings. We also try to go on an outing at least once per semester.
If you're interested, email the UCF Aphasia House, at [email protected].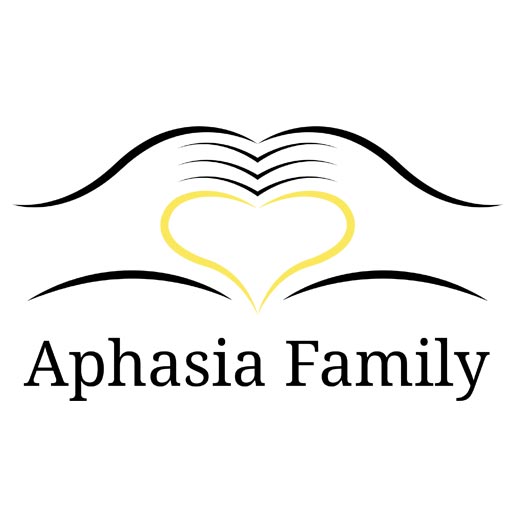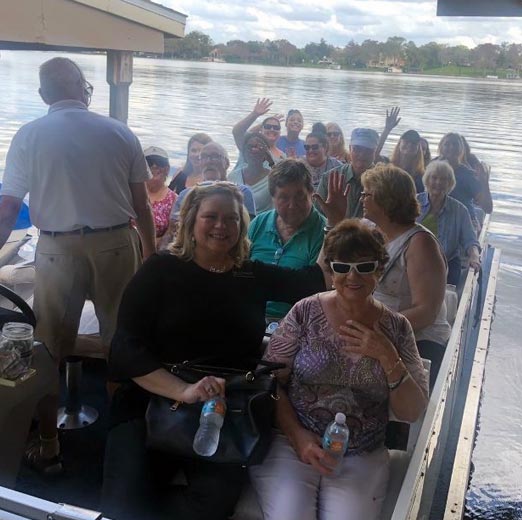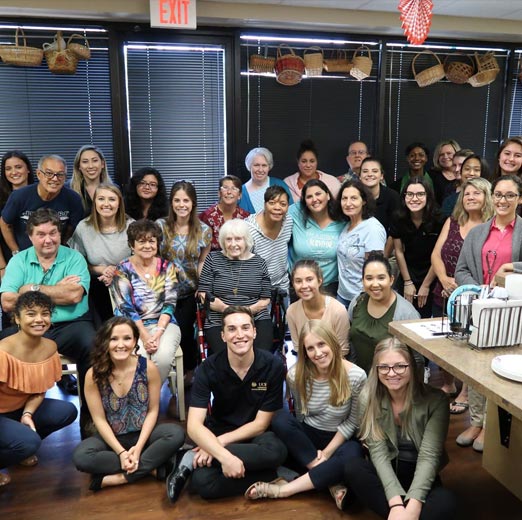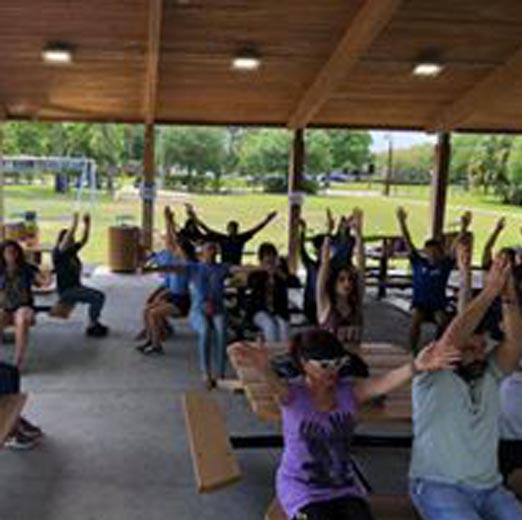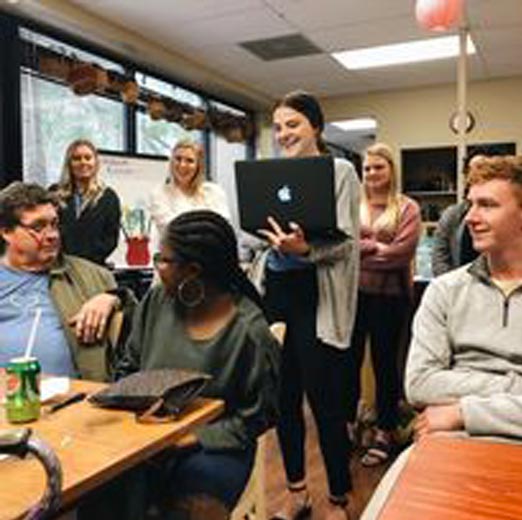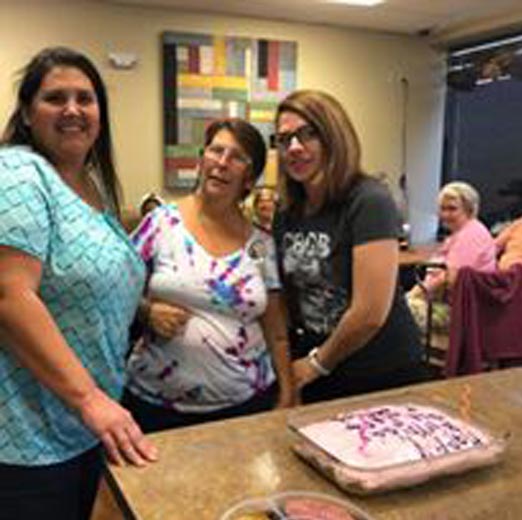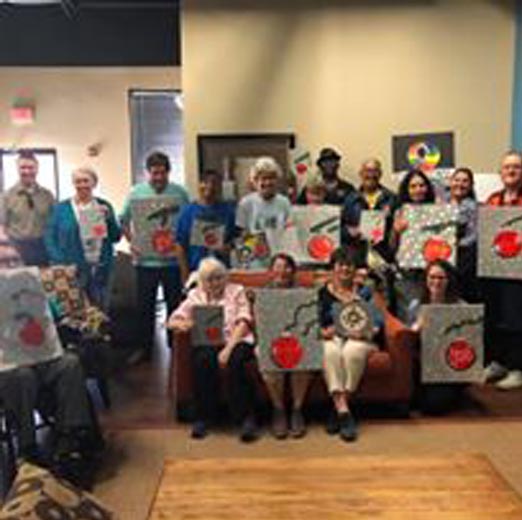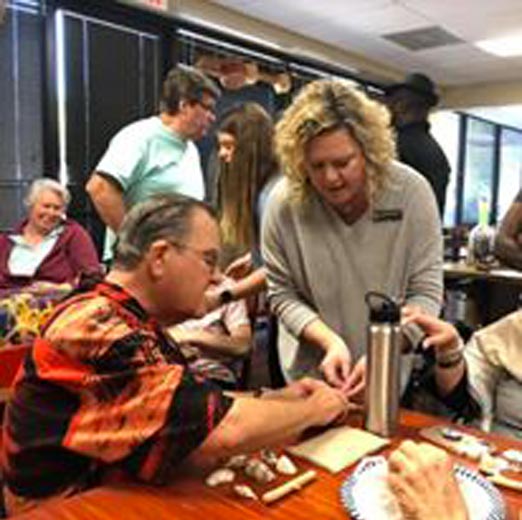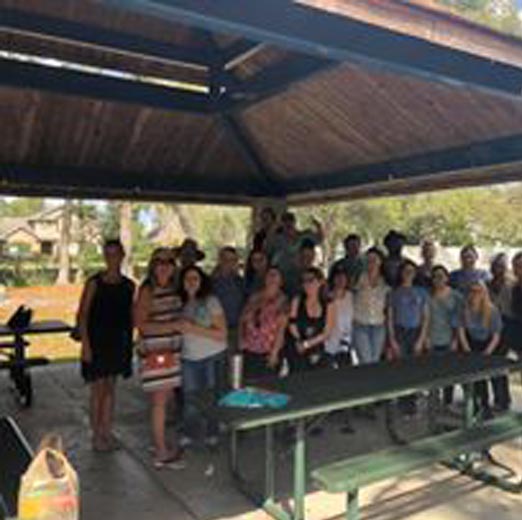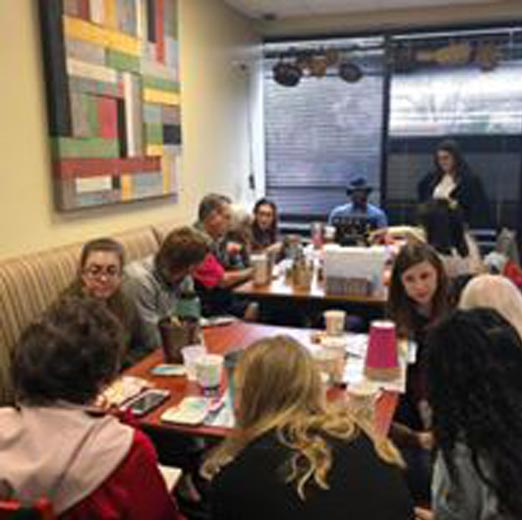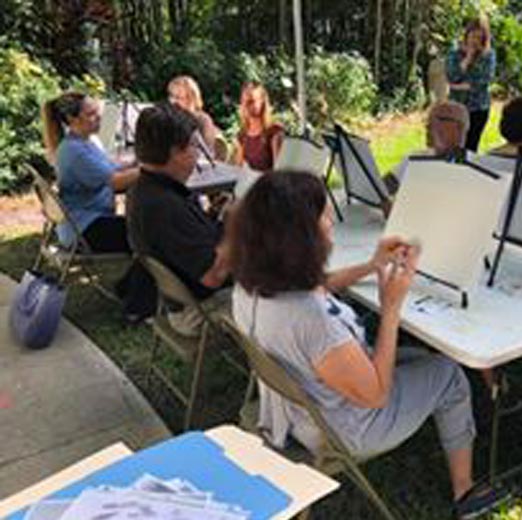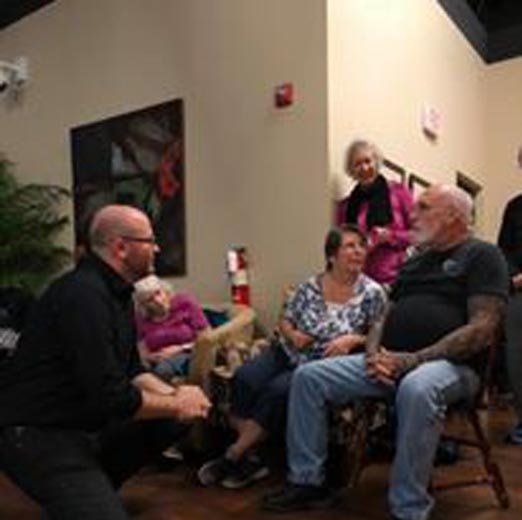 Aphasia and Related Conditions (ARC) Research Lab
The Aphasia and Related Conditions (ARC) Research Lab is directed by Dr. Lauren Bislick Wilson (PhD, CCC-SLP, CBIS). Our goal is to conduct research to better understand the complex processing of speech and language and its breakdown in people with aphasia and apraxia of speech. We strive to develop new and explore effective treatment approaches. Visit our webpage to learn more about the lab and find opportunities for participation in our research.
Janet Whiteside, Ph.D., is the founding director of Aphasia House. Lauren Bislick Wilson (Ph.D., CCC-SLP, CBIS), Assistant Professor and Interim Director of UCF Aphasia House.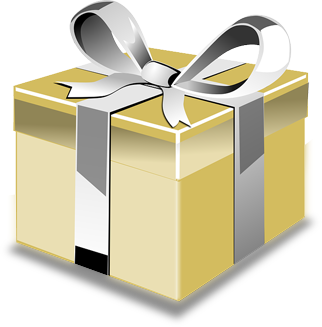 GIVE A GIFT
To help fund the UCF Aphasia House and its intensive outpatient therapy programs for individuals with aphasia.
Aphasia House is a home-like setting created in a suite of rooms (Suite 300) in the Innovative Center, a beautiful, contemporary building located in the Central Florida Research Park, adjacent to the University of Central Florida.
3280 Progress Drive, Suite 300
Orlando, FL 32826-2215
Get a FREE Consultation
Sign up to discuss your individual needs and find out how the UCF Aphasia House can help you and your family!
Building Research Initiatives by Developing Group Effort
BRIDGE brings together people living with aphasia and researchers. Trainings help those living with aphasia understand research and how to talk with researchers. Researchers take the information shared with them and apply it to developing programs and services that best assist those with aphasia and their caregivers.