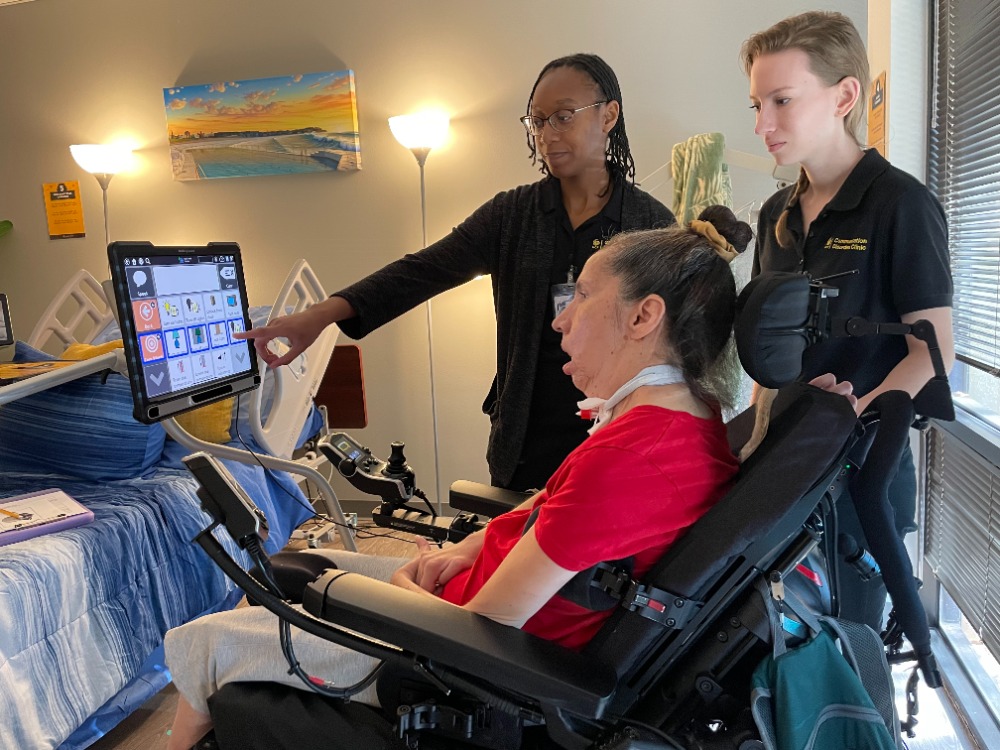 A new "Smart Apartment" equipped with assistive technology is helping individuals with disabilities gain greater independence while preparing students for future roles in rehabilitative care. The room in UCF's Rehabilitation Innovation Center mimics a residential living space and is equipped with a hospital bed, Hoyer lift, television, Nest thermostat, fan, lamp, and window shutters — all of which are bound to smart home technology like Amazon's Echo Dot and Echo Show. The items operate in response to Alexa commands, which the patient can make by either their voice or by tracking their eyes on a specially designed device.
After seeing similar rooms at facilities like the Veteran's Affairs Medical Center, the idea was brought to UCF's College of Health Professions and Sciences by Carolyn Buchanan, an instructor in communication sciences and disorders (CSD). She is also the regional coordinator of the Florida Alliance for Assistive Services and Technology Atlantic Region Demonstration Center, which partners with UCF to make the space available to patients in the community.
The Smart Apartment currently serves as a training center for patients who have disabilities (e.g., quadriplegic, speaking impairments, etc.) to learn how to use the technology before installing it in their own homes. The patients are instructed by CHPS graduate students who work under the guidance of faculty. Students receive valuable hands-on learning experience and clinical service hours that are required for the completion of their degree.
"By using the technology, we're exploring different avenues to help support the patient, who may otherwise rely heavily on caregivers, to achieve independence," says Clinical Instructor Kelly David, who supervises while students train patients on the technology. For example, some patients who have speaking impairments can use a digital accessibility device, like an eye-tracking-enabled iPad, that monitors a user's eye gaze on the screen to make a pre-programmed selection using Alexa.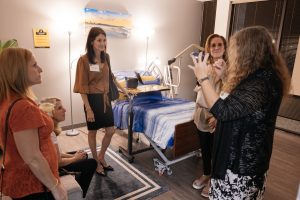 A patient can complete a wide range of tasks including using a Hoyer lift, which can transfer the patient from their bed into a wheelchair without the help of a caregiver. Depending on their motor capability, the patient can either speak, use eye gaze, or activate a selection button or "switch" wired to their communication device to command Alexa to "Lift the Hoyer into the bed" and follow through with continued steps of mobilizing the patient into their preferred position.
"Teaching patients to use the various ways to activate Alexa can open up a world of independence. It allows them to make their own decisions without having to wait for someone else to anticipate their needs. That's the goal for all of our clients; the process just looks different for each person," says Sarah Bates, a second-year CSD graduate student.
Currently serving as a "testbed," the Smart Apartment's future expansion will include incorporating other UCF disciplines to help improve patients' access to quality healthcare by identifying solutions to counter technological gaps.
For example, Buchanan has worked with UCF's Maker Space to create inexpensive 3D prints of selection switches, which can then be wired by engineering students to connect to digital accessibility devices. The switch increases accessibility to the technology by adding another way for patients to interact with their environments. The Smart Apartment exemplifies how a multidisciplinary approach to healthcare can connect patients to innovative digital tools that may otherwise be inaccessible.
"The Smart Apartment is a step toward transforming healthcare as it also increases the likelihood of students recommending and incorporating this type of technology into their treatment as practicing professionals," says Buchanan. "It allows for collaboration and innovative solutions to interdisciplinary healthcare."
The Smart Apartment is available to patients by scheduling free appointments through the FAAST Center. The Center also provides guidance on the financial and other resources available to provide the smart technology best suited for the patients' needs.