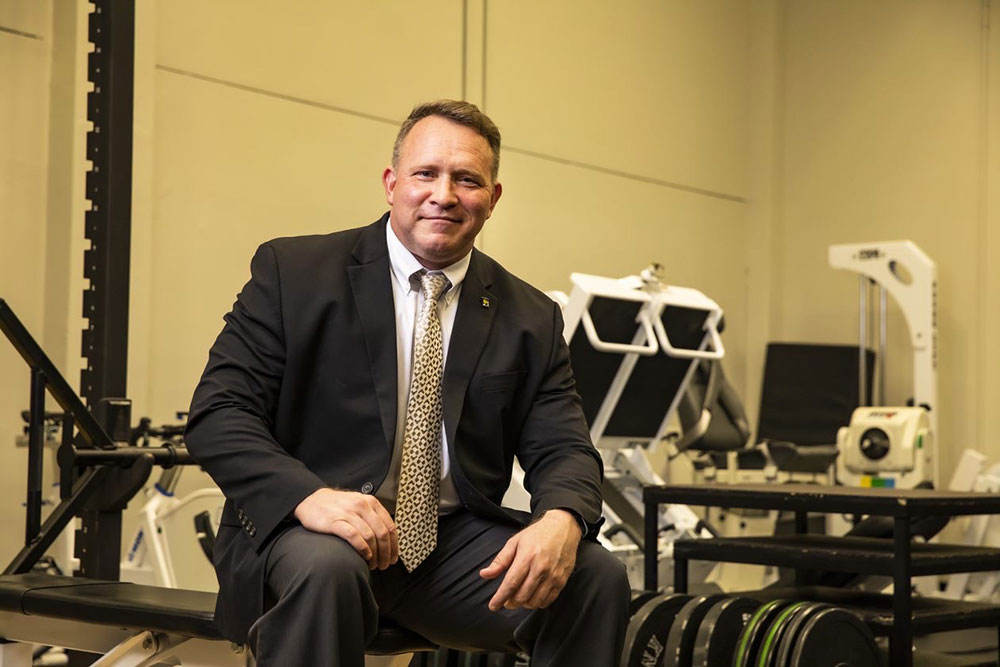 Pegasus Professor Jeff Stout has been reappointed for his second 5-year term as the Director of the School of Kinesiology and Rehabilitation Sciences. The reappointment follows a performance analysis that was informed by a review committee and considered feedback from faculty and staff.
"Director Stout, along with school program leaders and faculty, has consistently delivered outstanding education to prepare our kinesiology, physical therapy and athletic training students for careers as healthcare providers and researchers," says Chris Ingersoll, dean of the College of Health Professions and Sciences.
Over the last five years, the school has implemented several major initiatives designed to maximize student success. The athletic training program transitioned from a bachelor's degree to a master's degree, reaffirming their commitment to providing the next generation of athletic trainers with cutting-edge education. In July 2020, the school established the UCF Physical Therapy Clinic, exemplifying the college's commitment to integrating research, education and clinical care. And in Fall 2022, the school launched a new Kinesiology Ph.D. degree program – the first Ph.D. program to be offered within the college.
"What's especially impressive is that each of these significant accomplishments was achieved as we navigated the multiple, complex challenges posed by the pandemic," says Ingersoll.
In 2021, Stout was chosen for a Pegasus Professor award – the university's highest faculty honor. The same year, he was honored as a fellow of the National Academy of Kinesiology, a distinction awarded to those who exemplify scholarship and leadership in the discipline.
Stout is also a widely published and the most frequently cited scholar in the college.
Stout says his goals moving forward are to continue to increase exposure and recognition for academic programs, strengthen faculty through inclusive hiring practices, improve the clinical enterprise and collaborate with the Dean's office to enhance research laboratories and rehabilitation clinics.
"I'm thankful to be part of the incredible opportunity we have here to positively impact our community and our world" says Stout. "Our faculty and staff are unmatched in terms of their innovation and dedication, and together we will continue to raise the bar as we prepare the next generation of scientists, healthcare providers and leaders."