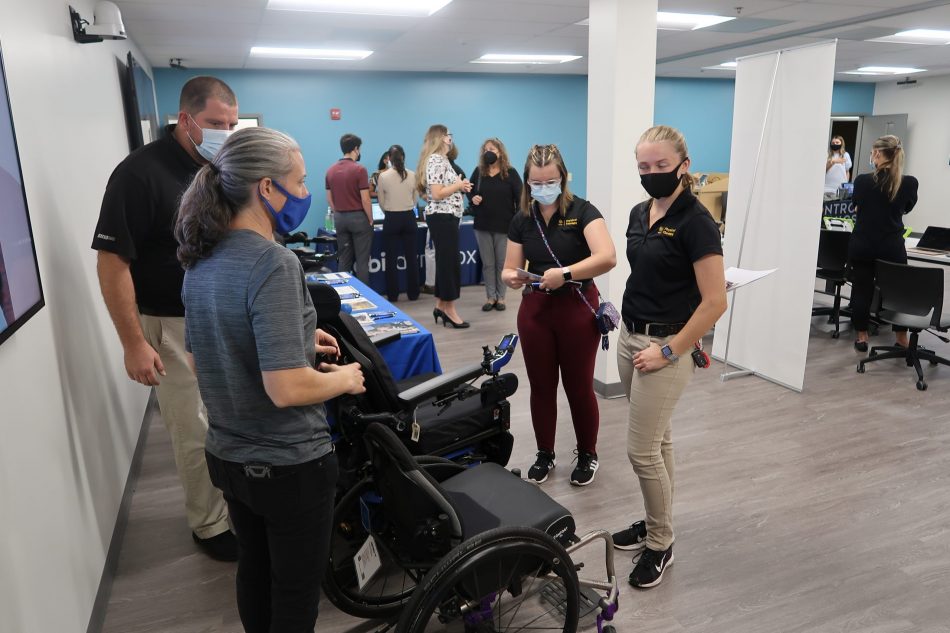 The UCF AAC Lab Collaborative, in partnership with the IMOVE Lab, hosted the inaugural UCF Assistive Technology Fair on Oct. 13 at the new CHPS Innovation Center — a convening hub for faculty, staff, students, industry partners and community members to collaborate in innovative ways to solve complex healthcare problems and issues.
Assistive technology vendors showcased technologies designed to increase, maintain, or improve the functional capabilities of persons with disabilities in areas such as speech, mobility, and hearing. These devices help individuals be more self-sufficient and communicate and connect with others — which helps facilitate a better quality of life.
"It's not very common to see this many vendors in one place," says Carolyn Buchanan, the regional coordinator for the UCF FAAST Center and member of the UCF AAC Lab Collaborative. "Our goal was to increase patient and provider awareness of the different types of technology and how to access and acquire these tools. This event also gives our students an opportunity to learn about assistive technology options in an interdisciplinary environment to effectively support their current and future clients."
Students from the Division of Physical Therapy and the School of Communication Sciences and Disorders came together to learn how these technologies can improve people's participation in daily activities. Clients and families from the Central Florida community also came to see the latest innovations from these companies and to consider how these assistive technologies could help them more easily participate in and access their daily activities and environments.
"Exposing students in the health sciences to assistive technology is critically important," says Jennifer Tucker, a physical therapy faculty member and co-director of the IMOVE Lab who helped plan the event. "Not only did this event provide a forum for hands-on education, but more importantly, it helped prepare these future professionals to advocate on behalf of their current and future patients."
This event was the first time many students were introduced to such a broad range of assistive technologies in one place.
"I think it was very educational for pretty much every discipline, but especially for physical therapy students because we got to see technologies that we didn't know existed," said physical therapy student Katelyn Downer.
The event was hosted as a part of International AAC Awareness Month and National Physical Therapy Month, which are both recognized during October. Event planners hope to make this a reoccurring event each year with expanded hands-on learning experiences in the years ahead.