When students are interested in the fields of kinesiology and physical therapy, it is often because they want to help people; but students don't need to wait to graduate to make an impact. Through the Institute of Exercise Physiology and Rehabilitation Science (IEPRS), UCF provides students with research experiences that combine their interest and passion in exercise science.
As the research enterprise of the School of Kinesiology and Physical Therapy, this diverse collection of labs features a wide range of disciplines in exercise science that seek to redefine strength training as medicine. It was established in 1983 and was reimagined in 2018 when the School of Kinesiology and Physical Therapy was formed, involving more students from all levels of degree programs.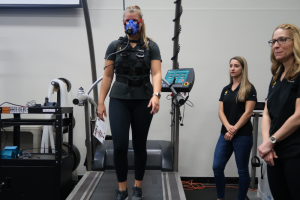 The labs within the IEPRS are led by faculty in the School and integrate graduate and undergraduate students in research activities. These labs span a variety of disciplines, such as human performance, nutrition, rehabilitation, pain science and neuromuscular physiology. The Institute also partners with affiliate labs in other disciplines, such as engineering, that help to advance the work being done and facilitate innovative solutions. At any time, the IEPRS collectively has 10-15 ongoing research projects. The faculty and students perform tests with research participants to collect data.
Associate Professor Matt Stock is the director of the Institute and says the collaborative spirit across the labs is what makes the future of the Institute so exciting.  "The Institute serves as a common thread, bringing together people of all sorts of backgrounds and disciplines to be able to learn together," he said. "Typically, in science, one expertise or discipline is unable to solve a problem on its own. Our labs provide an interdisciplinary hub for researchers to solve complex problems by working together."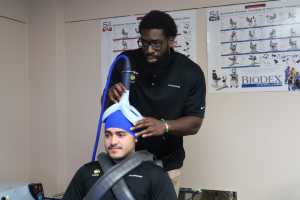 With interest in the field of kinesiology on the rise, the Institute provides students with experiences to explore many facets of the discipline. Just like its researchers, students involved with the Institute come from a wide range of disciplines and all contribute to scientific thinking.
"It's very rewarding for our research faculty to sit back and watch students work together, despite being in different programs and stages of their careers. When working on a research project as a team, we think that a student's major is largely irrelevant," Stock said. "It really makes the learning process much richer. You get to learn about a much broader set of perspectives rather than just within your program."
For graduate students, it allows them to complete research in fields that they are interested in, as well as gain experience in mentoring and teaching. These experiences and research allow professional growth that can be carried on beyond the classroom and into the real world.
Paola Rivera, a second-year Ph.D. student in the Exercise Physiology, Intervention, and Collaboration (EPIC) Lab, says her time there has been a very rewarding experience. "The position allows me to do the research that I am interested in, as well as mentor undergraduate students," Rivera said. "I am able to show them that research is fun. Many of them want to go into athletic training or physical therapy, and getting into the lab is a really cool way to apply the science that informs these disciplines."
Students who want to get involved in research within the IEPRS are encouraged to choose the lab that most aligns with their professional interests. Erica Goldstein, a graduate assistant in the Physiology of Work & Exercise Response (POWER) Lab, conducts research focused on sports nutrition. "It's really important work because athletes are talking to each other about what to do despite not having all of the right information," Goldstein said. "The POWER Lab has given me the tools and resources to correct information out in the community and keep people in their sport for as long as possible."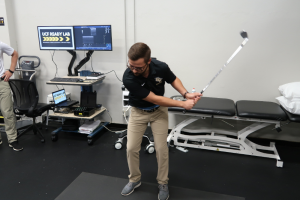 One of the many opportunities that the IEPRS offers students is the ability to attend national conferences to both present and learn about advancements in various fields. The National Strength and Conditioning Association, the American College of Sports Medicine, National Athletic Trainers' Association, and the International Society for Sports Nutrition are four professional organizations hosting national conferences that IEPRS students will be attending and presenting at this summer. "Attending a national conference can be just as valuable as a learning experience for a student as anything they will learn in their curriculum," Stock said. Further aiding in students' professional development is their active involvement in the dissemination of research. About 30 students present their research at national conferences every year and most have their publications accepted into esteemed research journals.
The Institute also holds its own annual conference that pulls together experts from across the world to come and speak about advancements in fields of kinesiology, physical therapy and athletic training. "Our diversity of lecture topics is 100% intentional," Stock said. This year, the Institute hosted its second annual conference, and its first one in-person. The theme was "Finding Strength: Drawing Synergies from Exercise Physiology and Rehabilitation." Topics included space physiology, female athlete nutrition, ACL rehabilitation, and much more. With 200 people attending in person and 175 online, the conference extended the collaborative efforts of the Institute and challenged all participants to think outside of the box.
The kinesiology major is one of the fastest growing programs at UCF, having seen significant and consistent growth the last couple years. With growing national interest in sports science, the Institute is well positioned to train future practitioners and scientists in this discipline.
The outcome of this collaborative spirit is advancements in the field of exercise science that ultimately benefit people everywhere – whether they are an elite athlete in their 20s, or a regular adult in their 80s. IEPRS is helping to define what happens when you focus on movement and health at the same time.
"There are a number of things that we are doing that have the potential to have a big-time impact on the world," Stock said. "It's exciting to have UCF students involved at the ground level helping to advance the science for future generations."