UCF Go Baby Go! builds more than innovative motorized cars that increase mobility in children, it also builds community by bringing children of all mobility levels together. Through a new partnership with St. Joseph Children's Hospital in Tampa, Go Baby Go! is bringing low-cost mobility resources to children who are receiving care there.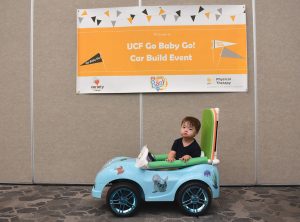 "UCF Go Baby Go is excited about the new collaboration with St. Joseph's Children's Hospital," said Jennifer Tucker, assistant professor and UCF Go Baby Go! program director. "We have served many families from this community over the years. It is beneficial for everyone to expand our footprint and meet families from around Florida in their own community."
As part of the partnership, Tucker is providing continuing education to the hospital's rehabilitation clinicians to promote early mobility. In addition, 10 ride-on toy cars are being donated to families who have received care in the hospital and a harness play system will also be donated for use in therapeutic play in the hospital's rehabilitation department.
The partnership between UCF Go Baby Go! and St. Joseph Children's Hospital is possible thanks to funding from Variety Children's Charity, a longtime supporter of the Go Baby Go! program.
"I am very excited about the partnership with UCF," said Lauren Rosen, program coordinator at St. Joseph's Hospital. "I have been a GBG proponent since it started and I'm glad to finally be in a position to provide these cars for our kids over here. I'm excited to see what the future of our collaboration can bring."