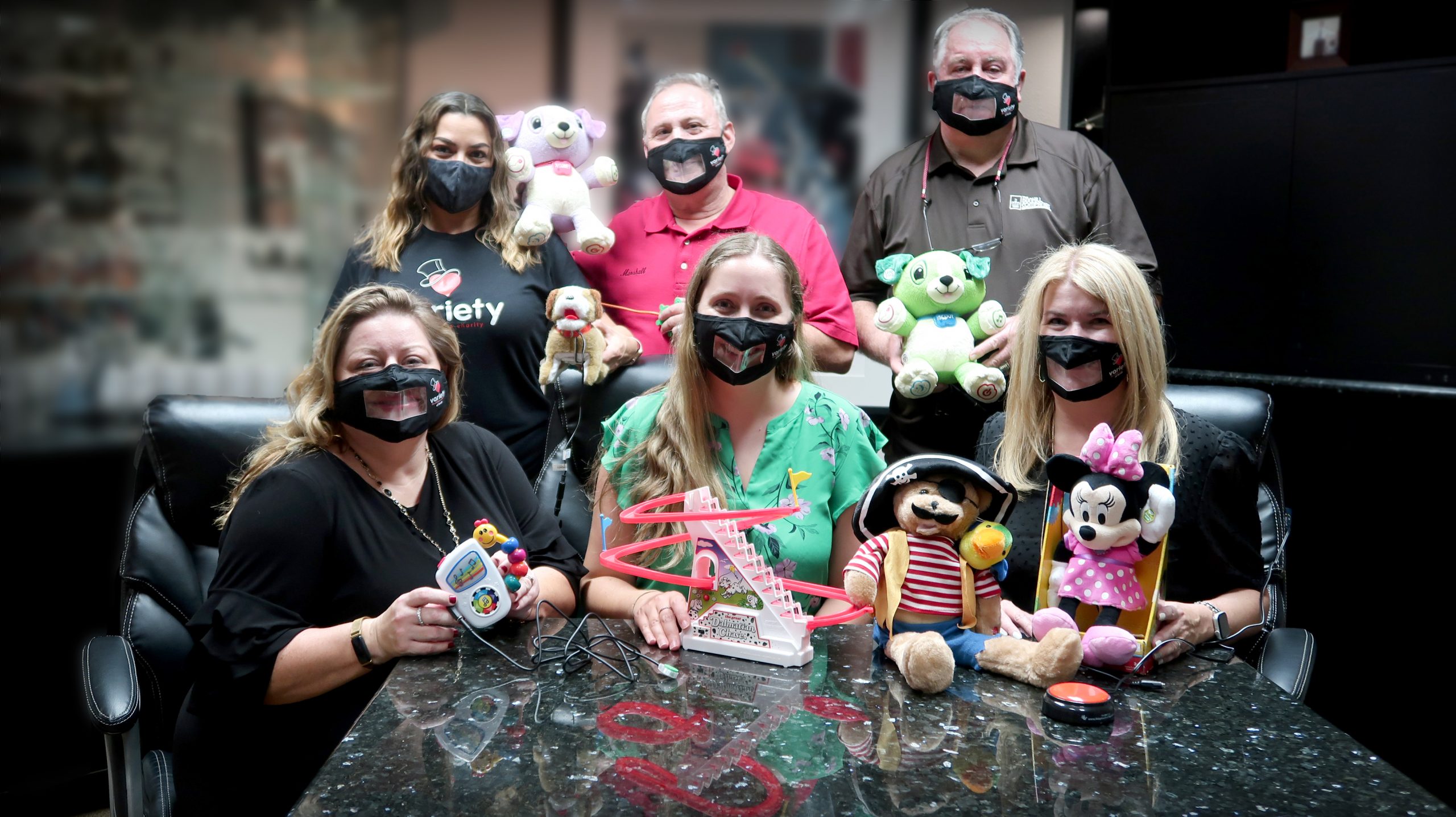 Variety – the Children's Charity of Florida has donated $10,000 to the UCF AAC Research-to-Practice Lab Collaborative – to bring the gift of joy to children with developmental disabilities. The gift will support a mobile makerspace specially equipped with tools and hardware to adapt toys so they can be easily used by children who are unable to use standard off-the-shelf toys.
The Collaborative is a collection of research labs in the School of Communication Sciences and Disorders focused on translating research findings to practice and improving clinical outcomes for individuals with complex communication needs. These individuals require the use of augmentative and alternative communication (AAC) to meet some or all of their communication needs.
When these individuals are children, not only do they need assistance with developing independent communication skills, but they also require access to developmentally appropriate toys in order to learn and grow. The power of play in a child's life has lifelong ramifications on developmental milestones; adaptive toys play a critical role in helping these children achieve these milestones.
Children with developmental and physical disabilities often are unable to use their fine motor skills to push buttons or move switches for toys like their typically developing peers. The mobile makerspace will allow facilitators from the AAC Collaborative and UCF STEM groups to work with volunteers to adapt the toys using inexpensive items and minimum technical knowledge.
Toys will be adapted to fit the needs and interests of local children with disabilities through partnerships with nonprofit organizations and STEM groups throughout Central Florida.
"This gift to UCF helps Variety realize its mission to help children who live and grow up with serious illness, disability or disadvantage. These are extra special children who require a special kind of help. The opportunity to fund this program for UCF means that we can extend the impact in the community with partnerships to provide these adapted toys for the children who need them," said President Marshall Cohn, Variety the Children's Charity of Florida, Inc. "We also look forward to strengthening our community partnerships throughout the area to help us continue this important work."
Although adaptive toys can be purchased, their cost is often prohibitive. The mobile makerspace shows the power of volunteerism and STEM to significantly lower the cost of the toys. The recipe for adapting toys for children with limitations is simple: take a few inexpensive items, like a battery interrupter and cable that costs less than a dollar, sprinkle in some basic wiring, and top off with the biggest smiles you've ever seen. At a previous holiday toy build, volunteers converted an on/off switch about the size of a thumbnail on a talking, furry character and turned it into a big red button that was easily manipulated by a tiny hand. The child could turn on the toy independently by touching the button, and then turn it off the same way; this type of independence in play is critical.
"With our mobile adaptive toy makerspace, we are now able to work with a range of community organizations to bring these needed toys directly into our children's communities and support their ongoing development through developmentally appropriate play! As we engage more community members, we will all benefit from new perspectives and ideas on how we can support children with disabilities and their families on a daily basis," said Jennifer Kent-Walsh, associate dean of research and director of the AAC Lab.
The mobile adaptive toy makerspace will bring all materials to any community group that wants to volunteer to adapt toys for local children. No prior experience is necessary.  Community organizations need only to bring creativity for a minimal amount of fundraising to purchase required materials and be ready to learn some new 'adapting' skills!
The mobile adaptive toy workshop will start making the rounds this fall. Organizations  interested in participating can contact Carolyn Buchanan at the AAC Lab Collaborative for more information.