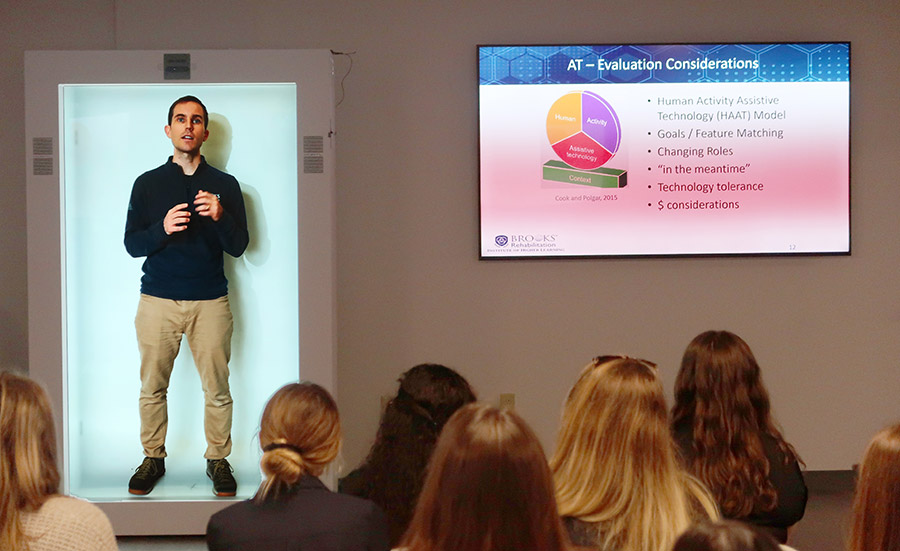 Guest speaker and occupational therapist Michael Braun from Brooks Rehabilitation joined via hologram an expert panel convened at the CHPS Innovation Center on Oct. 18 in celebration of International AAC Awareness Month.
Braun discussed interdisciplinary augmentative and alternative communication (AAC) service-delivery approaches to assist patients with severe speech disorders. Additional panel members included Assistant Professor Julie Feuerstein, Instructor Carolyn Buchanan, Instructor Punam Desormes, and Associate Dean Jennifer Kent-Walsh; each of these UCF faculty members conduct state and federally funded AAC research and clinical service-delivery at UCF.
The presentation with panel discussion was part of the college's ongoing series, Up to the Minute in Clinical Care, which brings together clinicians, researchers and educators at UCF and in the community to address timely topics in healthcare.
Faculty, students, healthcare providers, and patients from around the globe joined the event, both in person and virtually via Zoom. They were all able to interact with Braun who was live "beamed" in from the Brooks Rehabilitation Hospital in Jacksonville using the college's holoportation device. This technology is a permanent part of the CHPS Innovation Center thanks to a gift from Brooks Rehabilitation that was made this past summer. This was the first time a speaker was live "beamed" for the purposes of a healthcare educational event.
For many participants, it was their first time interacting with a hologram.
"It was amazing to interact with Michael as a hologram like that," says Kaitlyn Vidal, who is in her second semester of the master's program in speech-language pathology at UCF.
"It felt like he was in the room engaging with us all face-to-face during the panel discussion," said Nancy Harrington,  associate clinical instructor & AAC research coordinator.
The event focused on the use of augmentative and alternative communication in rehabilitation, and was part of a slate of events offered at UCF to celebrate International AAC Awareness Month. Students majoring in speech-language pathology were able to connect Braun's work with AAC to strategies they can implement in the immediate and in the future with their own patients.
"The case examples Michael provided today reminded me of the importance of collaborating with other professionals like occupational therapists to get the best outcomes for my future clients who have complex communication needs," said Cassandra Orta, who is in her final semester of the master's program in speech-language pathology.
AAC is an area of clinical practice that often involves the use of technology to supplement or compensate for impairments in speech and language production. AAC offers powerful tools to help those who cannot meet some – or all – of their communication needs. AAC options include both low-tech devices, like communication boards, as well as high-tech devices that can be programed with needed vocabulary for clients to independently generate their own messages. These messages are spoken by the device when activated by clients through either touch, eye gaze, or other switch access points.
Leaders plan to utilize the hologram technology at more events to expose students to both patients and professionals that can enrich their learning, but who would have logistical challenges to joining in person.
"Michael added the perfect blend of clinical expertise and practical rehabilitation application to our session designed to increase AAC awareness across disciplines," said Bari Hoffman, associate dean of clinical affairs. "When powerhouses like Brooks and UCF come together, we can best drive innovation and transform rehabilitative care."