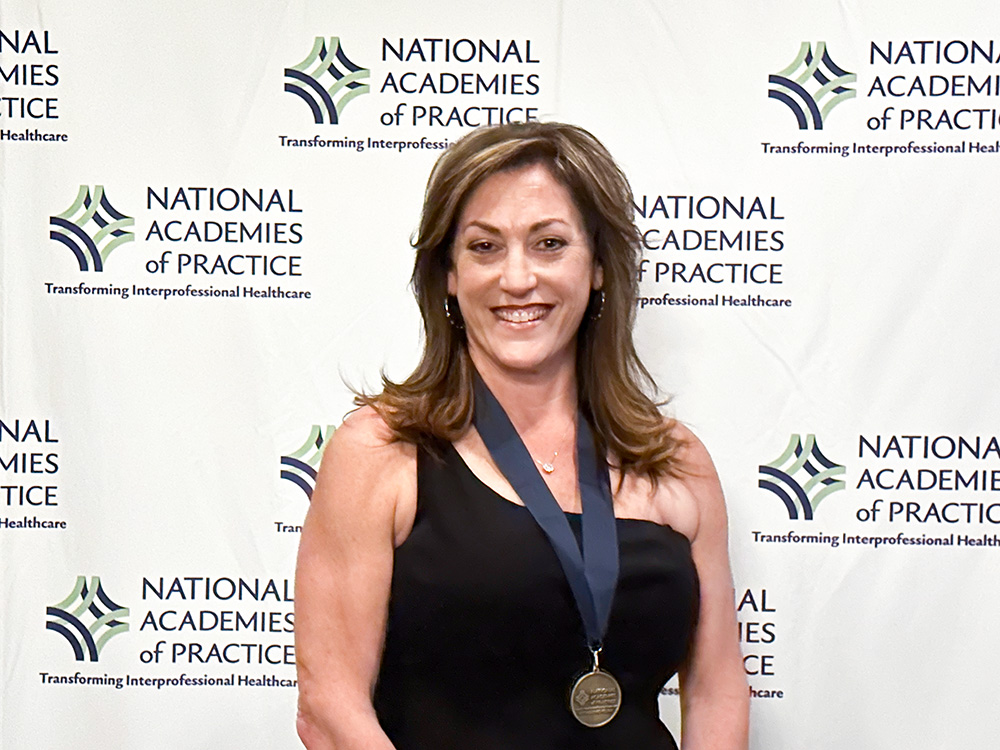 Associate Dean Bari Hoffman has been elected as a Distinguished Fellow of the National Academies of Practice (NAP) in speech-language pathology, an alliance of professionals collaborating to transform health and well-being. Fellowship is an honor extended to those who have excelled in their profession and are dedicated to furthering interprofessional practice, scholarship and policy in support of interprofessional care. Hoffman was inducted at a ceremony in Washington, D.C. on April 1.
"I'm looking forward to the opportunity to discuss improving education and practice patterns within a national forum," says Hoffman. "Involvement in the NAP will be valuable to better understand and identify areas where gaps exist in workforce preparation and policy, and to collaborate with partners across the country to fill those gaps."
Hoffman, a certified speech-language pathologist for more than two decades, has an accomplished record of research, teaching and clinical service. As the associate dean of clinical affairs at the College of Health Professions and Sciences since 2019, she heads the college's work to expand interprofessional education and cultivate ideas that best leverage healthcare technology, education, care delivery, and wellness and prevention strategies. Hoffman led the creation of the college's Rehabilitation Innovation Center, an immersive, first-of-its kind facility for healthcare education and treatment and spearheads collaboration with industry and government partners to introduce new technologies and training tools. She is a national voice in the introduction of hologram technology in healthcare education.
Hoffman has taught undergraduate and graduate students at UCF since 2001 and is the recipient of multiple recognitions for excellence in teaching and research.
Hoffman's clinical research includes a focus on voice and upper airway disorders, including interdisciplinary research addressing how an increase in expiratory muscle strength affects laryngeal function and aids in the resolution of vocal pathology and airway protection. She was part of the early pioneering translational research of expiratory muscle strength training, which is now the most widely used device driven behavioral treatment in speech language pathology for patients that have breathing, swallowing, voice and speech disorders. Her research in 3-D modeling of the lung involved an interdisciplinary team with radiation oncologists, physicists, engineers, and computer scientists documenting the movement of tumors in the lung during breathing, thus potentially compromising accurate delivery of radiation during radiotherapy. The team – which would go on to develop a biomechanical model to study airway deformation and mechanisms of airway protection – was later funded by NSF during the COVID-19 pandemic to study droplet behavior following a cough.
Her research also includes studying outcomes associated with quality of life and caregiver burden in patients experiencing changes in voice and speech due to head and neck cancer, Parkinson's disease, spasmodic dysphonia, and other conditions. Other research includes voice disorders in performer's voice and school-aged children and development of a video game-based therapy protocol to study therapy compliance in children with voice disorders.
Hoffman has developed several community outreach programs including the development of head and neck cancer screening programs offered in collaboration with community physicians and Advent Health, a vocal health screening program for performers at area universities and a laryngeal exam program for Seminole County Public Schools. She holds a joint appointment in internal medicine with the UCF College of Medicine.
Hoffman is also a Fellow of the American Speech-Language-Hearing Association, one of the highest honors the association bestows and presented to those who have made outstanding contributions to the discipline of communication sciences and disorders. She holds bachelor's and master's degrees in communication sciences from UCF and a doctorate degree in respiratory physiology and voice science from the University of Florida.
The academies within the NAP include: allopathic and osteopathic medicine, athletic training, audiology, dentistry, nursing, occupational therapy, optometry, pharmacy, physical therapy, podiatric medicine, psychology, respiratory care, social work, speech-language pathology and veterinary medicine.
CHPS Founding Dean Christopher Ingersoll was also named a Distinguished Fellow with the NAP at the April 1 ceremony. He was inducted in athletic training.