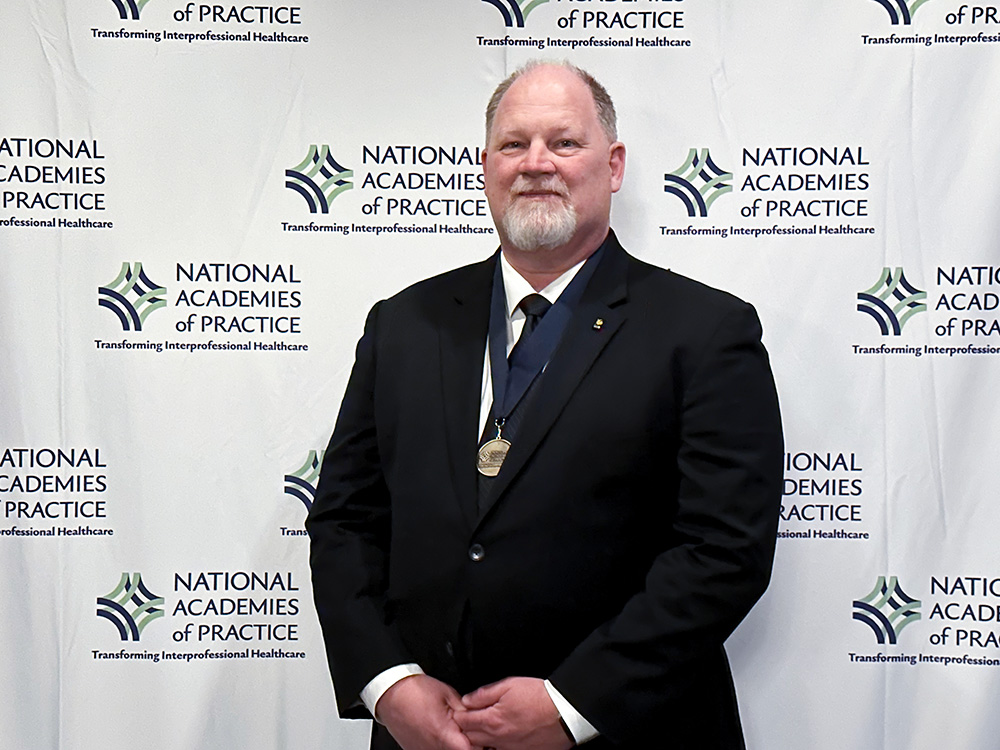 UCF College of Health Professions and Sciences' (CHPS) Founding Dean Christopher D. Ingersoll has been inducted as a Distinguished Fellow into the National Academies of Practice (NAP) in athletic training for his contributions toward advancing interprofessional education, scholarship, research and public policy. Established in 1981, the NAP is a multidisciplinary organization comprised of healthcare professionals dedicated to supporting affordable, accessible and coordinated quality healthcare for all. Ingersoll was inducted at NAP's ceremony in Washington, D.C. on April 1.
"It is an honor to join my colleagues as we work together to advance our field, explore new ways to serve our communities and advocate for greater collaboration in healthcare research and education," says Ingersoll.
Ingersoll is an accomplished academic leader with a strong background in sports medicine. He joined CHPS in 2019 as its founding dean, leading the integration of its health-related programs which include physical therapy, kinesiology, athletic training, health sciences, social work and communications sciences and disorders. Prior to joining CHPS, he served as the vice provost for Health Sciences Affairs and dean of the College of Health and Human Services at the University of Toledo. His previous roles in higher education also include serving as the dean of The Herbert H. and Grace A. Dow College of Health Professions at Central Michigan University and, at the University of Virginia, the Joe. H. Gieck Professor of Sports Medicine, chair of the Department of Human Services, and professor in the Department of Physical Medicine & Rehabilitation.
As an educator and researcher, Ingersoll has an accomplished record of over 170 peer-reviewed papers, 400 presentations and countless other contributions to the field of athletic training, including his election into the World Association of Medical Editors in 2010. He has served as editor-in-chief for the Journal of Athletic Training and the Journal of Sport Rehabilitation.
Ingersoll is a Fellow of the American College of Sports Medicine, the National Athletic Trainers' Association and the Association of Schools of Advancing Health Professions. His past accolades also include induction into the National Athletic Trainers' Association's Hall of Fame in 2019 and the 2022 Pete Koehneke Award from the Commission on Accreditation of Athletic Training Education.
He holds a doctoral degree in biomechanics from the University of Toledo, a master's degree in athletic training from Indiana State University and a bachelor's degree in sports medicine from Marietta (OH) College.
CHPS Associate Dean Bari Hoffman was also named a NAP Distinguished Fellow at the April 1 ceremony. She was inducted in speech-language pathology.
The other interdisciplinary academies within the NAP are allopathic and osteopathic medicine, athletic training, audiology, dentistry, nursing, occupational therapy, optometry, pharmacy, physical therapy, podiatric medicine, psychology, respiratory care, social work and veterinary medicine.