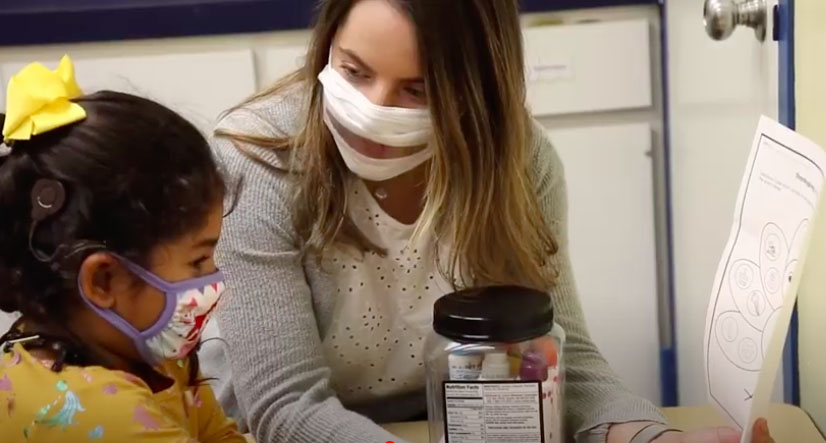 Daniela Berrios '15 '17MA was recently selected as a Distinguished Early Career Professional by the American Speech-Language Hearing Association, the national organization for the profession.
In addition to the award, she recently became certified as a Listening and Spoken Language Specialist (LSLS), a rigorous designation for speech-language pathologists to obtain. There are currently 36 LSLS registered in Florida, and about 1,000 worldwide. Nationwide, there are approximately 218,314 speech-language pathologists, audiologists and other audiology and speech-language pathology professionals, according to ASHA.
Berrios grew up speaking English and Spanish and says she was always interested in language and language acquisition.
Berrios is a speech-language pathologist at the Debbie Institute (Debbie School), at the University of Miami Miller School of Medicine. The Debbie School provides a wide variety of services to children who either have developmental delays or who have conditions that place them at risk for a significant delay.
Berrios' love of language came naturally to her. "I took all the language courses I could in high school," she says.
When her school offered American Sign Language courses, she also added that language to her repertoire. "I didn't know what that would lead to, but I also knew that I loved helping people."
She had never thought of pursuing her love of language professionally, however. That is, until she toured UCF as a prospective student.
Berrios' parents had encouraged her to visit every college in Florida so that she would have all the information she needed to make an informed decision about her education.
When the student tour guide at UCF introduced herself as a communication sciences and disorders student who was studying to become a speech-language pathologist, Berrios was intrigued.
"At the time, I had no idea what a speech-language pathologist was," Berrios said. After talking with the student tour guide and learning more about the profession, Berrios told her parents that she didn't need to visit any other schools. She had found her home.
Berrios credits Debra Knox, director of UCF's Communication Disorders Clinic, and Linda I. Rosa-Lugo, faculty in CSD, for helping direct her path.
As she progressed in her undergraduate education, she became aware of the School's Communication Disorders Clinic and the diverse patient population it serves, as well as the rich array of outside internships it offers to graduate students. She especially loved the clinic's Listening Center, where she met young children who had been fitted with hearing aids and/or cochlear implants. It is critically important, she learned, for these children to develop their listening skills and spoken language at a very young age.
As a graduate student, Berrios enrolled in a certificate program that provided enhanced instruction in listening and spoken language for culturally and linguistically diverse children who are deaf and hard-of-hearing.
"What really drew me to staying at UCF for my graduate degree was a grant that allowed me to work with clients with hearing loss," Berrios says.
The five-year, $1.2 million grant, funded by the U.S. Department of Education and led by Rosa-Lugo, prepared professionals to use a listening and spoken language approach to working with children with hearing loss. Those who were approved and completed the coursework earned a graduate certificate, which helped Berrios secure a position at the Debbie School after graduation.
In her job, she helps parents navigate the resources their child with hearing loss needs.  She and her team help the parents see that their child has a bright future and their possibilities are endless.
"All of our kids are learning to listen and speak," Berrios says. "We focus on coaching parents to incorporate meaningful language opportunities in their daily routines to enrich their child's early language."
Berrios says that early intervention is key to helping children with hearing loss, because during this time, the brain is developing its neural pathways and still developing in this area.
In addition to the daily hugs she gets from her young students, Berrios says the most exciting part of her job is the breakthrough moments.
"I love when a child does something new, or when all of a sudden they say their first word or turn to their name for the first time, and then I get to share it with their parents," Berrios says.
"I really owe everything to UCF," Berrios says. "I'm doing something that matters, and I'm doing something for my community."