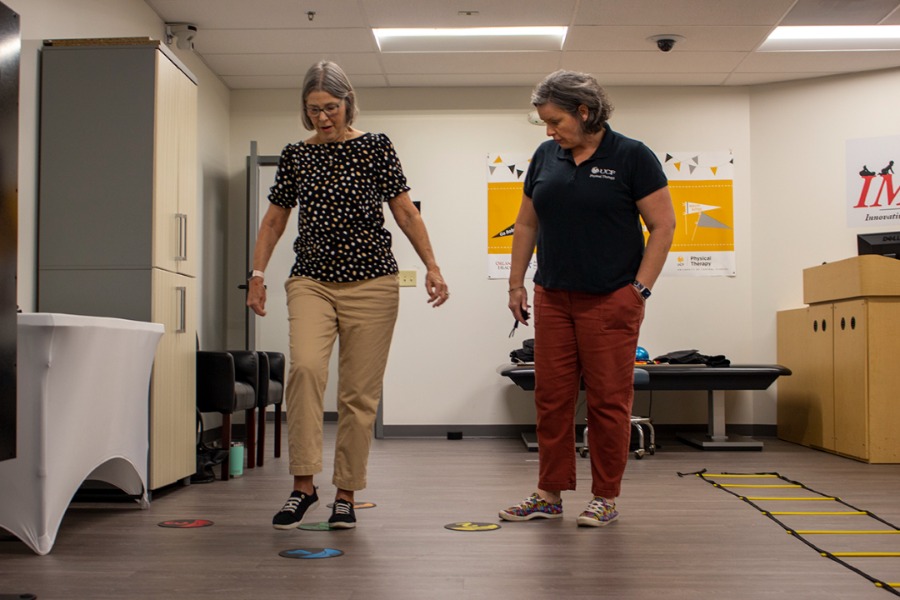 The College of Health Professions and Sciences' Rehabilitation and Wellness Services is integrating clinical care services and will now offer outpatient physical therapy at the Communication Disorders Clinic. The expansion provides a single, convenient location near UCF's main campus for those patients in need of both speech and language therapy and physical therapy.
The integrated services begin this summer and will initially focus on patients who are seniors. This is the third UCF location at which the local community can receive physical therapy from faculty clinicians. The Physical Therapy Clinic on the main campus has two clinical sites, one focusing on orthopedics and sports injuries, and a second open only to UCF student athletes.
"Integrating services is another key milestone for our clinical enterprise," says Bari Hoffman, associate dean for clinical affairs. "Our vision is to continue to leverage the specialized expertise of our faculty to deliver high-quality care to our community in a patient-centric model."
Lauren Bislick, an assistant professor of communication sciences and disorders and interim director of the Aphasia House, and Nicole Dawson, an associate professor who specializes in geriatric physical therapy, work closely with older adults and particularly with patients who have had strokes and other types of acquired brain injury.
"Recovery for so many of our patients is multi-faceted," says Bislick. "It often involves extensive therapy which takes place over an extended period of time, and it must address their speech and language loss, as well as impairments to their mobility."
The collaboration to offer speech therapy and physical therapy at the same location is especially convenient for patients who travel to different locations and visit multiple providers to receive rehabilitative services. The new practice model at UCF enables patients to make successive appointments for both services, if preferred.
"We want to make it as easy as possible for patients to access the personalized and concentrated care they need to get their lives back on track," says Dawson, whose research centers around identifying predictors of falls in older adults and developing non-pharmacological interventions that aid in successful aging. "Regaining strength, movement and mobility following a stroke or brain injury are all essential to daily living and critical to preventing additional injury."
The Aphasia House at UCF, which is offered through the Communication Disorders Clinic, treats patients with acquired brain injuries who travel from across the country to participate in the multi-week speech therapy program that's delivered in a residential-style setting and designed to immerse clients in activities that model daily living. In Spring 2023, Dawson provided physical therapy to two Aphasia House patients, both recovering from strokes. When the next cohort of patients in the Aphasia House begins in June, they'll be offered the opportunity to receive additional physical therapy services during their stay.
Physical therapy care is provided by licensed physical therapists who are clinical experts and faculty members with the UCF Division of Physical Therapy. Sessions for clients of the Communication Disorders Clinic will be held at the Rehabilitation Innovation Center which is adjacent to the clinic and located in Research Park, close to the UCF main campus.
Community members interested in making an appointment can call 407-823-0377. Most insurances are accepted.