Janel Cosby '04, audiologist and clinical lecturer in the School of Communication Sciences and Disorders, is preserving, protecting and enhancing peoples' hearing.
As a child, she always wanted to pursue a career in medicine. Her interest in audiology was piqued when her mother, a nurse, knew a family who had three deaf children; the children's parents were hearing. This made her want to learn more about why people are deaf and how she could help.
Cosby helps her patients by informing them about environmental risks that precipitate hearing loss, and how to protect their hearing. For patients with hearing loss, she helps maximizes their ability to hear through technology.
Cosby is also teaching the next generation of hearing professionals to listen to their dreams.
She is a clinical educator and provides audiology services at the UCF Communication Disorders Clinic in Research Park and at UCF Health at Lake Nona and also partners with the UCF Listening Center. When it is safe to reopen, Cosby will supervise our graduate clinicians as they resume diagnosing and treating patients with hearing loss and continue providing hearing aid- and cochlear implant services.
Cosby helps to advance the field of audiology by collaborating on research projects with colleagues in the School of Communication Sciences and Disorders, the College of Engineering, the College of Medicine, Nemours Hospital for Children the University of Utah and the University of South Florida.
She is currently involved in a research project that brings together CSD and engineering graduate students to test the effects of gravity on middle ear pressure. Cosby hopes their findings will influence the treatment of hydrocephalus, a complication of raised intracranial pressure resulting from middle ear infection.
Cosby gives back to the community by providing audiology services at UCF Knight Clinic and Grace Medical Home. She is passionate about educating people on the importance of preserving their hearing and brings graduate CSD students who are members of the National Student Speech Language Hearing Association to the national dental hygienists' symposium each year. There, they present the hearing dangers of prolonged and sustained use of high-speed dental equipment and offer free screenings.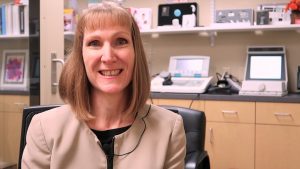 As the clinic director for Special Olympics, Cosby has also supervised her students as they have provided screenings for the athletes each fall for the past four years.
The future need for audiologists is strong, Cosby said.
"By 2028, our profession is expected to increase by 16 percent. We're living longer, and audiologists provide services across the entire life span," Cosby said. "We communicate with each other in many different ways, but to hear someone is definitely music to our ears."