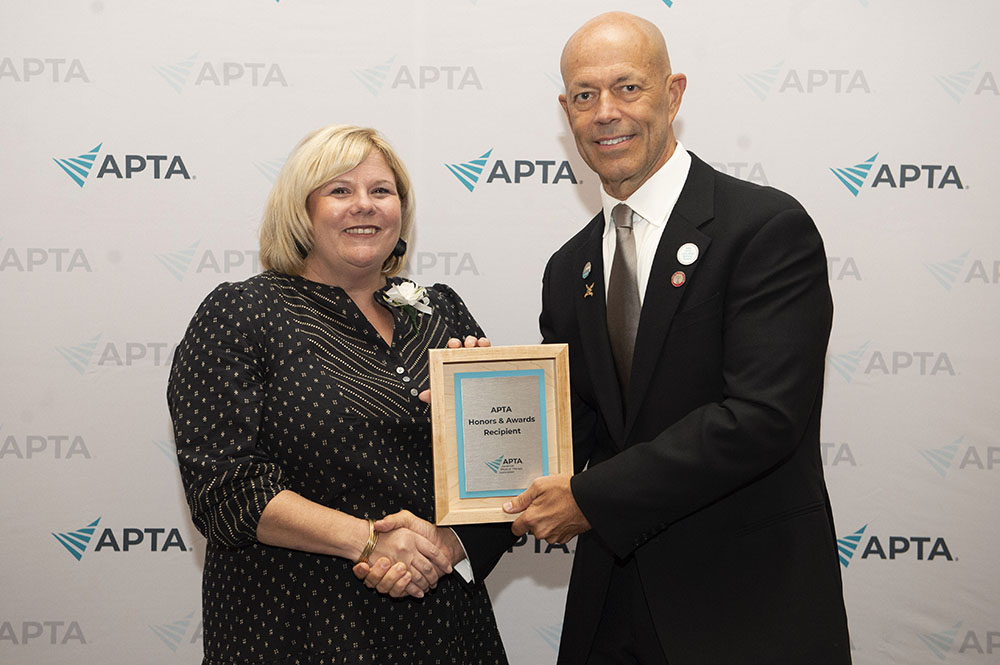 Jennifer Tucker, a clinical associate professor within the Program of Physical Therapy, is the 2022 recipient of the American Physical Therapy Association (APTA) Societal Impact Award. The award specifically recognizes individuals who exemplify the compassionate nature of the physical therapy profession by exhibiting a distinguished commitment toward philanthropic initiatives, raising public awareness on key societal issues and demonstrating how physical therapy can be applied to address these issues.
Tucker was recognized at the APTA Honors and Awards Ceremony in Washington, D.C. The ceremony and preceding lecture may be viewed on the APTA website.
"Central Florida is all about children, but it's not always accessible to the little ones I serve and their families."
In 2015, Tucker founded the UCF chapter of Go Baby Go!, which provides modified ride on cars to children with mobility limitations. Through the program, Tucker holds numerous workshops, individual builds and harness playdates. To date, Tucker has outfitted 150 children with modified cars and engaged more than 400 kids in the building process.
"I knew I wanted to work in medicine since I was a young child," says Tucker. "Initially, as a physical therapist, I had a very patient centered focus. Transitioning into academics broadened my view and allowed me the opportunity to have more of a community wide impact. I have a passion and I have students that are passionate and enthusiastic about learning. That combination really allows us to go out and make a difference."
"Dr. Tucker demonstrates leadership and volunteerism through her service and achievements dedicated to improving the lives of people with disabilities," says Carey Rothschild, a clinical associate professor at UCF. "Dr. Tucker has a big heart for philanthropy and community service. She is very active in the Down Syndrome Association of Central Florida, serving on the medical advisory board, leading the sensorimotor group, facilitating the pro-bono annual Down Syndrome clinic, and providing consultative services and continuing education."