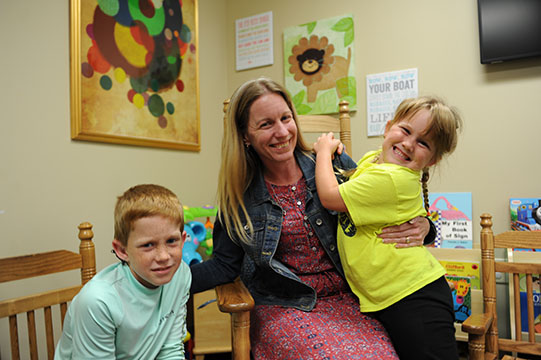 Every Wednesday evening, Julie Shipp and her two children, 9-year-old Ethan and 6-year-old Addison, take an hourlong drive from Apopka to the UCF Communication Disorders Clinic for their weekly appointment.
Once they arrive, the children are taken to individual rooms, where they both receive speech and language therapy for an hour at the UCF Listening Center, one of the services housed in the Communication Disorders Clinic.
Both of her children were born with auditory neuropathy, a genetic hearing disorder in which sound enters the inner ear normally, but the transmission of signals from the inner ear to the brain is impaired.
"We have no history [of it in our family]," Shipp said. "So it was a complete shock. At first, we were devastated with him, because it's new and we didn't know what was going on. With her, it was disappointing, but we knew what was coming."
Since 2013, the UCF Listening Center has been serving families in Central Florida since 2013 like the Shipps, who have been coming since Ethan was a toddler. Treatment is provided for all ages and a variety of hearing-loss conditions.
Central Florida residents with hearing loss and their families have struggled to find help and services locally, said Linda Rosa-Lugo, associate professor of communication sciences and disorders and interim associate dean. In Florida, there are only 28 certified Listening and Spoken Language Specialists available to provide interventions for children with hearing loss and their families.
Linda Rosa-Lugo, associate professor and interim associate dean, first realized the need in Central Florida while working with deaf and hard-of-hearing children and their families in the Osceola County School District.
She applied for and received a three-year, $100,000 grant from the Oberkotter Foundation, which helped her launch the UCF Listening Center in the Central Florida Research Park, where Rosa-Lugo works alongside audiologist Janel Cosby and Clinic Coordinator Debra Knox.
An estimated 170 students a year complete practicum assignments at the clinic, gaining valuable hands-on practice with children and adults dealing with various hearing concerns and issues.
"Our focus is to prepare our students to become speech-language pathologists with specialty expertise or to mentor those students who are interested in audiology," Rosa-Lugo said. "We are preparing students for the future."
Shipp is thankful and grateful for the students, faculty and staff who have made a difference in her children's lives, both of whom have cochlear implants to assist their hearing.
"It's given them a leg up," she said. "Being here and having that support here has been amazing. It supports what we do at home."
The children even play "speech therapy" at home with each other, creating games to practice what they have learned at the UCF Listening Center.
"They almost look forward to coming here," Shipp said. "The hour drive doesn't bother me because I feel it's worth it. The kids are getting something out of it."
In 2010, Rosa-Lugo was awarded a personnel preparation grant in collaboration with the University of South Florida to prepare speech-language pathologists to work with diverse children with hearing loss, with a focus on listening and spoken language. Forty graduate students, 20 from each school, were required to take three courses at USF and two at UCF, in addition to all core courses leading to their master's degree in speech-language pathology.
The UCF Listening Center also received a $35,000 donation from Victor Oladipo, former basketball player for the Orlando Magic, in 2015. His donation has been used to serve children and families and support services at the center.
While the UCF Listening Center initially served children, in recent years, services have been expanded to serve the adult and senior populations as well.
Phyllis Lower, a 66-year-old Groveland resident, recently began attending the UCF Listening Center for aural rehabilitation. Lower began to lose her hearing when she was 15, following an emergency tonsillectomy.  At age 19, she lost hearing in her left ear due to nerve damage.
"For those of us with hearing disabilities, it is a life saver," Lower said about the center. "In terms of how important is the Listening Center, it can't be measured."
With limited hearing-loss services available in Central Florida, the UCF Listening Center does all it can to reach a population overlooked and rectify a condition often ignored.
"It takes 7 to 10 years for someone to do something about their hearing loss, according to research data," Cosby said. "We tell family members, it has to be the person's decision. We meet the person where they are on their hearing journey to help them achieve maximum potential with use of their technology, effective communication skills and listening and spoken language abilities."
Following a cochlear implant, Lower attended sessions with another audiologist before someone in a support group she was a member of recommended Cosby to her.
Now, Lower is grateful she made the decision to seek help.
"For the first time in my life, I can hear a doorbell, the phone ring, my husband's voice and so many other things," she said. "Of course, with hearing, there are always sounds you didn't know existed. For me, the sound of the rain is annoying, as are the laugh tracks on television shows."
For more information about the UCF Listening Center or to schedule an appointment, please call the center at 407-882-0468 or email at [email protected].