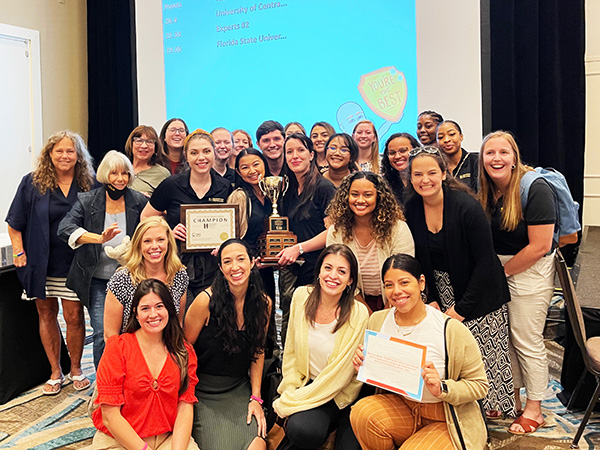 Faculty, students and alumni from the School of Communication Sciences and Disorders gathered together this past weekend at the 2021 Florida Association of Speech-Language Pathologists and Audiologists annual convention.
Among poster presentations, discussions and competitions, the UCF CSD program was a formidable presence.
Notable accolades
First Place, Knowledge Bowl
The CSD graduate student team placed first in the FLASHA Knowledge Bowl. The students – Gabrielle Bivona, Dillon Dupuy, Samantha Hasmi-Delgado, Maegan Hershner and Daniella Lopez- competed over two hours on Saturday in the PRAXIS exam-style competition to bring home the honor.
First Place, Poster Presentation
Word by Word: Targeting Semantics and Syntax with Preschoolers using AAC. Jennifer Kent-Walsh, Cathy Binger, Nancy Harrington, Seanan Evelyn, Ching-Yi Liao**, Nicole Rodriguez*, Samantha Pena*, Rocio Velasquez*, Miranda Maliszewski*
Below is a list of UCF faculty, students and alumni involvement at the convention:
*denotes student, **denotes alumni and graduate scholars, bold denotes faculty
Trauma: A Speech-Language Pathologist Perspective – Wyndi Capeci, Jason McCurry, Jayla Davis, Jossyris Silfa Salas**, Savannah Czapla
Word by Word: Targeting Semantics and Syntax with Preschoolers using AAC – Jennifer Kent-Walsh, Cathy Binger, Nancy Harrington, Seanan Evelyn, Ching-Yi Liao**, Nicole Rodriguez*, Samantha Pena*, Rocio Velasquez*, Miranda Maliszewski*
Children's Use of Eye-Tracking Technology to Communicate – Mariateresa H. Munoz, Kathryn Smrcka, Elizabeth Bello**
ASHA's Multicultural Constituency Groups (MCCGs): Reflecting Diverse Perspectives – Linda I. Rosa-Lugo, Rachel Williams**, Steven Vertz
Stigma, Resilience and Support: Lived Experiences of Persons Who Stutter – Charlotte Harvey & Randy Panzarino*
An Introduction to Trauma Informed Education for SLPs – Rachel Archambault**
Memory, Sensory, and Play: Groups that Enhance Interactions with Food – Cindy Herde**
Voice Grand Rounds: All Star Edition – Michelle Bretl, Cara Bryan, Austin Collum, Jennylee Diaz, Emily Dunn, Helene R. Fisher, Melissa Grassia-Chisholm, Adam Lloyd**, Stacey M. Mentor, Jennifer Rodney, David Rosow, Bari Hoffman
 Healthcare Communication Practices for Optimal Patient Outcomes – Richard Zraick & Ann Miller