A new service-learning, interdisciplinary health improvement course provides students in all CHPS majors with hands-on experience working to address public health problems within the local Central Florida community.   
The new course, IHS 4950 – Interdisciplinary Projects in Health Professions, debuted in the fall 2021 semester and gives students a better understanding of how to develop and execute a community health initiative by actually doing the work with a real health agency, said Suha Saleh, assistant dean for undergraduate affairs in CHPS who developed the course.  
"This course teaches students how to work in partnership with others to address community or public health concerns," Saleh says. "It's a wonderful experience for their future careers in healthcare or public health."  
During the semester, students worked with the Healthy Start Coalition of Seminole County, which focuses on addressing maternal and infant health. The students worked to develop several initiatives to share information about the  importance of infant and maternal health during and after pregnancy through tools and recourses such as pamphlets, social media campaigns, website design, and community outreach.  
"The students gain first-hand experience on what it takes to partner with our local community and empower people to make healthy changes," Saleh says. "It's not always a straightforward process and it does not follow a linear approach."  
Students worked collaboratively in groups based on different topics related to maternal-infant health and implemented a research-based intervention to help with that problem, such as low birth weight, prenatal and postnatal care, and assisting drug-addicted pregnant women and substance-exposed newborns. For instance, students developed educational materials such as videos, handouts, and targeted social media posts, in addition to organizing outreach events in downtown Sanford.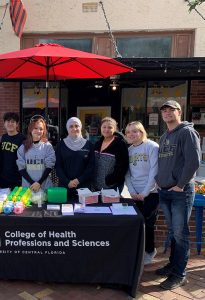 Students worked hand-in-hand with the organization to produce campaigns for pregnant women to help combat these issues. At the end of the semester, students shared their projects through a summary presentation and project analysis. The campaigns and informational materials created by the students will be used on an ongoing basis by the organization. Students say they like knowing that their work will have a direct impact on people.  
Gabriel Alban, a graduating senior, said that he signed up for the course as soon as he heard about it during enrollment season.  
"I've never seen a class like this offered during my time at UCF," Alban said. "The hands-on learning aspect of the course really made it interesting, versus just regular volunteering."  
Alban, who desires to work with Doctors Without Borders, said while the experience presented some challenges, such as dealing with COVID-19 protocols and collaborating with the community partner remotely, the experience was valuable to his professional development. He says he learned how to be an effective communicator and collaborator with community partners and that the experience helped strengthen his leadership and critical thinking skills. 
"What better way to learn first-hand than actually working on community health initiatives?" he said.    
This is the newest high-impact (HIP) course, and the first interdisciplinary course offered in the College of Health Professions and Sciences. Classes with the HIP designation offer learning experiences that enhance students' knowledge and facilitate growing their practical skills in communication, collaboration, and critical thinking. Students can see the HIP designation when searching for classes in their class portal.