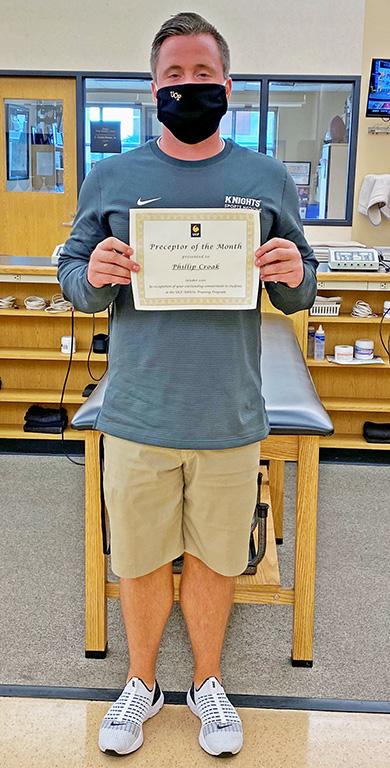 We are pleased to announce that Phillip Croak, assistant athletic trainer for the UCF Knights football program, has been chosen as the October 2020 Preceptor of the Month.
Students praise Croak's commitment to the mission, vision, and values of the athletic training profession. His patience and dedication to teaching students and ensuring they completely understand the reasoning behind the care and treatment he provides to his patients makes him an outstanding preceptor.
Croak has been a member of the UCF Sports Medicine team since 2019. He graduated with his MS in athletic training from Chapman University where he gained valuable experience as a student athletic trainer working with the Chapman Panthers during the 2019 NCAA D-III Baseball National Championships.  Croak also gained valuable experience as an intern for the NFL Los Angeles Chargers during their 2018 season.
According to MAT first-year Madison Dininny, Croak is excellent at both verbalizing and demonstrating the techniques and skills required by athletic trainers. "It doesn't matter if it's a question about the profession, a treatment, an injury or anything else, he always makes time to talk and provide one-on-one instruction. Even if he is busy at that moment, he makes sure to follow up so we receive an answer and understand the reasoning," she said. When there is down time Croak has students practice a variety of skills, and when he is working with the athletes, he is also answering questions from the students about the treatments.
Croak holds certifications in IV Therapy, Basic Water Rescue, and SASTM (Soft Tissue Mobilization) in addition to his athletic trainer certification. He is also an American Red Cross First Aid/CPR/AED instructor. Congratulations, Phillip, and thank  you for all you do for our students!