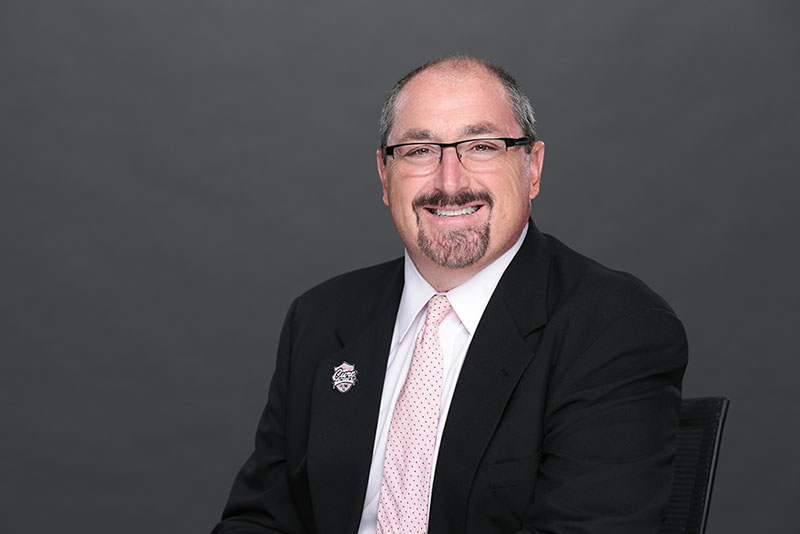 A new memorial scholarship in UCF Athletic Training honors David Cassidy, one of the co-founders of the athletic training program and a long-time supporter of the program and its students. Established by his family and a UCF colleague, Dr. Kristen Schellhase, the current director of the athletic training program and a mentee of David's for many years, the scholarship will provide financial support to an AT student annually.
Kristen said she was moved to co-create the scholarship because of Cassidy's devotion to the program, and also for the impact he had on his many students.
"I have never known anybody more passionate about his profession than David Cassidy," Schellhase says. "His joy for athletic training was evident in every part of his life."
His wife Sindy and daughters, Katie and Caroline, say the scholarship is a way to continue his impact with the program and profession he loved so much. David, who died in 2019, not only helped establish the AT program at UCF in 1998, but he continued to teach classes and mentor students until shortly before his death.
David had a magnetic personality and never met a stranger. "He made you feel like you were the only person in the room, and he was really good at making everything fun and joyful," Katie says.
David had a life-long love of sports which he hoped to align with a career. As he began looking at colleges and professions, he turned his attention to the field of sports medicine.
David began his career in Orlando working as an athletic trainer after receiving his master's degree at Auburn University and his undergraduate degree at West Chester University in Pennsylvania. He advanced his career through roles at Jewett Orthopedic Clinic and AdventHealth, while also teaching athletic training and sports medicine classes at UCF.
His love of sports transcended every portion of his life, including coaching his daughters' YMCA basketball team. Although David was competitive, he was also determined to show the team that sports wasn't just about winning. It was also about having fun. This was apparent at a championship game, which after triple overtime, the referee declared the sparring teams co-champions. David's reaction, which was shared by his players, was as though they had won the Super Bowl.
As his daughters got older and he retired from his coaching days, he still found ways to be involved and support their teams with his skills as an athletic trainer. No matter where he went, he always had his trusty blue canvas medical bag, ready to be of service.
"My dad was always at our sporting events with his medical bag by his side" Katie says. "I've never seen him more energized than when he could help".
He also found a way to bring that same passion into his classroom.
"He loved the profession of athletic training and he loved students," Sindy says. "He truly enjoyed watching them succeed and was always willing to share his knowledge."
In Caroline's eulogy to her father, she summed up his qualities as "the kind of man who brought people in, made people feel special, made them feel safe."
The Cassidy family and Kristen wanted to honor David's contributions by creating a scholarship that would help others advance their education and career. It was something David was passionate about and demonstrated whenever he had the chance to help someone. Sindy says. "He would be so proud of this legacy scholarship and the opportunity to continue giving back."
Students can apply to the David Cassidy Memorial Scholarship in the university's scholarship application system, A2O. Applications open each Spring semester.