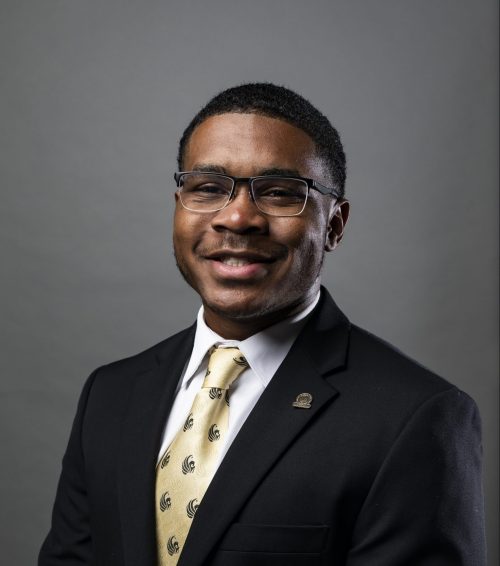 Growing up, Breon Clark always knew he wanted to go into the healthcare field.
His mother and some of his aunts are nurses. Clark also played sports in high school and was fascinated by athletics, science, medicine and healthcare.
"I knew coming into college that I wanted to be in the health field, and I knew that health sciences, pre-clinical would be a good major to get me prepared for graduate school, which I knew was inevitable," Clark said.
During his time at UCF, Clark was very involved in the community while also maintaining a high grade point average in courses that he called challenging.
Clark's commitment to academic excellence and making a difference in the world around him led to his selection as a UCF LEAD Scholar. He also participated in undergraduate research and was very involved in student organizations at UCF such as VolunteerUCF, Student Government Association and UCF CARES, a program under the Student Development and Enrollment Services office. He even ran for student body vice-president. His accomplishments and exemplary performance led to his selection for the prestigious Order of Pegasus award in 2020.
"When you are in that kind of environment in LEAD Scholars, where people are striving to be their best and do their best, you want to do more. It just caught fire with me," he said. "I did reach a point where I was doing too much and burnt out, but that was also an important lesson for me to learn."
Clark flourished thanks to support and understanding from his professors in the Department of Health Sciences – particularly during his last semester in spring 2020, when COVID-19 forced the university to quickly switch to remote learning.
"I had some great professors who really cared about us and really looked out for us," he said. "When we got hit with COVID, my professors really adjusted for us to make sure that we were keeping up."
Even though Clark knew he wanted to work in healthcare, he wasn't sure what role he wanted to play. Originally, he contemplated becoming a doctor, but he wasn't completely sure that was the path he wanted to take.
During a summer internship with the University of Florida, Clark was exposed to different career options, including physical therapy, which reminded him of a time when physical therapy had a big impact on him.
"I hurt myself when I was in high school playing football, and I had a grim outlook on life at that time," Clark said. "I couldn't move my whole left side and I wondered, 'Would I ever play football again? Would I ever be able to walk again?' I loved lifting weights, and I was afraid I couldn't do it."
His interactions with physical therapists during that time in his life left a lasting impression on Clark and he knew it was the perfect profession for him.
"I felt this was the way that I could be personable and really help people the way the therapists helped me. This was where I could make a difference," he said.  "Once I solidified my decision to pursue physical therapy, I knew UCF would be a top choice since I enjoyed my undergrad experience so much."
Clark is in his first year in the physical therapy program at UCF. He credits his undergraduate experiences for preparing him to pursue graduate school.
"My undergrad degree prepared me for graduate school because it was challenging, yet very compelling," he said. "I often found myself lost in my studies despite occasional struggles because I had a genuine interest in the material. I have now found myself in a similar situation in physical therapy school; I get lost in my studies because I'm interested in the material. I'm excited to embark on this new journey in graduate school."