Growing up, Taylor Duffy '20 was on track to become a professional tennis player. At the age of 16, he was nationally ranked and seemed destined to continue his trajectory.
"Ever since I could remember, I've had a tennis racquet in my hand," Duffy said. His parents – who were also tennis standouts – noticed that their son was somewhat of a prodigy, leading them to move the family to Delray Beach so their son could focus on the sport while enjoying year-round sunshine.
While Duffy's parents supported his love for the game of tennis, they further instilled within him a passion for both education and serving others.
When Duffy was 17 years old, he found himself needing elbow surgery, more than once. This unfortunately put an end to Duffy's tennis career, but it was where Duffy discovered fascination with the human body and a passion for helping others while rehabilitating under the guidance of a team of health professionals.
While attending UCF, Duffy discovered a community rich with diversity and growth opportunities. He knew he was interested in a career in medicine, but he also knew that he had a desire to enrich the lives of the underserved people around him.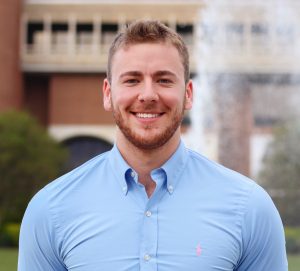 After volunteering with Best Buddies, a UCF organization that provides social opportunities for individuals with disabilities, he and fellow Knight, Andrea Doster, were inspired to found Knights Exemplar, a student organization that helps individuals with intellectual disabilities achieve their career goals by way of education and mentorship. When he wasn't helping to feed the social and educational desires of others, he was ensuring that the basic need of having enough food was met through his involvement in Knights Hunger Coalition and Knights Pantry.
While immersed in the UCF community, Duffy and his friends co-founded PREP Scholars, a nonprofit organization that provides career-focused education and mentorship to empower students in Title 1 high schools across the country and further assist them in developing postsecondary roadmaps for their futures.
Duffy, who graduated magna cum laude, continued to make a difference during his time on campus. As assistant director of the UCF Surgical Internship Program, Duffy has coordinated more than 2,000 surgical observation hours for interns within the program, among other duties. His involvement as a peer coach allowed him to help guide his younger peers in health sciences. He also served as a lead teaching assistant and was involved in various research projects with faculty.
"Now, more than ever, communities need to recognize the significance and importance of our natural need for education," Duffy said. "We all can see that in order for science to advance and be applied to make a difference, we need to prioritize our evidence-based education and no one is excluded from this privilege."
His contributions made him a stand-out student among faculty. "I think he has more hours in his day than the rest of us," said Gail Kauwell, the director of the Department of Health Sciences. "He is an outstanding student, and has an outstanding commitment of service to others. He also has humility and respect for everyone with whom he comes in contact, and we know he will go on to accomplish even greater things."
"Ultimately," Duffy said, "I have a passion for education and its overlap with teaching, medicine and leadership. For me, it's not about choosing one, but choosing all."
Duffy is a testament to the power of getting involved at UCF and in the community. The experiences he gained at UCF will serve him in his future endeavors, and everything in between.