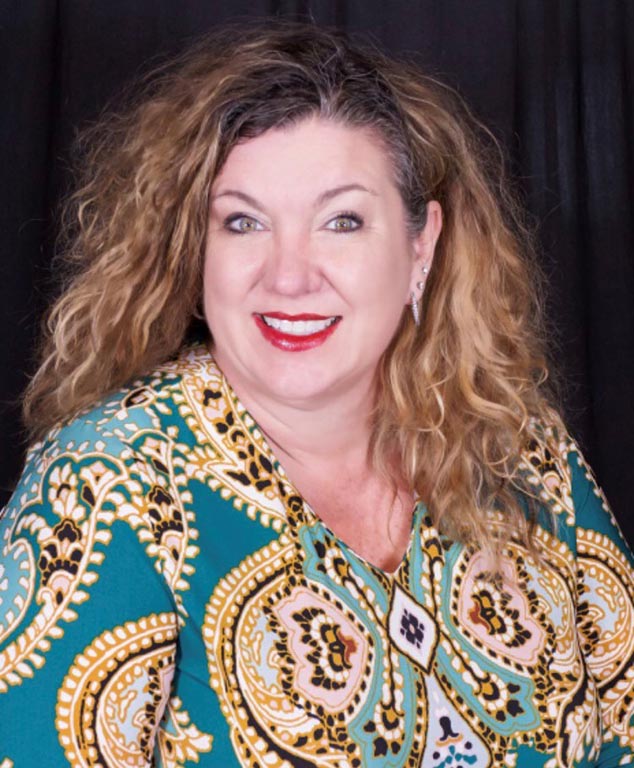 When Audrey Young '95 was in the eighth grade in her hometown of Sebring, Florida, she interviewed a school-based speech-language pathologist as part of an assignment for career day. As the daughter of an educator, Young was interested in helping change people's lives and was especially drawn to the field of communication sciences and disorders.
"I knew the SLP was helping to improve the lives of some classmates," Young says. "Her work was so interesting and meaningful to me."
By the time Young was in high school, her interest in the profession had intensified. In 11th grade, she was given another assignment – this time, to determine where she could acquire the education to achieve her career goals.
Her search led to UCF and started the path to her career – but it was not an easy one.
After high school graduation, Young married and had her first child. "Sebring was a small town," Young laughs. "Marrying and having children was the thing to do."
She remained committed to her dream and commuted two hours from Sebring to Orlando to attend classes.
"I had one child and another on the way in my last semesters, and I had been hired as a substitute SLP for the schools. They were just waiting for me to graduate, so I knew I had to get moving," says Young.
Road Warrior on a Mission
Balancing her responsibilities as a mother, a part-time employee and a full-time student meant that she had to be very resourceful with her time.
"I recorded the lectures on a cassette tape each day," she says, "And on the commute, I would listen to them. It was the only time that I had to study."
The very last semester of Young's classes were held at Brevard Community College, where Young drove three hours each way, participated in class from 6 -10 p.m., drove back three hours and started her day over again at 5 a.m.
Young never complained about her busy schedule. She was on a mission.
"My desire to become a public-school speech-language pathologist was high," Young says. "It was always my desire to do good by other people."
In 2005, she and her family moved to Texas after their home was destroyed by hurricanes in 2004. She was hired as an SLP for Trinity Independent School District.
Rising through the School System and Earning a Doctoral Degree
After a few years, she became an administrator for the district.  After her children graduated from public school, she went back to practicing speech-language pathology at the Lufkin State Support Living Center while pursuing her doctorate. In 2014, she was elected to the board of the Apple Springs Independent School District.
During this time, she received her doctorate in education from Steven F. Austin State University and was offered a position at Nacogdoches Independent School District as the director of student support services. As part of her graduate program, she interned for Representative Trent Ashby, a state official who encouraged her to seek a position that affects policy change as the most effective means to helping a large number of public-school students and faculty.
"I learned what I needed to do to implement policy that would advocate for all the children in Texas," Young says.
After more than 25 years in the public schools, Young decided it was time to help even more children and she ran for and won a position on the Texas State Board of Education with nearly 74 percent of the votes, making her the first member from Trinity County elected to the State Board of Education. She continues in her role as director of student support services for the district, where she oversees 57 staff members including seven speech-language pathologists.
"My UCF education continues to inform everything that I do," Young says.
Elected to the Texas State Board of Education
In her newest state-elected role, Young will help set curriculum standards in Texas, and review and adopt instructional materials and establish graduation requirements for the state's five million children attending public schools. Young represents over 1.7 million voters in nine counties.
She credits the wide variety of opportunities UCF offered that allowed her to experience the different ways speech-language pathologists serve the community including site visits to schools, observations and service in the college clinic, and group projects with colleagues.
For those who have never experienced speech therapy, it may be hard to understand how impactful it can be.
Changing Lives through Speech-Language Pathology
Recently, Young received a letter from a grateful mother for her help in changing her daughter's life.
A third grader named "Mary" had been sickly for most of her young life and was placed in speech therapy because she had a lisp. Mary began services in kindergarten under another therapist, but she was introduced to Young after the teacher mentioned to Young that Mary "sounds funny".
After meeting with Mary, Young suspected she had a submucous cleft palate that was causing her communication and health difficulties. Young studied about craniofacial anomalies as part of her program at UCF and learned techniques to identify and support oral- abnormalities.
"It is out of my scope of practice to diagnose a medical condition, but I had my suspicions, so I recommended that the mother go back to the ENT doctor, whom Mary had been a patient of for several years, and request a more thorough examination," Young says.
The ENT confirmed Young's suspicions. After receiving surgery to correct the submucous cleft palate, not only did Mary's speech immediately improve, but her overall health changed, and Mary began to thrive. The ENT was so impressed with Young's insistence for examination, that he wrote a letter to her superintendent commending her work and advocacy.
"When it comes to the needs of our children, I will not take no for an answer," Young says. "It's nice to have a skill set that will benefit me and those who I serve for the rest of my life. I owe it all to UCF."