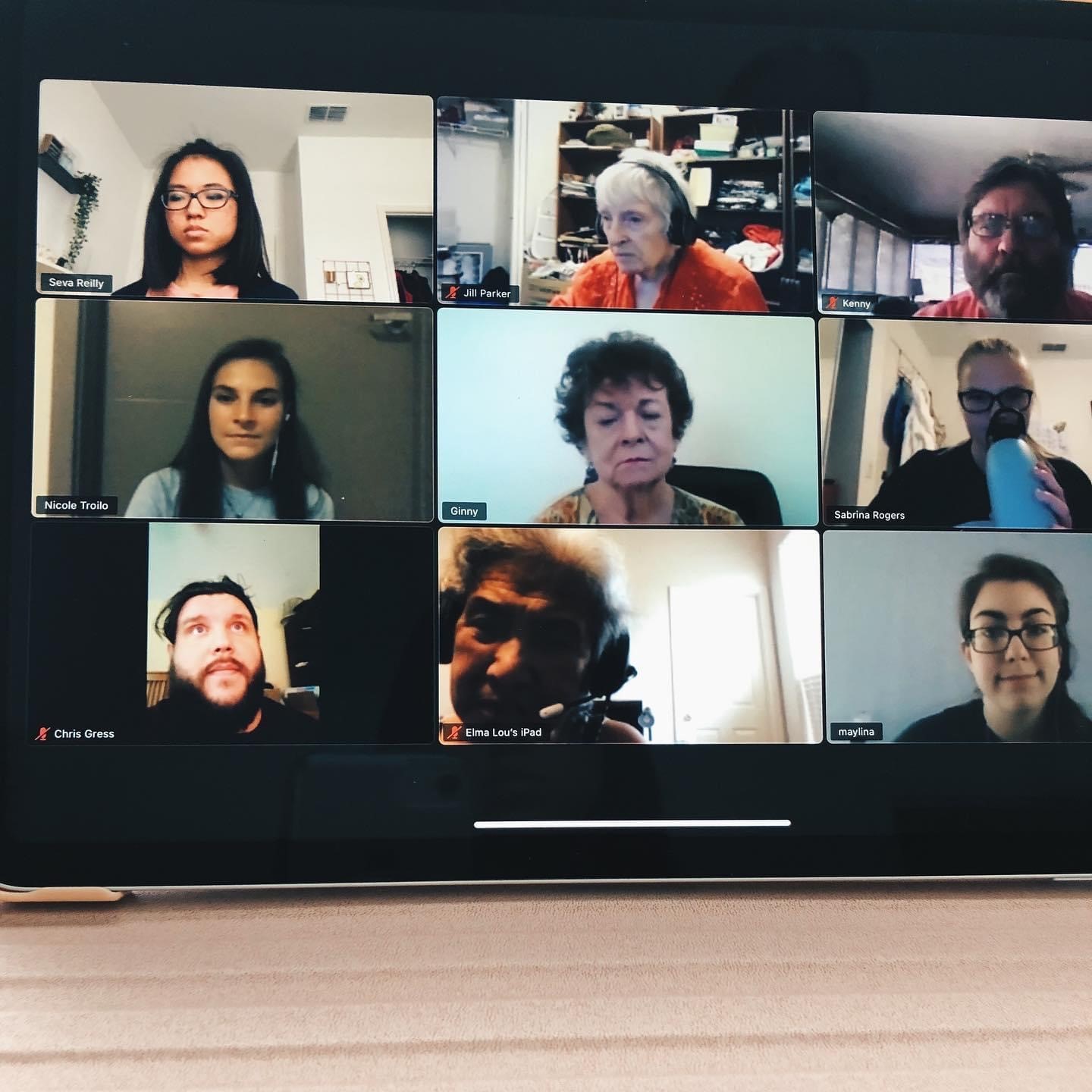 The Aphasia House, an outpatient clinic under the School of Communication Sciences and Disorders, provides a comfortable place for patients with aphasia to receive treatment and find a community home.  
"We provide intensive services for people who have aphasia, which can be due to stroke or brain injury that has caused damage to the part of the brain that helps people speak and also understand language in either spoken or written form," said Amy Engelhoven, director of the Aphasia House and a faculty member in the School of Communication Sciences and Disorders. 
While providing services to the community, the Aphasia House is also a clinical practicum site for students in the graduate programs in the School of Communication Sciences and Disorders, providing an opportunity for UCF students to connect with the Central Florida aphasia community.  
A Family-Like Gathering
In summer 2018, the Aphasia House, particularly the Friday Only Club, was experiencing exponential growth. Members both new and old looked forward to gathering at the Aphasia House. 
During that summer, Engelhoven met with longtime clients to learn more about what they would like to see in a community to stay connected. Thus, Aphasia Family was created with about 20 original members. 
Aphasia Family meets  every Friday afternoon. Student volunteers and members play interactive games and connect with each other. Aphasia Family was also created as a registered student organization at UCF, open to any student from any major across campus. 
"We wanted it to be an opportunity for students all across campus to participate," says Engelhoven. "Aphasia is something that is not really understood by the general public and we wanted to show that people with aphasia are just like you and me. They just have a difficult time communicating." 
Student volunteers enjoy the opportunity to connect with a diverse group of individuals, spending time with them and becoming a part of their lives while building a community that feels like an extended family. 
"These individuals are people that I would want to sit down with and have a cup of coffee with," says Joseph Osden, a junior film major student. "I want to show that anybody can talk to them and connect with them." 
Meeting at the Aphasia House, which is designed to feel like a home, complete with a living room, full kitchen and stocked with board games and activities, helped to make meetings feel more like a family reunion. 
"When the members all come together, it really does feel like a family gathering," says sophomore CSD student Seva Riley. "It's a wonderful and warm environment. I love the meetings and I love interacting with the group and the members of the Aphasia Family." 
Staying Connected During COVID-19
The stay-at-home orders of COVID-19 forced group leaders to scramble to find ways to stay connected.  
"We all lost connections with each other through this period of isolation," Engelhoven says. "People with communication disorders are at a greater disadvantage with the loss of these in-person connections." 
The student leaders, however, were not deterred by the challenges. They switched to online meetings and worked together to keep the Aphasia Family together. Every week they planned online activities for the members, from games that were played in virtual breakout rooms, to taking virtual tours of museums.  
"With the online format, it gave us a lot of flexibility to plan activities that our members would really enjoy," says CSD graduate student Maylina Delbuono. "The breakout rooms also gave everyone a chance to have a voice and speak up more than they would in the big gathering."  
Lessons Learned for the Future
As the Aphasia House prepares to open up again, the leaders and volunteers say that the lessons learned from operating through a pandemic will be infused into the everyday operations of the group. 
 "We have had such success reaching out to other members in the aphasia community, outside of Central Florida. I would love to invite them in on a more consistent basis and create a hybrid format," Engelhoven says. "I feel like we've made our mark even beyond Central Florida now." 
Student volunteers and leaders are excited to continue keeping connections made during the pandemic, whether in-person or online. 
"As human beings, we were created to form relationships with each other. We were not made to be alone," says CSD graduate student Kaitlyn Vidal. "Building those relationships with the patients and the family members, and the clients building relationships with each other is so important because it can make a difference on everyone's happiness and life for the better."