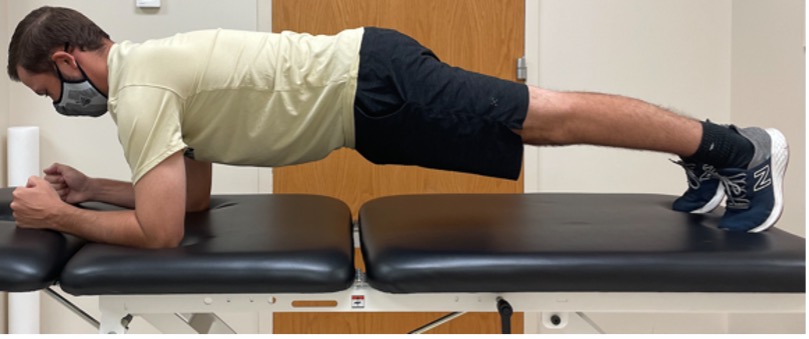 The purpose of this research study is to determine the reliability of ultrasound and electromyography muscle activation measurements of the lumbopelvic-hip complex during the prone bridge plank on a treatment table, yoga mat, fitness ball, and on a TRX suspension cable. Additionally, the study will compare muscle activity and rate of force development on the TRX suspension exercise cable during a series of plank and hip bridges. This study will test these measures in healthy individuals in order to eventually compare the influence of exercise surface on the prone bridge plank exercise in healthy and injured groups.
Inclusion Qualifications:
Ages 18-45
Male or Female
Physically active individuals according to the American College of Sports Medicine Guidelines for 30 minutes of moderate activity for 5 days per week.
Exclusion Qualifications:
You may not participate in this research opportunity if any of the following applies to you:
Current upper extremity, lower extremity, hip or low back pain
Self-reported balance disorder
Known muscular abnormalities
Previous year history of low back pain, low back surgery, lower extremity surgery
Currently pregnant
Open wound in abdominal area where ultrasound transducer and gel will be placed
Participate in this Research
Submitting this form will put you in contact with the main point of contact for this project. They will provide more information and determine if you meet all of the qualifications needed.
UCF IRB#: 00003003
PI: Luk Devorski
Recruitment End Date:
June 3, 2022
Location:
Health Sciences Building 2
4364 Scorpius Street
UCF Athletic Training Research Laboratory Room 120
Orlando, FL 32816
Time Commitment:
Number of visits: 1
Expected time per visit: 2 hours
Compensation:
Type: $15 in Gift Cards
Point of Contact:
Luk Devorski
Associated Units:
Athletic Training
Kinesiology
Exercise Physiology & Rehabilitation Science

Related Research Participation Opportunities