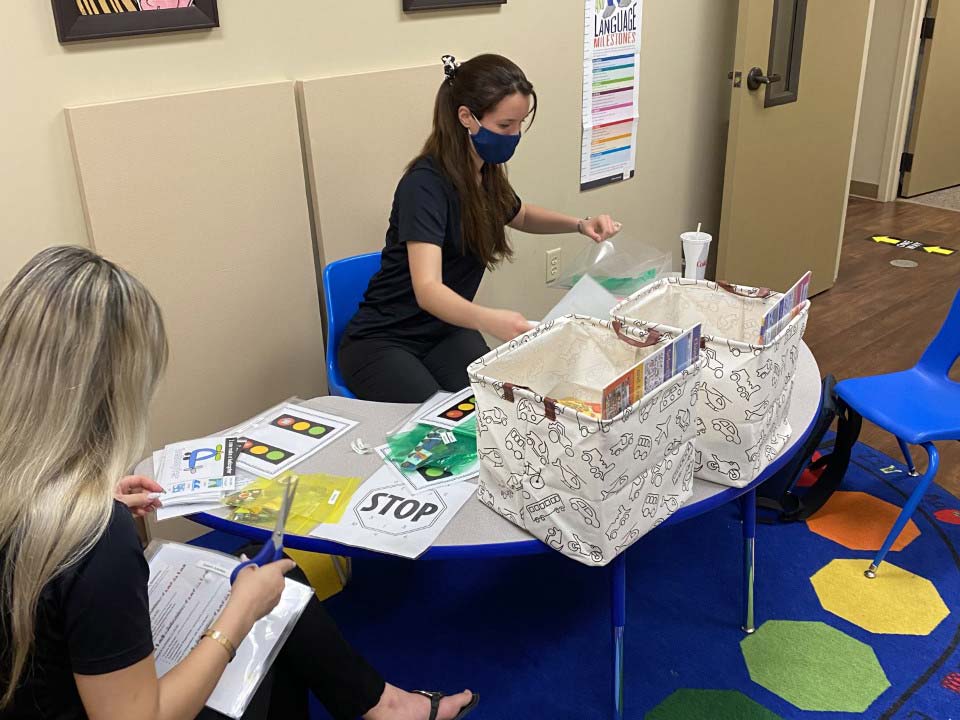 With schools offering virtual learning and limiting visitors in classrooms due to the pandemic, the UCF Listening Center had to reinvent how to deliver listening and spoken language services to preschoolers in a deaf and hard-of-hearing (DHH) class at Lake Como Elementary located in the Orange County School District.
In normal times, a clinical  educator and graduate students would visit the class once a week to provide listening and spoken language services and support the special education teachers who lead these classes. The program enhances the skills of children who are DHH with their overall communication abilities. The goal is to provide kids with the skills they need to be successful in a regular setting classroom when they enter kindergarten.
Social distancing measures made program leaders rethink how to best continue supporting teachers and kids — because even in the face-to-face option, everyone wanted to put safety first and limit the amount of people the kids were exposed to. So, they formulated a plan for teletherapy that allowed services to continue whether the kids were in the classroom or at home.
"The school was happy that we were able to continue providing services for kids who are DHH , and we were happy that our graduate students were able to continue learning how to become speech-language pathologists in an optimal clinical experience," said Whitney Haas, a clinical instructor who oversees the graduate clinicians and is one of the few certified Listening and Spoken Language (LSL) specialists in the state.
In addition to helping the kids, the program also serves a crucial need to train more LSL specialists.
"Working closely with our local schools, we are able to deliver on the Listening Center's mission to increase access to listening and spoken language services," said Linda I. Rosa-Lugo, founder of the UCF Listening Center and associate professor in the School of Communication Sciences and Disorders. "Not only are we providing therapy, but we are providing the teachers with the training they need to become certified Listening and Spoken Language Specialists themselves. The impact will continue to multiply as these new professionals go out and prepare others."
In addition to providing individual therapy online with the kids, the graduate clinicians supported parents who were doing at home learning by designing themed boxes full of learning aids to help reinforce learning. Items like activity sheets, puzzles and crafts allowed the children to continue progressing in their listening and spoken language journey.
"The themed boxes provided the children with hands–on materials during their sessions and allowed them to continue to practice with their family members," Haas said. "This semester took some creativity, but our students shined even brighter with their commitment to helping children learn and grow."
Daniella Lopez is one of the graduate students who worked with the kids. She said the safety precautions put in place by the Center put many clients at ease. Even though she never got to meet her clients face-to-face, she feels she was able to make an impact.
"Our last session with one of our pre-K clients was very special because he showed an increased self-confidence in his understanding of vocabulary and sounds we had previously worked on," she said. "My co-clinician, the client's parent and I were all overjoyed with the student's  last session."