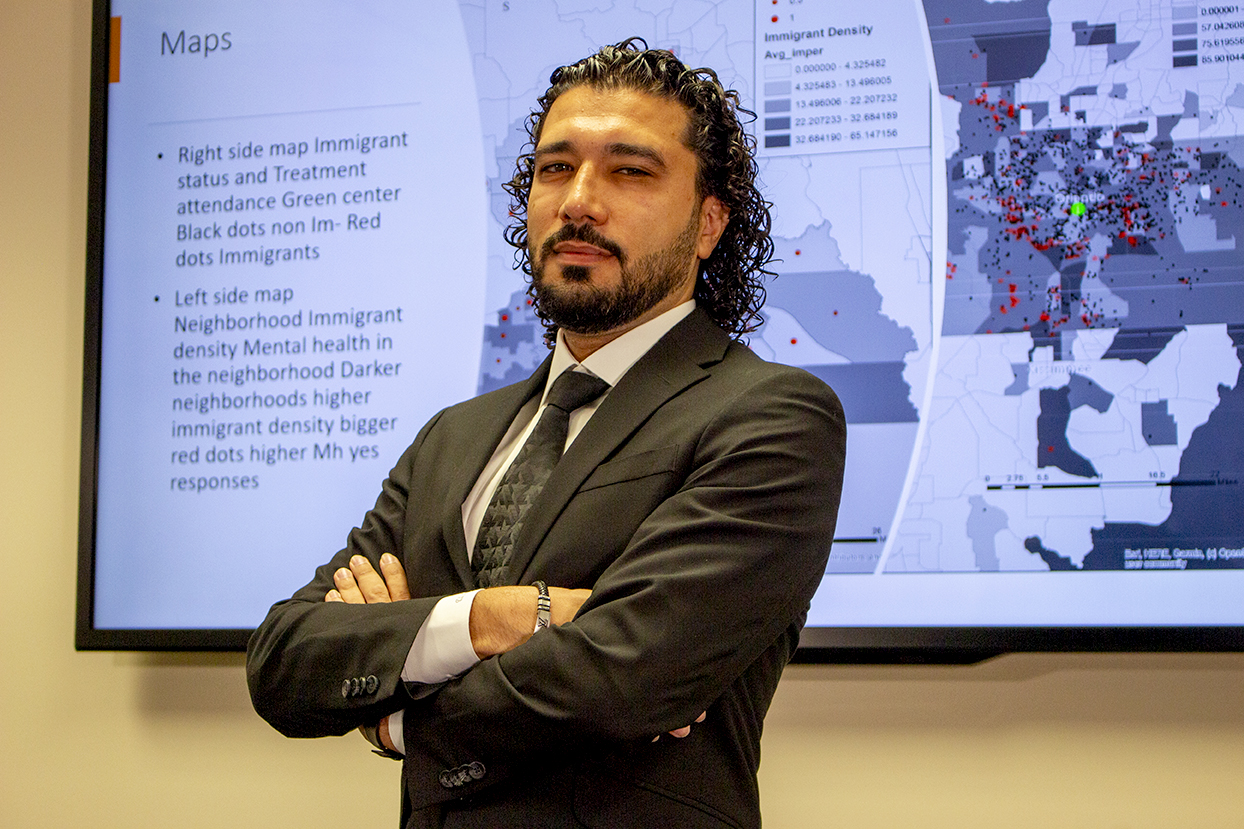 Kenan Sualp '15MSW, '21PhD is a very familiar face in the classroom. He's been teaching social work classes at UCF for eight years, earning two graduate degrees and serving as an instructor and lecturer before beginning as an assistant professor in the School of Social Work in Summer 2023. In his newest role, he's continuing his research to address the environmental risk factors for mental health and access to care.
"The classroom environment resonates deeply with me; it's a space where I inherently feel a sense of belonging," says Sualp. "Having experienced the field firsthand, I understand the profound influence social workers have on lives, and through teaching, I am trying to amplify this impact by empowering students to extend their helping hands to others."
Sualp, a Turkey native, earned his bachelor's degree in psychology from Istanbul University in Turkey. His interest in social work began during his undergraduate internship in a hospital, where he aided families in crisis and was able to explore three career areas: psychology, psychiatry and social work.
The social work portion, he says, changed his entire career path. "I gradually came to realize the crucial role social workers play in tackling fundamental challenges," says Sualp. "It was a holistic approach to making people's lives better."
Sualp applied for, and received, the Turkish Ministry of Education Future Faculty Scholarship Award, providing him the support he needed to continue his academic journey in the United States, and earn both a MSW and PhD in public affairs (social work track) from UCF.
Sualp began teaching at UCF while completing his doctoral degree and also serving as a clinical social worker for a community behavioral health agency where he provided counseling to youth and families. During his PhD program, his creation of a manual for mental health professionals to better assist unaccompanied refugee children in Turkey was recognized with the SPARC Grant – an award for those completing innovative research in the area of social work.
It was as a doctoral student that Sualp also began to evaluate how the health and wellbeing of communities may be impacted by their geographic locations, research he continues to pursue.
He utilizes Geographic Information System (GIS) tools to assess the influence of neighborhood characteristics, such as immigrant density and "concentrated disadvantage." Concentrated disadvantage is a composite measure that incorporates six indicators: percent of individuals below the poverty line, percent of households receiving public assistance, percent of female-headed families, percent of unemployed individuals, percent of the population under 18 years of age, and percent of the population that is Black. His research specifically explores how geographic locations intersect with mental health outcomes and access to healthcare services. He is currently part of an interdisciplinary team, which includes transportation engineers and computer science experts, working to evaluate traffic-related risk factors and their effects on community health.
Sualp is also working with an interdisciplinary team to better assess food deserts (locations that have limited access to affordable and nutritious food). He wants to revisit how food deserts are defined and more accurately capture the newer ways food can be accessed and delivered with today's technology.
He is currently serving as the associate editor of the Journal of Social Service Research.
Looking to the future, he has a clear idea of his goals. Sualp wants to continue using his knowledge of GIS to advocate for vulnerable populations. Using his unique experience, he is striving to provide information to social services and policymakers to improve services to disadvantaged areas.
"Our objective is to furnish stakeholders with robust data and facilitate the crafting of targeted interventions," Sualp says. "Professionals contemplating intervention strategies must possess a nuanced understanding of each neighborhood's unique profile and its influence on variables such as mental health and the accessibility of care. By meticulously mapping these community traits to specific outcomes, we are equipped to tailor interventions that more effectively address the nuanced needs of the populace."