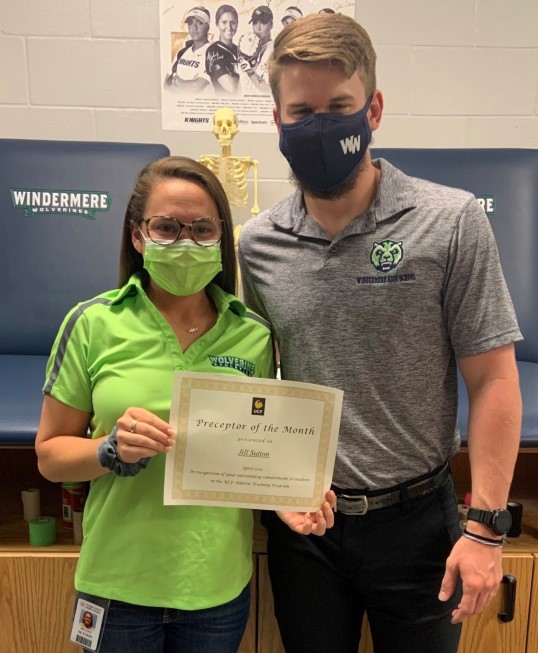 For the month of April 2021, we celebrate Jillian Sutton as Preceptor of the Month!
Sutton graduated from the UCF athletic training bachelor's program in 2015. She went on to earn her master's degree in medical clinical sciences from USF in 2017 while working as an assistant athletic trainer at Rollins College.  She is now the head athletic trainer at Windemere High School where MAT students say she is the epitome of someone committed to and highly engaged with the profession.
"She goes above and beyond for every sports team at Windermere High School to make sure each athlete is healthy," says Andrew McIntosh, first-year MAT student.  As part of her community outreach, Sutton has also built relationships with the firefighters and EMS teams at the nearby fire station so everyone is familiar and comfortable with each other when emergency services are needed.
As a preceptor, Sutton is always asking students hard questions and presenting stimulating learning opportunities to encourage them to step outside their comfort zone. She wants students to be prepared for all types of situations and be able to act quickly when emergencies arise. She also helps with non-athletic training skills like creating resumes and preparing for interviews.
"Every time I have a concern or question, Ms. Sutton takes the time to talk things through," says McIntosh.
This is not the first time Sutton has been recognized for her work and dedication to athletic training. In 2020 she was named High School Athletic Trainer of the Year by the Athletic Trainers' Association of Florida for her role in saving the life of an athlete. You can read about the ATAF award here.
"Windermere is lucky to have an amazing athletic trainer like Ms. Sutton. Being a UCF AT program alumna makes her a perfect role model for every student in the program," says McIntosh.
We are grateful to our alumni who, like Jillian Sutton, are in positions in the community where they are giving back to the program and their profession by guiding and educating future healthcare providers. Thank you for being part of our growing UCF family!