Sheila Klausner has always viewed her profession as a physical therapist as more than a job – it's her calling. She took her passion as an athlete and turned it into a way of helping other athletes achieve their goals by helping them recover from injuries.
Recently, Klausner answered another call – from the UCF Division of Physical Therapy. She has a long history of treating UCF athletes through her involvement with UCF Athletics. In her new appointment as clinical faculty in the UCF Division of Physical Therapy, Klausner will continue providing care for UCF athletes through the new UCF physical therapy clinical practice. This academic health practice has a central focus on optimal care for patients and involves clinical teaching, student mentorship, and research activities.
Klausner has spent her career working with elite athletes – it's an environment she knows well. As a competitive swimmer since the age of 5, Klausner has logged many hours in the water – and in the training room, honing her craft. She received a full scholarship to North Carolina State University where she competed nationally; she appeared destined for the Olympics until she sustained a career-ending shoulder injury.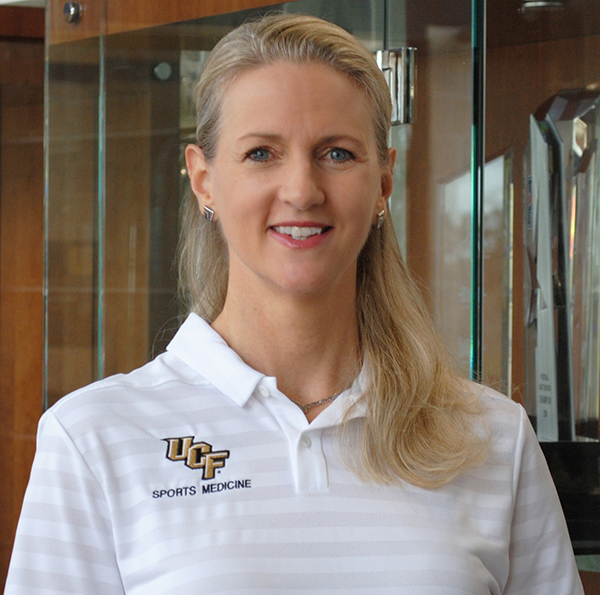 It did not, however, end her Olympic dreams. Because of her experience as a world-class swimmer and her clinical skills as a physical therapist, Klausner was recruited by Team USA to serve on the medical staff. She traveled with the team to international competitions in Australia, Russia and Spain, and was also selected to serve on the medical team that accompanied the swimmers to the 2000 and 2004 Summer Olympic Games.
In 2005, she started working with UCF Athletics providing care for student-athletes. Klausner looks forward to not only continuing her work with student-athletes, but also training doctoral students and participating in the groundbreaking research conducted in UCF Physical Therapy.
"This is what I love to do," Klausner said. Whether she is providing hands-on care, consulting with other members of the sports medicine team on complicated injuries, holding clinics to teach injury prevention, or teaching physical therapy students about the profession and assisting in research projects, Klausner is looking forward to expanding her work with Knight Nation.
"Everyone here – from the students to the staff and faculty – is so dedicated and at the top of their game," Klausner said. "I can't wait to dive in."