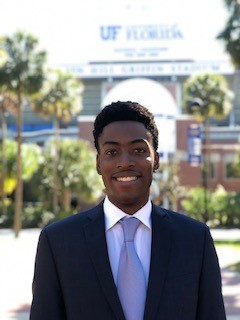 Camron Bartley, an incoming student in the Doctor of Physical Therapy program, is the newest recipient of the UCF Professional Doctoral Diversity Fellowship.  
The fellowship, which was established in 2017, is awarded to exceptional students from traditionally underrepresented populations who are newly enrolled in one of UCF's professional doctoral programs.   
Throughout the United States, students in physical therapy programs are overwhelmingly – 72. 5 percent – Caucasian, according to the most recent national data by the Commission on Accreditation in Physical Therapy Education.  
The aim of the fellowship is to increase diversity and invest in the success of minority students pursing a professional graduate degree. The fellowship includes tuition support, a yearly stipend and health insurance coverage while enrolled in the program.  
Bartley's academic achievements placed him among the top of more than 700 applicants to UCF's physical therapy program this year. For the interview portion of the admission criteria, Bartley's score placed him among the top three candidates. 
Patrick Pabian, director of the UCF physical therapy program, says he is confident in Bartley's future success. 
"Camron personifies all the traits that the UCF DPT program aspires to train in its students," says Pabian.  "He not only has a strong record of academic achievement, but also the essential skills of communication, problem-solving and teamwork that make for an exceptional physical therapist." 
Bartley earned his bachelor's degree at the University of Florida. He said he decided to pursue physical therapy because of the "authentic and meaningful" connections therapists can build with their clients. 
Though he was accepted into several PT programs, Bartley said he chose UCF for his doctorate degree because of the welcoming nature of the faculty and staff who made UCF feel more like home to him.  
Bartley will start the three–year long professional doctorate program this summer along with his cohort of 38 students. 
"I am excited to become close with my cohort and learn more about the great opportunities that a career in physical therapy provides," Bartley said.