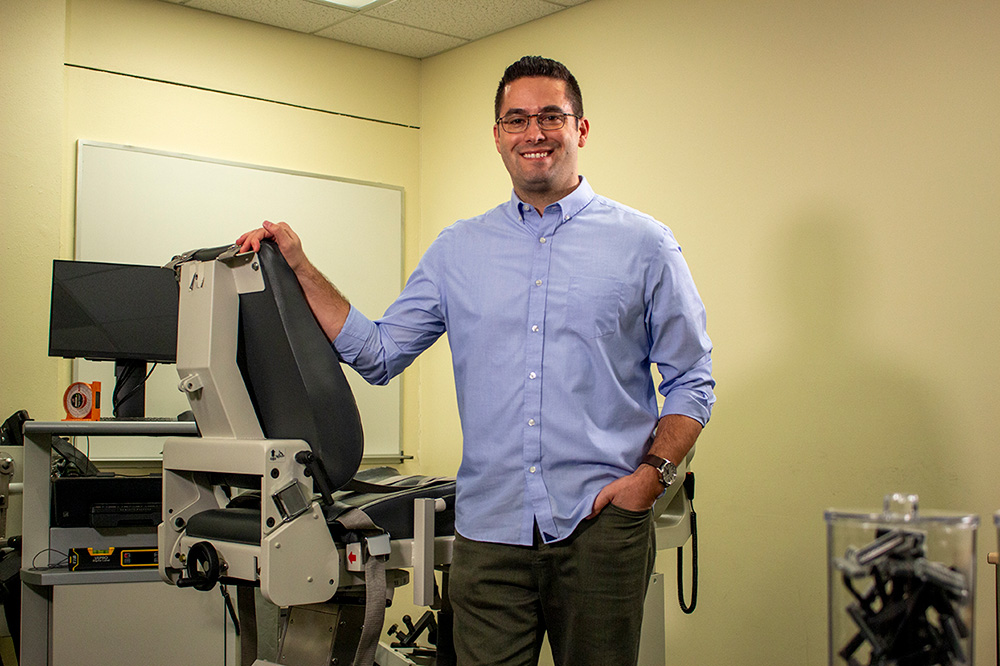 Grant Norte joined the School of Kinesiology and Rehabilitation Sciences this fall as an associate professor in the Division of Kinesiology and as a co-director of the Cognition, Neuroplasticity, and Sarcopenia (CNS) Lab, which focuses on investigating the intersections of the neuromuscular system and exploring innovative interventions to help improve the quality of life for people of all ages.
Norte began in athletic training, working with college athletes as a graduate student before completing a fellowship at the Steadman Clinic in Vail, Colorado, where he worked with patients experiencing a variety of musculoskeletal injuries.
After graduation, he served for two years as the head athletic trainer at SUNY New Paltz, assisting dozens of athletes while becoming more curious about finding ways to improve recovery after knee injuries. "I had a lot of questions about what I was seeing clinically," says Norte, who would go on to get his Ph.D. in sports medicine at the University of Virginia. "Some people do well after common injuries, and some don't. I wanted to know what it is that makes those who don't, resistant to conventional therapies."
Norte joins UCF from the University of Toledo where he served as the co-director of the Motion Analysis & Integrative Neurophysiology (MAIN) Lab and studied changes in muscle function and movement following knee injury and the underlying causes. His research at UCF expands on this work and focuses on what happens to the neuromuscular system after a joint injury occurs, with a specific focus on the interplay between the motor cortex in the brain (which makes the muscle move) and anterior cruciate ligament (ACL) injuries. Muscular impairments have neurological origins and can come from the brain, the spinal cord or the way nerves connect to the muscle.
With extensive research already done on the quadriceps, Norte is shifting his research to study the hamstrings – important muscles that protect the ACL – and their neuromuscular adaptation to injury. His focus is to understand how the brain communicates with the muscle after ACL injuries and to design therapeutic approaches to improve recovery.
"ACL injures are more than just musculoskeletal injuries," says Norte. ACL injuries can have short- and long-term impacts on people's lives, including serious consequences like financial stress from medical care or employment restrictions, physical inactivity, or mental health concerns like depression, explains Norte.
In addition to these concerns, another layer of complexity is added with the fact that a lot of people don't seem to respond to conventional therapies, says Norte.
"There's a misconception that treatments have to be these sophisticated and complex things," says Norte. "The goal is to identify simple, clinically accessible interventions that are capable of achieving complex responses in the nervous system. We want to provide a scientific rationale for these simple treatments."
For example, Norte's research is determining whether recovery is better when the sensory response of an injured joint is considered during treatment. He assesses how rehabilitation is affected when provided in tandem with interventions that induce a sensory response, such as doing an exercise with ice on the knee or with a transcutaneous electrical nerve stimulation (TENS) system, a device that delivers pulses of electrical energy to the skin's surface.
"The knee is constantly feeding the nervous system with information," says Norte. "If we can consider this sensory response in our therapies, it seems like we can have a positive impact on the way the muscle functions."
Norte utilizes a variety of techniques in his research to evaluate the interconnection between the motor cortex and lower body musculature after an ACL injury, including electromyography (EMG) and muscle and nerve stimulation to better understand the ways people are able to activate their muscles; magnetic resonance imaging (MRI) to learn how the structure of the muscles change; and transcranial magnetic stimulation (TMS) and electroencephalography (EEG) to understand how the brain communicates with the muscles or influences movement. Participants' psychological health and health-related quality of life (e.g., anxiety, fear, knee function, activity level, symptoms, etc.) are also evaluated.
Norte, who has published more than 60 manuscripts in various peer-reviewed publications, will continue his research in the CNS Lab as the 'neuroplasticity' component. He joins two physical therapy faculty members: Assistant Professor Meredith Chaput, who studies visual and cognitive brain changes after knee injury, and Assistant Professor Matt Stock, who explores ways to mitigate sarcopenia, a type of muscle loss tied to aging.
As an associate professor for the course Basic Research Methods in Kinesiology, Norte is excited to work with students. "One of the most important parts of my job, and the thing that I value the most, is working with students and being able to mentor and share my experiences with them," he said.
Norte received his doctoral degree in sports medicine and master's degree in athletic training from the University of Virginia. He also holds his bachelor's degree in exercise science and sports medicine from California Lutheran University and has been a board-certified athletic trainer since 2008. Outside of his professional life, Norte values family. He's married to Shari, who also shares his passion for kinesiology and serves as an associate instructor in the School of Kinesiology and Rehabilitation Sciences.