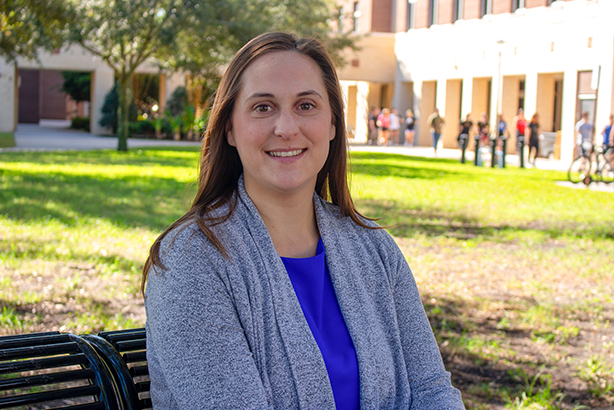 Meredith Chaput joined the Division of Physical Therapy this fall as an assistant professor and co-director of the Cognition, Neuroplasticity, & Sarcopenia (CNS) research lab in the School of Kinesiology and Rehabilitation Sciences. Her research examines how rehabilitation from musculoskeletal injuries can incorporate more neurologic interventions.
Chaput's interest in physical therapy was first sparked as a member of her high school's basketball team. During her time as a player, Chaput underwent two knee surgeries and later broke her leg – ending her competitive athletic career. Recovery from her injuries required extensive physical therapy.
Though different from the knee injury she experienced while in high school, Chaput became interested in studying and researching the mechanism behind anterior cruciate ligament (ACL) ruptures – a common sports injury – and how the brain is affected during recovery.
Ligaments like the ACL send sensory signals to the brain that are important for detecting where your joints are in space. When ruptured, the sensory signals sent to the brain are altered. While patients usually have surgery followed by six to 12 months of physical therapy, typical rehabilitation strategies don't address the underlying central nervous system changes, says Chaput. "Our rehabilitation protocols don't actually target the nervous system that well," Chaput says. "Instead of just focusing on the muscles and the knee joint, we also have to focus on aspects of the nervous system like the brain."
Chaput's research looks to provide a more holistic approach for ACL rehabilitation. After ACL reconstruction more than 50% of people will develop advanced osteoarthritis within 15 years. Additionally, about 30% people will experience a second injury and many never return to their prior level of function.
"In addition to causing osteoarthritis later in life, the risk for a second knee injury is high," says Chaput. "Both impact people's quality of life, which is why we want to study them and learn how to better intervene early on."
To explore the neurological and musculoskeletal connection, Chaput's research uses functional magnetic resonance imaging (fMRI), a method that can evaluate brain activation during knee movements. She also uses sport-specific dual-task tests to examine how an individual performs not only physically, but cognitively as well. The long-term goal of her research is to identify novel rehabilitation interventions that can be used to improve the brain's function after ACL injury.
In traditional physical therapy, athletes engage in lifting weights and conducting exercises that help build endurance and regain muscle strength. But some research shows that regions of the brain related to visual processing and cognitive awareness of movement are also altered after having an ACL reconstruction. Standard rehabilitation waits until the very late stages to address these visual and cognitive changes, which may contribute to high re-injury risk. Therefore, Chaput is interested in developing interventions to target the brain changes in visual and cognitive regions within early stages of recovery.
Chaput's research will continue in the newly created CNS Lab, which is located in the Education Complex and housed within the Institute of Exercise Physiology and Rehabilitation Science. She'll work alongside fellow co-directors Grant Norte, an associate professor of kinesiology, and Matt Stock, an associate professor of physical therapy. Coincidentally, the CNS Lab name incorporates the first letter of their last names and their respective specialty areas (cognition for Chaput, neuroplasticity for Norte and sarcopenia for Stock). Together, the three researchers will focus on investigating the intersections of the neuromuscular system and exploring early interventions to help improve people's quality of life across the lifespan.
Chaput holds a bachelor's degree in exercise science from the University of Minnesota-Duluth and a doctorate of physical therapy (DPT) from Creighton University. She completed a Sports Physical Therapy Residency at Vanderbilt Orthopedics Nashville and is a board-certified sports clinical specialist. Additionally, prior to joining UCF, Chaput completed her doctorate of philosophy in translational biomedical sciences at Ohio University where she co-instructed several graduate level courses and served as a clinical instructor for DPT students in a pro-bono clinic for ROTC outreach.
In 2022, Chaput received the New Horizon Award from the American Academy of Sports Physical Therapy which recognizes an emerging leader in sports physical therapy within the first five years of practice for their contributions to research, clinical practice and mentorship. Additionally, her research was competitively awarded a Promotion of Doctoral Studies II Scholarship through the Foundation for Physical Therapy Research.