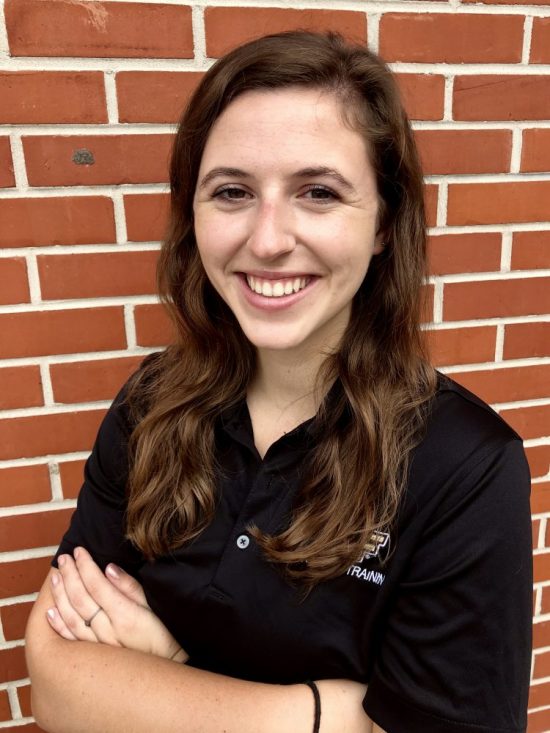 What made you decide to apply for the AT program here at UCF? 
Mollie: Going through college, I was still deciding on a career path. I wanted to go into medicine, but really wanted the opportunity to build relationships with clients.  I was deciding between physical therapy and athletic training and I was drawn more to AT because of how dynamic it is and how many hats you wear when taking care of patients. You are the first responder for the patient and really build that relationship. I looked into UCF and I wasn't sure because I'm from Virginia and Florida was far away. I reached out the program director, Schellhase, and she is phenomenal; I love her with my whole heart. She was probably the biggest reason why I applied for UCF because she was so personable and took the time to stay on the phone with me more than an hour.
What has your experience been like so far here at UCF? 
Mollie: Moving from Virginia, was my first big move. My cohort is 12 people and that first summer, we got really close really fast, and we helped each other, too. I was worried about how much harder graduate school would be than undergraduate. The professors want you to be your best, but they will take the time and effort to make sure you understand the material so you can incorporate it later to be a better clinician. The professors have been great in making sure that we are learning and taking our skills to the next level. The clinical sites have been great; our coordinator has been awesome in making sure they take down our goals and where we want to go and aligning us with clinical sites. I am interested in seeing the high school aspect, so my clinical coordinator saw that and set me up to be at a clinical site to work in that setting.
What are your post-graduate plans? 
Mollie: Coming into the program, I thought I wanted to go collegiate. That was the only experience I had. I worked in a high school in the fall, and I fell in love with it and decided that was the direction I wanted to go. However, I do want to sharpen my clinical skills, so directly post-graduate, I'm looking at a one-year residency program and give me the opportunity to work by myself, but still have a mentor.
How do you feel UCF has prepared you to go into this field? 
Mollie: The professors are incredible. They work with you and make sure you have all the skills from A-Z. Personally, there have been times when I haven't had the confidence in what I was doing and they have sat me down and told me, "You know what you are doing. You can do this." They are not only great in the classroom; they are great for moral support and encouragement. I feel comfortable going to them with any problem. I miss seeing them, now that we have transitioned to online learning. When I compare where I was at last year to where I am now, it's crazy— it feels like it's been 5 years.
What words of advice would you give to others considering applying to an athletic training program? 
Mollie: Take the time to reach out and learn more about the programs you are considering. Talk to the professors and students already in the program, and you'll see a difference.