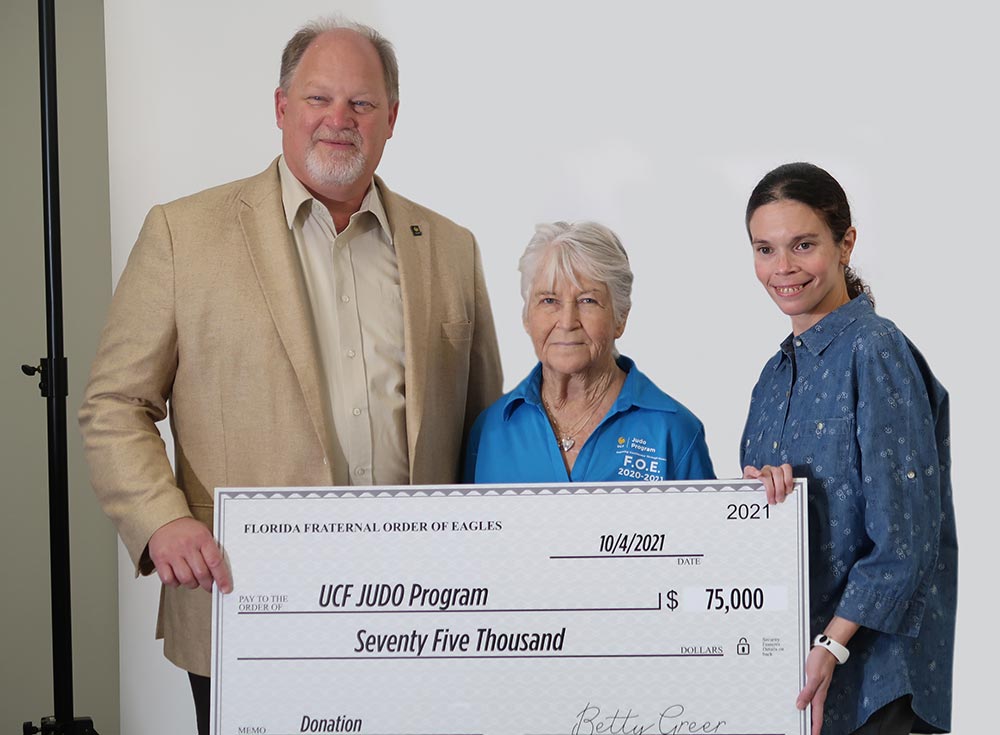 The Florida Fraternal Order of the Eagles (FOE) has donated more than $75,000 to the UCF Judo Program to help expand the program and continue its work to improve students' physical health, mental health, and academic performance.
The Judo program is led by Jeanette Garcia, a faculty in the Department of Health Sciences. Through connections with community groups and primary schools, Garcia implements research-based programming specific to youth with autism spectrum disorder to make a positive impact on students' wellbeing. Judo is one of the interventions Garcia and her team of researchers are exploring. Other topics include healthy eating, getting proper amount of sleep, and general physical activity. Garcia and her colleague, David Fukuda, were recently recognized at UCF with a Luminary Award, that recognizes faculty members for being leaders in their fields and conducting work that has had a significant impact on the world.
The gift is the culmination of a year-long fundraising campaign throughout the state, with contributions from the individual FOE aeries.  The campaign was led Betty Greer, who served her term as Madam President of the Florida Fraternal Order of the Eagles Auxiliary from 2020 to 2021. Greer had learned of the UCF Judo program and the positive impact that it was making on youth and families and knew that philanthropic support could help the program grow to have even more impact.
"Even with the challenges presented by the pandemic, the Eagles are a family and they pull together," Greer said. "We don't back down from a challenge to do good in the world."
Although her year as Madam President completed, Greer continues to be a champion for the program, spreading the word and continuing to find resources for it to grow.
"This support will help ensure that we have the supplies and infrastructure to continue to expand our programming and the benefits it delivers for participants," says Garcia. "I'm so thankful to have the support and shared vision from Betty and the Eagles for finding the best way to lift up youth of all abilities.  We have had calls from interested groups around the country, and even internationally, who are interested in replicating this program, so there is so much good that these funds will reap for youth for a long time into the future."