Jane Hostetler, an associate instructor in the School of Communication Sciences and Disorders, has been working with Parkinson's patients at UCF's Communication Disorders Clinic to improve their communication skills since 2004.  
Parkinson's disease is a progressive nervous system disorder that affects movement. Patients with the disease may exhibit tremors, slowed movement or rigid muscles; sometimes, their speech is affected.  
"With Parkinson's, respiratory muscles are affected," Hostetler said. "So not only is the sound of the voice affected, but articulation is difficult. Our Parkinson's patients and their families are not only dealing with the physical effects of the disease, but the communication issues that it presents."  
Recently, Hostetler received a grant from the Parkinson Voice Project to help improve the speech of patients with Parkinson's. She has implemented a program called Speak Out, where the focus is on getting patients to speak loud and with intention, which helps patients improve their voice, and respiratory and swallowing muscles.  
Working under Hostetler's supervision, graduate clinicians in the speech-language pathology program provide therapeutic exercises to Parkinson's patients who seek to improve their communication and quality of life.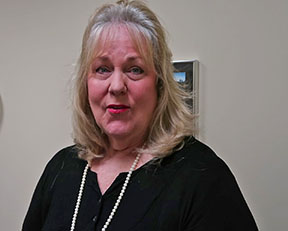 "The programs can really stretch a person's energy and endurance," Hostetler added. "The exercises we ask our patients to do actually stimulate the respiratory muscles – and like any muscle, they need to be stimulated to grow in order to have the desired results."  
 The programs implemented by Hostetler not only improve a Parkinson's patient's voice, but also offer a valuable opportunity for graduate clinicians to gain experience with a segment of the population they might not necessarily come in contact with during their other clinical training activities. Hostetler says the combination of patients putting in the hard work to get better and the dedication of the graduate clinicians to offer the best care possible makes for very gratifying work.  
"We are all so proud of our clients with Parkinson's disease for taking this step with us to help improve their quality of life."