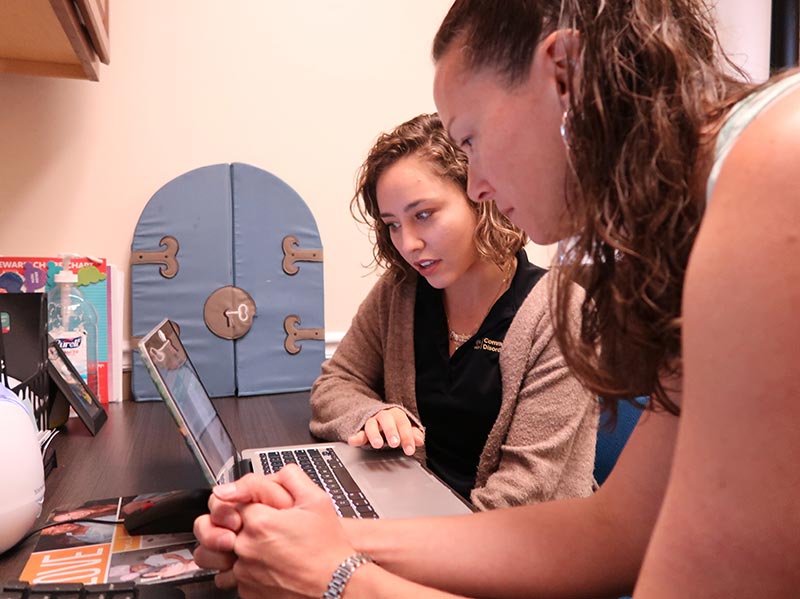 Public schools, private clinics, nursing homes and hospitals are just a few places where communication sciences and disorders students intern during the year.
With more than 200 community partnerships, there is no shortage of opportunities for students to participate in internships across Central Florida and beyond.
Internship coordinators Julie Matura and Todd Fix work diligently to ensure that students are matched with internships that align with their career aspirations and interests.
"This internship program is over 20 years old and this network began when we started placing students in the community," Matura said. "Some of the managers and coordinators we work with came from this very program."
Vinny Vurro, a speech-language pathologist and owner of Felice Center for Pediatric Rehabilitation, Inc., graduated with a master's degree in communication sciences and disorders from UCF in 1999.
Born in Italy, Vurro worked with a speech therapist to help him with his accent in elementary school. He later decided that was the path he wanted to take.
Now with two clinics, one in Winter Park and Maitland, and 16 therapists and staff members, Vurro offers internship opportunities to two or three UCF students a semester.
Interns work alongside therapists with children and their families, meeting sometimes several times a week with families and building a trusting relationship with families.
"My experience as an intern at the Felice Center has given me unteachable insight on how to work with this population," said Genevieve Cintron, a second-year graduate student who is currently interning at the Felice Center. "I can honestly say that this experience has been nothing short of greatness."
Vurro wants to ensure that his interns understand the business and clinical side of working in private practice. But the most important aspect he wants to instill into interns is providing research-based service to children and families.
"You are here and not just as a therapist," he said. "You are here as somebody who is going to make a difference in somebody's life."
Students interning through the Orange County School Board are taught similar principles.
Medical settings provide one-on-one services to clients, said Stephanie Bertucci, a UCF alumna and speech-language pathologist with the Orange County Public School system. In school settings, there may be three or four students in a session, requiring more individual focus on the children.
For the past seven years, Bertucci has worked with a full-time UCF intern each semester at various schools in Orange County. She works to ensure that interns work hands-on with the children and learn diagnostic and therapeutic skills utilized in a school setting versus a clinical setting.
"Everything I do, they do," she said. "When they come to work with me, I regard them as a partner, not as a student."
The experience is often a positive one for both the interns and the students they work with.
"I've never had an intern that my students did not like," she said. "The kids think of them like an older sibling, so they really bond with them."
Bertucci commends the faculty and staff at UCF who work to prepare students for their internships and their eventual career path.
"Every time I meet with Ms. Matura, I say 'This is the best intern I've ever had,'" Bertucci said. "I always want to keep them with me. They are not fearful and are always ready to dive in. 'No' and 'I can't' is not part of their vocabulary."