For one hour each week, children in a new UCF research study shed their label of autism, don white uniforms called judogis and become judokas — practitioners of the martial art of judo — in classes at UCF's Education Complex Gymnasium.
The judo classes are a collaboration between UCF's Center for Autism and Related Disabilities and UCF's new School of Kinesiology and Physical Therapy, and they are a component of the first research study of its kind in the nation, say its researchers. The eight-week study, led by Assistant Professor Jeanette Garcia with the school, examines effects of judo on children with autism spectrum disorder.
Each class starts with a brief warm-up period, including a light jog around the judo mat a few times and some floor exercises.
Then, the real fun begins. Sensei (the teacher) shows them "ukemi," a technique that teaches the students how to fall without hurting themselves. And perhaps the most anticipated exercise is the "foot sweep," where the students grab onto their sensei's judogi and maneuver their foot behind sensei's leg, while simultaneously pushing forward, thereby toppling sensei.
It is a glorious moment for the judoka who, after the exercise, displays a small satisfied smile after seeing sensei is OK. In judo — whose roots mean "gentle way" — the object is to yield to an opponent's energy to use his force against him.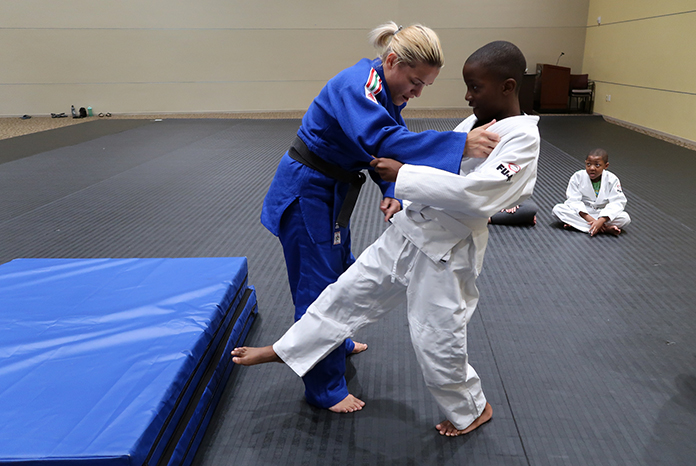 "I believe that judo is beneficial to people of all ages," said Shinjiro Sasaki, international judo champion and owner of Sasaki Judo in Casselberry. "It is so much more than a sport or a martial art. It is a way of life."
Students are given accelerometers, a smart watch-like device that measures their activity and rest levels, said Garcia. Graduate students Justine Renziehausen and Paola Rivera are also working with Garcia on the project.
Garcia has always had an interest working with children's health behaviors. "I know that if we get them started exercising young, they tend to stick with it," she said.
In general, Garcia said, children with autism are very responsive to exercise programs. But, she added, it can be difficult to engage these children in a group exercise program because of psychosocial issues like socialization, sensory processing and other issues of "marginal normality," the concept of not quite fitting in.
After talking with Associate Professor David Fukuda and Professor Jeffrey Stout, two of Garcia's colleagues in the school, Garcia knew that judo was a good exercise intervention to use in the study.
Both Stout and Fukuda are longtime judo practitioners. "Judo is a mind-body exercise and combines discipline with core-strengthening exercises," Fukuda said. "Judo is also a non-violent sport that also emphasizes respect for each other, and for one's self."
In 2017, Garcia was the thesis chair for Keanu Tomey's Honors in the Major project that paved the way for Garcia's current study. Tomey's thesis focused on students at UCP of Central Florida's East Orange/Bailes School in Orlando, a public charter school that serves children with disabilities as well as typically developing students.
Tomey, who graduated in 2017 with a B.S. in sports and exercise science, attended every judo class and interacted with all the children for his project. "I had no idea which children were autistic, and which ones were typically developing," Tomey said. "I kind of liked the fact that I didn't know."
"I was very impressed with the kids at UCP-Bailes," Garcia said. "They were doing moves that I would never be able to do, and they really seemed to like it." Buoyed by the results from that pilot study, Garcia submitted a successful proposal and received a grant from UCF's Office of Research and Commercialization to continue her research.
For the current study, Garcia worked with Judith Samuels, community relations coordinator for the Center for Autism and Related Disabilities, to determine the interest level of about 30 students between the ages of 8 and 18.
Each class starts with a brief warm-up period, including a light jog around the judo mat a few times and some floor exercises.
"I am honored that the UCF judo program has been embraced by the students and staff," Sasaki said. "I can see the joy they have when training, and it makes me feel a sense of accomplishment knowing that the art and sport I love so much can have a direct effect on an incredible group of people."
"This has been so exciting for me," Samuels said. "My son is autistic, and at 28, he is too old for the study, but I am so happy to see this opportunity for other children on the spectrum."
"These are students who have not been exposed to a lot of group sports," Samuels said. "They are typically awkward, and don't have many friends."
But something magical happens when the children are in the judo class, Samuels said. "I close my eyes, and it sounds like typical kids."