Romina Homayoun is a senior majoring in Health Sciences and minoring in Spanish. Last month, Romina was inducted into the Order of Pegasus Class of 2021. The breadth of accomplishments required for this award makes the Order of Pegasus the most prestigious and significant award a student can attain at UCF. The award recognizes recipients' exemplary performance academically, as well as their outstanding contributions to university involvement, leadership, and community service. Romina graduates in May, after which she is headed for the University of Florida where she will work toward earning a Doctor of Medicine in Dentistry (DMD) degree.
There are moments in life that define all other moments, bringing everything into perfect clarity. For Romina Homayoun, this occurred in the middle of a Zoom lecture when she received an unexpected email notifying her that she was one of 23 students to be inducted into the prestigious Order of Pegasus. "I remember immediately turning off my video and calling my parents on Facetime." This moment, Homayoun said, will live in her head forever.
To Homayoun, the award proved that hard work truly pays off. "No matter what you go through and what you hear in your life, know that everything you did will be worth every single step, every difficulty, every conflict, every obstacle," she said.
Her Journey
Throughout her life, great strength met great opposition. When Homayoun was 7 years old, she was diagnosed with Crohn's disease, an autoimmune disease that irrevocably altered the very framework of her life and presented many challenges.
Despite these obstacles, Homayoun never shied away from pushing herself and pursuing her dreams of becoming a dentist. In reflecting on the reasons for pursuing dentistry, Homayoun said: "Your smile is often the first thing someone sees in you. It can show your emotions and personality." She went on to share that oral health plays an integral role in our systemic health, namely our cardiovascular, pulmonary, and gastrointestinal systems. "For me, that's what I like about dentistry: the fact that it is so much more than just the teeth."
Recognizing the systemic nature of oral health, Homayoun has conducted undergraduate research on the intersection of Crohn's disease and oral health, finding that those with autoimmune disorders may be more susceptible to cavities, oral lesions, and other inflammatory processes of the mouth. "That was a surreal experience," she said. "Imagine being able to connect something you struggled with your whole life with what you want to do." As a future dentist, she hopes to continue her research and raise awareness for those who may be more susceptible to oral health issues.
Making the Most of Her College Experience
During her time at UCF, Homayoun volunteered with Grace Medical Home's Dental Center, a center that provides comprehensive dental care for low-income, uninsured members of the Central Florida community. While volunteering, she noticed that many patients spoke Spanish and depended on online translators for communication. Having studied Spanish during middle and high school, she started making pamphlets of dental terminology in Spanish, so fellow interns and patients could communicate with ease. Seeing how excited patients were to have someone speak to them in Spanish face-to-face was the tipping point that made her dedicate her last year of college to pursuing a minor in Spanish.
In the future, Homayoun hopes to use her knowledge and experience to open dental clinics for underserved populations. "I envision a world where dentistry is no longer a luxury, but a necessity. Regardless of income or location, dentistry should be accessible and prioritized."
In addition to her research and volunteer work at Grace Medical Home, Homayoun served as a Microbiology Supplemental Instruction (S.I.) Leader, Honors Orientation Ambassador, Honors Symposium Team Leader, and active member of the Pre-Dental Student Association. She considers these experiences the epitome of her memorable UCF experience.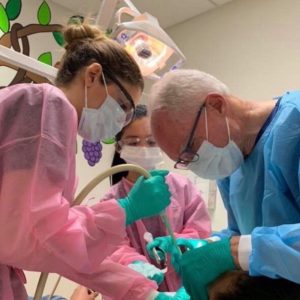 For those looking to become more involved, Homayoun encourages students to "make sure it's something you actually want to do." Likewise, Homayoun states that it is more important to be remembered for who you are rather than what you do.
Homayoun credits the Department of Health Sciences for its diversity of clinically-relevant courses, such as Pathophysiology, Introduction to Pharmacology, and Clinical Nutrition, for making her educational experience most valuable. The professors in the Health Sciences major strongly contributed to her future by also becoming significant mentors and role models.
Keeping Everything in Balance
Outside of her professional endeavors, Homayoun is an avid reader who often sets goals for the number of books she'll read per year. While reflecting on 2020, she said, "I'll be honest, 20 books was the goal, but I ended up reading 136 because of the quarantine." One of her favorite books is "We Hunt the Flame" by Hafsah Faizal, an author she's had the pleasure of getting to know personally. She also enjoys artistic activities, engaging in diamond painting, and more recently, cross-stitching. She also has played the piano her entire life.
Above all, Homayoun emphasizes the unconditional love of her parents. "I would not be who I am today without their pillars of strength. I owe everything to the power of their love and support," she says.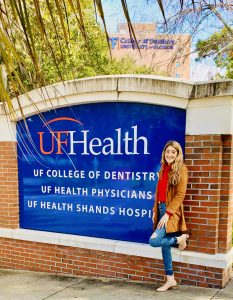 As she approaches graduation and her next chapter as a dental student at the University of Florida, she cherishes her UCF memories and reflects on her journey. "I want everyone to know that anything worth achieving is never easy," she says. "Be brave and share your stories, wear your metaphorical scars of triumph, and show people who you are and what you have gone through. Honestly, a chapter never truly ends; it just changes. I turned the page and took control of my narrative. Now it's your turn!"