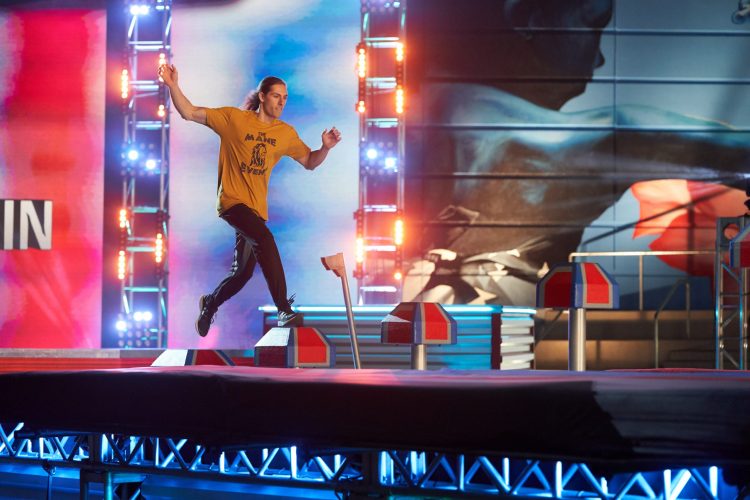 Some people dream of becoming superheroes and ninjas like the ones they see on TV. Jason Kotzin '20 is helping to make their dreams come true through the training sessions he offers at his gym, Obstacle Ninja Academy in Orlando.
The gym is set up similar to the obstacle course on the show. Guests can practice their own ninja warrior skills through exercises and classes.
Kotzin uses his health sciences education and his personal experience as a contestant on "American Ninja Warrior" to train future competitors, or just offer a fun new physical experience for people to try.
"Every day I'm applying some of the exercise science courses I took to the people I coach on the obstacle courses. How you move on the course, what muscles you are using, and educating people on how to stay healthy and avoid injuries," he says.
From Engineering to Health Sciences
Health sciences was not Kotzin's initial major when he arrived at UCF. Originally, Kotzin majored in aerospace engineering based on suggestions from family and friends.
But Kotzin could not see a future for himself as an engineer. After a six-month position with Lockheed Martin Corporation, he decided it was time to find another career path – one with more flexibility with his career path.
Kotzin  opened a gym in the tourist district of Orlando on International Drive while he was still a student at UCF. He loves teaching clients how to lead healthier, more active lives. It fit well with his own interest in living a healthy lifestyle. He decided a degree in health sciences would give him the foundation to pursue a career that would embody the work he loved doing.
Competing on American Ninja Warrior
As he was nearing completion of his bachelor's degree, Kotzin began to feel burned out from being a full-time student and running his own gym. He began to reflect on what he wanted his next step to be following his upcoming graduation.
On a whim, he decided to apply as a competitor on the  TV show "American Ninja Warrior," where contestants navigate challenging obstacle courses.
Kotzin was selected to compete and flew to Atlanta to film for the show's 11th season, which aired in 2019. He described the filming experience as "surreal."
"Being on the show, I was shockingly calm," he says. "I've done other competitions and normally, I'm nervous beforehand, but this time, I wasn't nervous at all."
Although Kotzin did not reach the finals, participating taught him an important lesson that he now carries with him every day.
"You have to go with the flow and find out what works best for you," he says.
Training and Preparing the Next Ninja Warriors
Now, Kotzin pours his knowledge, enthusiasm and experience into his gym, where he leads others through a fun workout, whether it's just one time or part of their workout routine.
During the pandemic, when many people needed options to workout at home, Kotzin saw an opportunity to use all his strengths. He founded Podium, a company that builds and ships "ninja warrior" inspired obstacle courses to people's homes.
Everyday, Kotzin and his team work tirelessly with guests and members to prepare them to achieve their own goals and dreams, whether it is to be more physically active, or to compete on the next season of American Ninja Warrior.
"One of the girls that I used to train in the past, she's been selected to compete on the show this year," he says. "So it will be really exciting to see how she does on the show. That's what I love about what I do; helping people achieve their goals."