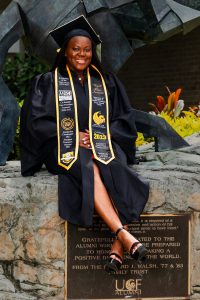 Angela Jarman knew at 5 years old that healthcare was her calling. The daughter of a medical assistant, she remembers the one particular day that would establish her career path.  When Jarman's mother couldn't secure childcare, she took her to work. There, the doctor brought her along on his rounds and let her see medicine in action. The rest, Jarman says, is history. After graduation, Jarman plans on taking the MCAT in preparation for medical school. During her time at UCF, she was involved with the African American Biomedical Sciences Organization as a vice president and served as Assistant Director for Knights of the Roundtable.
Angela Jarman
Hometown: Virginia Beach, VA
Degree: Health Sciences, Pre-Clinical Track
What will you be doing after graduation?
After graduation, I have two trips planned. One is a cruise to Ocho Rios and Grand Cayman and the other is to Dubai. After that, I will begin studying for the MCAT as I am planning to take it in January or March.
What are your long-term career plans?
My career goal is to become a physician and one day open my own practice.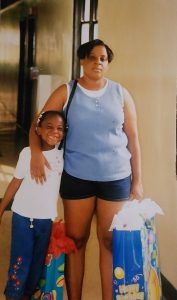 What accomplishment from your time at UCF are you most proud of?
I am most proud of finally completing my bachelor's degree. As a non-traditional student, I haven't had the typical journey through college and it's been a long, challenging one. There were many times of doubt and second-guessing my decisions. But graduating this summer proved to me that I can do anything I put my mind to.
What did you love the most about your time at UCF?
I will have to admit when I first came to UCF, I was a bit nervous and stressed, mostly because it was so large and the classes were so big. But, after joining a few student organizations, I met lots of people like me and made life-long lasting friendships. I also loved the amount of resources UCF provides to its students, especially for pre-health professional students. I gained mentors, shadowing, and research experience through various programs at UCF, all of which I need to stand out in medical school applications.
What was your favorite class, professor, or experience at CHPS, and why?
My favorite class and professor was HSC 4008 Professional Development in Health Professions with Dr. Garcia-Stout. I loved this class because it was not your traditional lecture, study, exam-style class. This class focused on building yourself as a professional. I was able to create a great resume, cover letter, and personal statement. Dr. Garcia-Stout provided the class with great tips and made the class fun and interactive with peer review sessions. I also served as a teaching assistant for this class the next semester, which made me enjoy it even more. I really liked being able to help others perfect the documents that would ultimately help them get into their dream school or career.