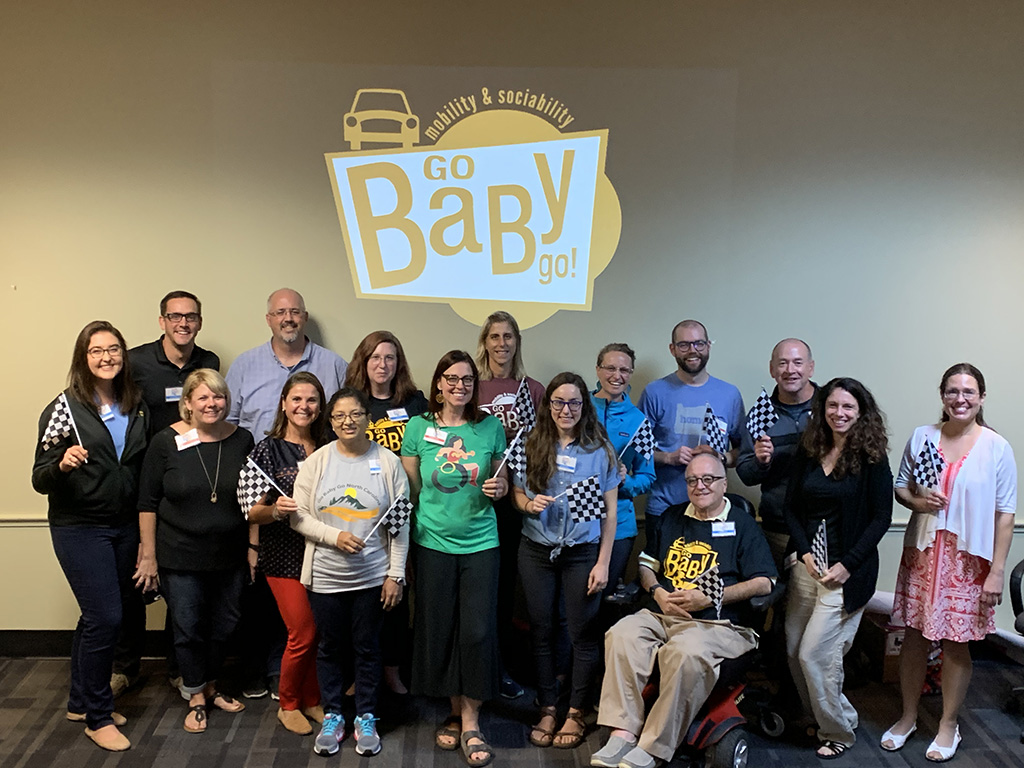 They came from across the country, but they were united in their mission to help handicapped children and adults improve their lives through better mobility.
Representatives from 13 chapters of Go Baby Go gathered at UCF last week to discuss the success of their work and to expand their goals for the future. Go Baby Go initiatives include its flagship adaptive toy cars that help children with limited mobility and the support harness system that helps adults and children stand and move.
The summit included an opening reception where chapter representatives presented a poster about what they are doing, followed by a day of training on programming, research, education, technology and service to help improve and expand their efforts.
Jennifer Tucker, a UCF Physical Therapy assistant professor, is the director of UCF Go Baby Go, one of the first chapters in the nation. UCF PT students help lead the efforts for the chapter and have involved other volunteers from UCF and the community to assist in car building activities.
"Each Go Baby Go chapter is unique, but we are all committed to providing innovative and accessible mobility technologies for individuals with mobility impairments," Tucker said. "This meeting helps each chapter learn from each other, focus and plan for the future."
Go Baby Go uses innovative, low-cost solutions to help increase mobility in both children and adults. Each chapter creates solutions that fit the needs of their local population. The common thread is the systems being used to help increase mobility – the battery-powered toy cars and the harness system.
"Mobility is a big part of the human experience," said Cole Galloway, founder of Go Baby Go and a professor at the University of Delaware.  "Everyone should have access to devices that can help increase their mobility. And the unique thing about our cars is that it drives engagement with the child's peers."
In other words, these cars not only help kids get around, but they help kids interact with their typically-developing peers and feel more like a "cool kid" rather than an outsider. That's something you don't get with a wheelchair or stroller.
Galloway has set a goal for the organization to provide 30,000 adaptive toy cars per year for children in need. He says it is an achievable goal as Go Baby Go continues to scale and increase its base of volunteers who build the cars.
To reach that goal, Galloway said continuing to partner with STEM programs at the primary school level is crucial. Students learn about engineering while having an impact on children in their community, and Go Baby Go can give more children the experience of a cool set of wheels.
During a car build, students work with a Go Baby Go representative using easy-to-understand instructions to make changes to the systems and components of a ride-on toy car to fit the needs of a specific child. Sometimes that includes changing what button makes the car go. Instead of a gas pedal, it might be the backrest, or a button on the steering wheel.
Nathaniel Measley is part of Go Baby Go's University of Delaware chapter and has seen the impact that the car-building activity has on kids.
"Teaching kids to help kids is amazing," Measley said. "It's a project they can see the impact of immediately. And that feeling fuels their desire to do more to help others."
The road ahead may be a long one, but volunteers with Go Baby Go are committed to finding innovative ways of integrating those with limited mobility into society in a non-stigmatized way.
To learn more about UCF's chapter of Go Baby Go and information on how to get involved, visit ucfgobabygo.org.