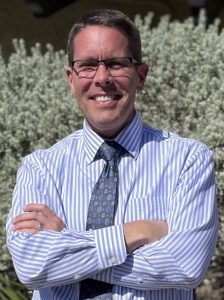 Dr. Joel Cramer is the newly hired senior associate dean for the College of Health Professions and Sciences. In this role, Cramer is responsible for the daily administration of the college in addition to supporting the success of CHPS faculty and graduate students and the excellence of CHPS' graduate programs. He will work with leaders in the college to best support faculty and enable excellence in teaching, research and service. His new position will commence on July 1.
Cramer has a long history of administrative leadership at R1 research institutions.  He most recently served as the associate dean of academic and faculty affairs in the College of Health Sciences at The University of Texas at El Paso. Prior to that, he served as a faculty member at several institutions including University of Nebraska-Lincoln, Oklahoma State University, University of Oklahoma, and University of Texas at Arlington. While in these roles, Cramer grew his research portfolio to accumulate more than $3.8 million in external funding to support his research of nutrition and exercise physiology. Furthering his commitment to the dissemination of research, Cramer currently serves as an associate editor of the Journal of Clinical Medicine, and is a senior associate editor of the Journal of Strength and Conditioning Research.
Cramer discovered midway through his career in higher education that leadership was his true passion. Drawing upon his strengths of building relationships, finding synergies, and instilling trust, Cramer gained leadership training and mentoring, and was appointed or elected to leadership roles in impactful professional organizations, such as the American College of Sports Medicine, the International Society of Sports Nutrition, and the National Strength and Conditioning Association – all of which have named him as Fellow, the highest honor given by these organizations. He has served on the board of directors and other numerous leadership positions with the NSCA and Central States ACSM where he helped with the administration and further development of these key organizations within his discipline.  All of these opportunities utilized his strengths in building successful, productive, and inspired environments where students, faculty and staff thrive.
Cramer grew up in Nebraska and attended Creighton University in Omaha where he earned a bachelor's degree in exercise science. He furthered his education at the University of Nebraska-Lincoln where he earned a master's degree in exercise physiology, and a Ph.D. in exercise physiology and nutrition.
In his spare time, Cramer enjoys being active outdoors with his family, which includes his wife, Jennifer, and their five adult children and dog, Ollie. The start of this new leadership role marks the beginning of a new chapter in his life, with all his children having graduated high school by the end of next year and off developing their own careers.
"I look forward to the challenges and fulfillment of building trust and foundational relationships to unite this young and vibrant College of Health Professions and Sciences: A college on the rise!" says Cramer.