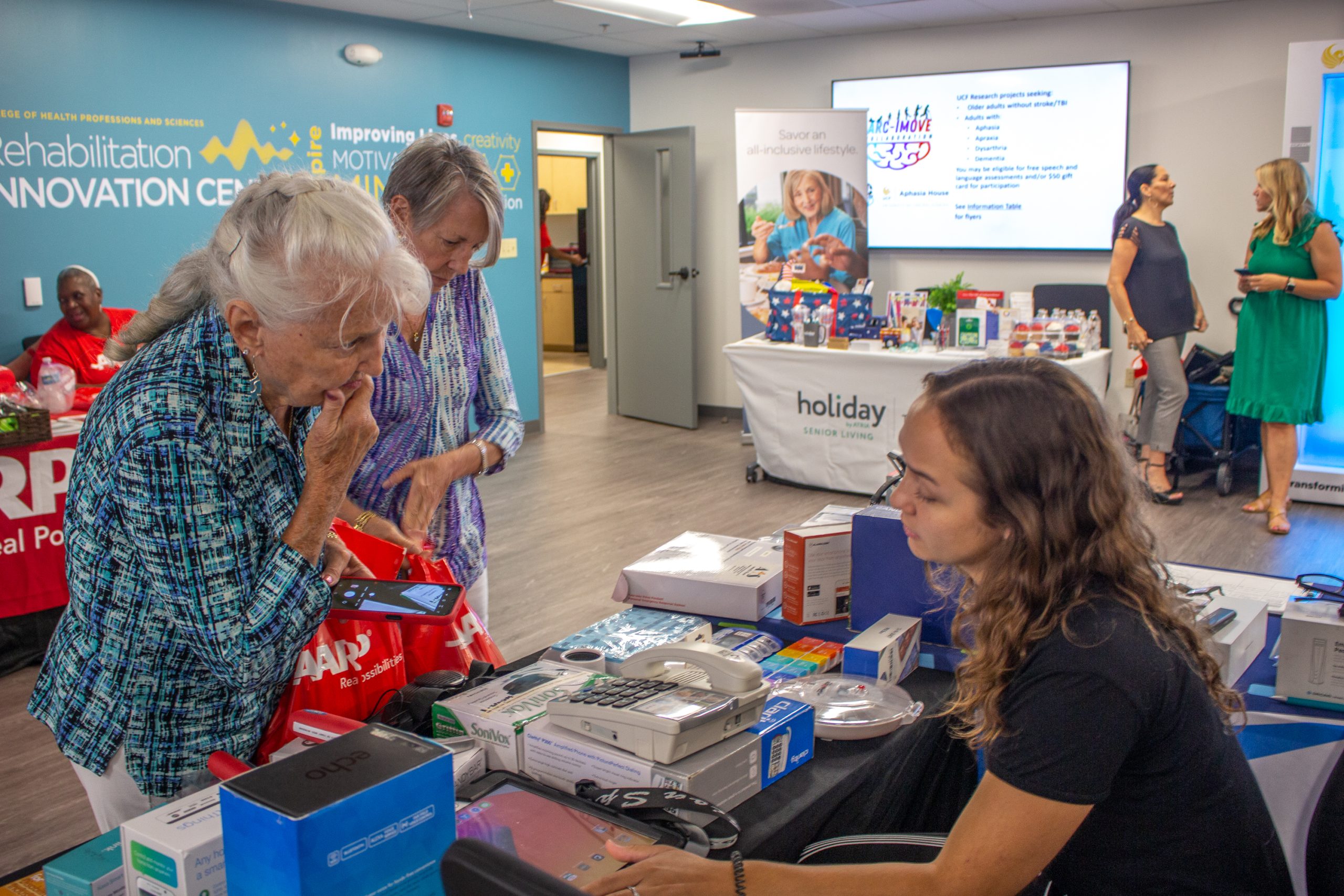 Nearly 100 community members were able to take advantage of the first-ever Healthy Aging Fair hosted by the College of Health Profession and Sciences on June 29 at the Rehabilitation Innovation Center. The event was created to connect local seniors with valuable resources to help them age in place safely and independently and provide support for individuals and families managing medical diagnoses that require additional care.
The fair was coordinated by Julie Matura and Carolyn Buchanan, instructors in the School of Communication Sciences and Disorders. "The college is home to a breadth of rehabilitative and wellness expertise, multiple clinical services, and specialized assistive technology," says Matura. "We're uniquely positioned to serve our community, and in particular, our growing senior populations."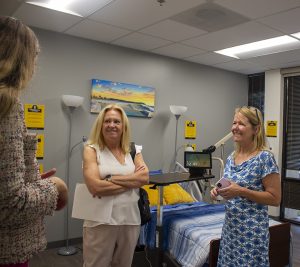 Approximately a dozen exhibitors highlighted their services and technology at the fair, including the Physical Therapy Clinic and the Communication Disorders Clinic, which conducted onsite hearing assessments. The FAAST Center showcased assistive devices and technologies aimed at enhancing various aspects of daily life. Aids such as medical alert systems, memory aids, communication aids, visual aids and screen readers, hearing aids, and amplifiers were exhibited, providing valuable insights into ways to help make life easier for attendees. Fair attendees also had the chance to tour the Smart Apartment, a specially-equipped space designed to serve as a training center for patients who have disabilities. Attendees also toured the Rehabilitation Innovation Center's Blended Learning Interactive Simulation Suite, which is used for student learning and patient care, as well as a Maker Space, which is equipped with 3-D printers and simple electric and mechanical engineering equipment and tools and used to adjust toys and household items for patients with rehabilitative needs.
Community exhibitors ranged from home healthcare providers to senior living facilities to memory care providers and included:  the Alzheimer's Association, Legacy Pointe at UCF, Brain Wellness, AARP, Senior Helpers, Holiday – The Tremont, ComForCare, the Center for Independent Living, Visiting Angels and Your Florida Haven.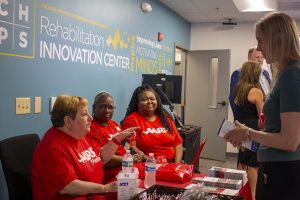 During the morning portion of the event, a private group of individuals with dementia and their caregivers toured the fair, and from 12 – 2 p.m., the fair opened its doors to the general public and was attended by rehabilitation professionals, various community-based groups and students.  Assisting at the event were graduate students from the School of Communication Sciences and Disorders, physical therapy students, and the regional program manager from the Alzheimer's Association who addressed personal challenges, provided recommendations, and made necessary referrals.
This spring, the Rehabilitation Innovation Center became a testbed for the AARP's AgeTech Collaborative, which leverages public and private partners to develop new technology solutions that empower people to choose how they live as they age.
Buchanan hopes to continue serving the community in meaningful and impactful ways. "Our intent is to continue to foster connections with new partners, share knowledge, and empower individuals to lead fulfilling lives as they age through the organization of events such as the Healthy Aging Fair," Buchanan says. "We see a tremendous potential to find new innovations in the aging space, and to both support and lead additional initiatives to help our community members