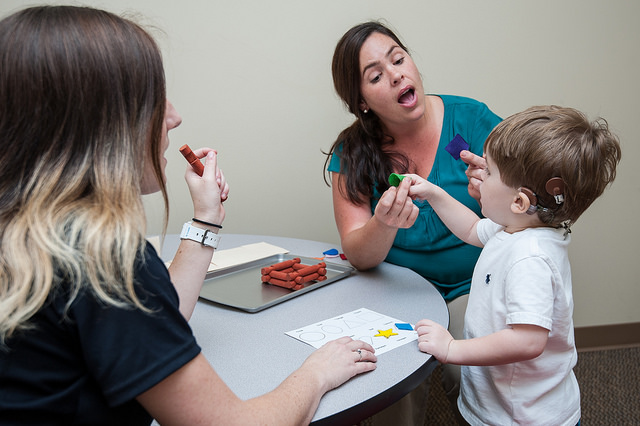 The Communication Disorders Clinic will hold an open house from 1-3 p.m. on Friday, Oct. 9 to showcase its new state-of-the-art facility in Central Florida Research Park, next to the university.
The facility houses the largest clinical education program for speech-language pathology students in the United States. That means residents in Central Florida can take advantage of a breadth of services for children and adults with speech, language and hearing issues. As part of the open house celebration, the clinic will also be offering free hearing screenings.
"One out of eight people have difficulty communicating because of speech, language or hearing impairments," said Richard Zraick, chair of the UCF Department of Communication Sciences and Disorders, which oversees the clinic. "The open house will give the public an opportunity to tour our facilities, meet our clinical educators and students, and learn more about how we can help them."
Visitors can go on a tour to visit several centers and specialty programs housed at the clinic including an expanded Aphasia House.
Aphasia House offers outpatient therapy for individuals with aphasia in a home-like setting. The disorder results from stroke or other trauma to parts of the brain that control language and speech. The striking facility is the largest of its kind in the nation and the only to offer year-round intensive, comprehensive therapy sessions in a university setting.
Visitors will also see the Florida Alliance for Assistive Services and Technology demonstration center housed at the clinic. Experts at the FAAST center demonstrate the latest assistive technology devices available for clients who use aids to supplement or replace their speech. They also evaluate client needs, provide treatment and help people acquire devices.
Guests can also visit the UCF Listening Center that also calls the clinic home. The colorful, child-friendly facility assists families with children ages 0-3 years with hearing loss. Experts there offer the latest in listening and spoken-language services, as well as connect families with a network of other services.
The new location also includes an Audiology Suite, where a licensed audiologist will offer the free hearing screenings. The clinic's audiologist evaluates and treats children and adults experiencing hearing loss, ringing in the ears and increased sensitivity to loud sounds. She also fits and dispenses hearing aids and custom ear plugs for hearing protection. Cochlear implant services will be added this fall.
No reservations are needed. The clinic is located at 3280 Progress Drive, Suites 300 and 500. Desserts and drinks will be served.