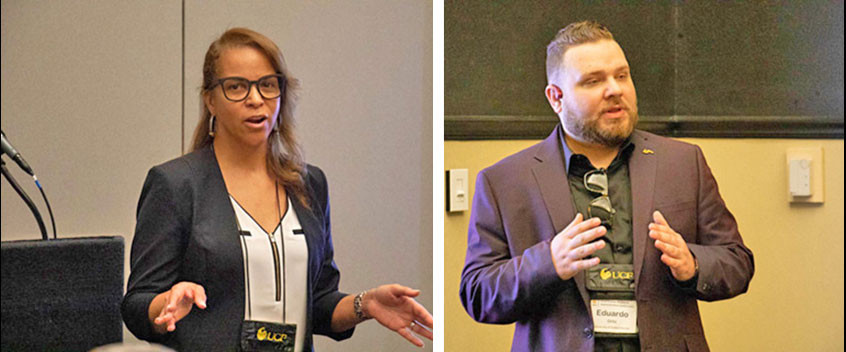 A research administrator must be passionate, curious, detail-oriented and patient, says, Eduardo Ortiz of CHPS. Ortiz, along with Monique Gregory, formerly of CHPS, now working in the research office of the College of Science, recently co-presented at the Florida Research Administration Conference at UCF.
Their presentation, "Mastering the Life-Cycle: Pre- and Post-Award Steps for Success," examined the essential elements of research administration, with a specific focus on the highly specialized skills and tools needed to manage research effectively at the unit level.  "This session was very well attended and spurred important conversation and problem-solving among attendees on strategies for smooth administration of grants and contracts," reported Jennifer Kent-Walsh, Associate Dean of Research for CHPS.
In addition to helping researchers find funding opportunities, Ortiz, Gregory and other research administrators keep track of all grants, pre- and post-award, through extensive tracking tools and procedures. "As research administrators," Gregory said, "Our goal is to streamline the process for principal investigators (PIs). We utilize a matrix to stay well-informed of roles and responsibilities and are consistent in guiding PIs and other stakeholders throughout this vast maze."  This approach helps to ensure that grant proposals are submitted in compliance with all funder requirements, and that funded grants and contracts are managed appropriately and efficiently. A good partnership is required between research administration personnel and researchers to achieve positive research outcomes.
Ortiz says the best part of his job is helping someone else's research dream come to fruition.
These partnerships are paying off in CHPS!  "For the first time since the college was formed," said Kent-Walsh, "CHPS has surpassed the $4 million mark in annual fiscal year external funding awarded." This year-to-date achievement would not have been possible without the contributions of Ortiz, Gregory, and Abigail Ruoss – another Contracts & Grants Specialist in CHPS – Kent-Walsh added.
"Let the faculty focus on the science," Ortiz said. "Let us take on as much of the administrative work as possible."