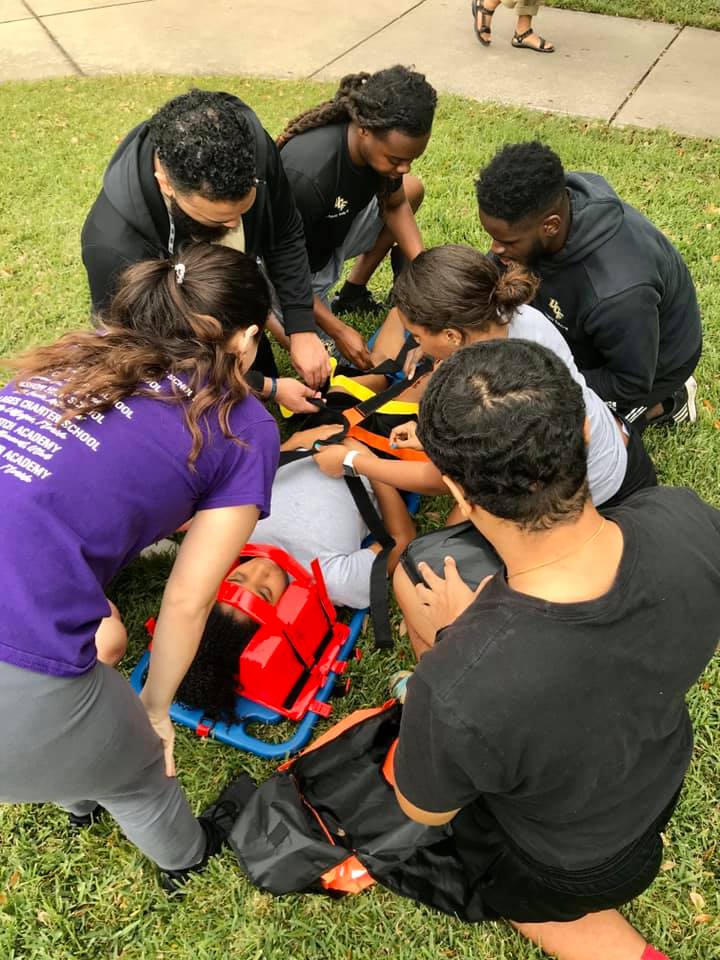 When trauma happens at athletic events, an athletic trainer is usually the first medical professional at an athlete's side. An athletic trainer's ability to think clearly and act fast can be life-determining skills. In order to best prepare athletic training students with these skills, UCF faculty integrate active learning simulations into the curriculum.
"These are skills where practice doesn't make perfect, but perfect practice makes perfect," said Carlos Gual, associate instructor in athletic training. "So we run it over and over, until students kick into auto-pilot mode."
Gual's commitment to teaching life-saving techniques extends beyond the classroom to include community-based trainings. He is among the few certified Stop the Bleed instructors in Central Florida that is helping to train community members how to stop bleeding in a severely injured person. He credits his knowledge and passion for first-responder skills to one of his mentors, Darryl Conway, who is a former head athletic trainer at UCF and now works as the senior associate athletic director and chief health and wellness officer for the University of Michigan.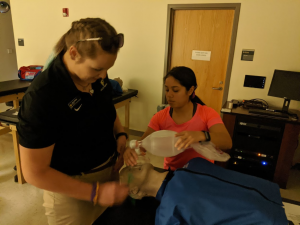 These are skills that are not only beneficial to injured athletes, but can be applied in any emergency situation; such as an active shooter event, or where many are injured— like the Boston Marathon bombing.
Athletic trainers are assessed on emergency care as part of their national certification exam— an area where UCF students consistently score high, thanks to the training they get. In addition to learning skills like how to apply a tourniquet, or how to spine board a patient, students run drills in different environments and are presented with simulations where they have to think critically and apply the skills they've learned.
"Rarely will a player fall in the perfect position to use a spine board," said Gual. "So we create complex scenarios, where students have to adapt the skills we taught them to the situation at hand."
In addition to exposing students to a variety of situations, they are challenged in different kinds of environments— like being in the dark, or in the rain, or on an ice rink. Students also learn how to assess patients and apply the codes used by EMTs, to help facilitate quick communication about the status of a patient when transferring care.
Gual says these skills are more important than just preparing students to pass their certification exam. And the students recognize the responsibility entrusted in them as athletic trainers and first responders.
"The students are learning to save a life, and that's a skill that surpasses the importance of any exam."