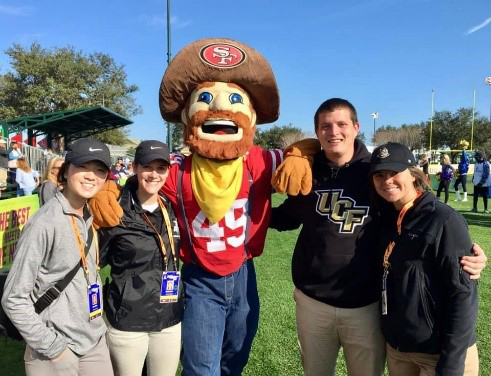 UCF athletic training students once again had an opportunity to learn from professional sports medicine staff and all-star players in town for the National Football League Pro Bowl, hosted by Orlando.
Faculty member Carlos Gual selected 10 students, a mix of juniors and seniors, based on their "why I want to participate" essay and good standing in the Athletic Training Program.
The students assisted at practice sessions at the ESPN Wide World of Sports Complex for the four days leading up to the game, as well as during the Jan. 27 game at Camping World Stadium.
Each team had a full medical staff, including athletic trainers, medical doctors, physical therapists and a nutritionist, as well as state-of-the-art medical equipment.
"The students said they felt well-received by the sports medicine staff, athletes and coaches and appreciated how willing the athletic trainers were to teach, share experiences and allow them to experience hands-on learning moments," said Kim MacLennan, academic services coordinator for athletic training.
The students learned the importance of teamwork, good coordination and critical thinking during events they could one day cover by themselves, she said. "They learned what it takes to be successful in the fast-paced world of the NFL."
Game day turned out to be cold and rainy – all day.
"One of the students [Joseph Carroll] quipped that in addition to everything else, they learned how wet and cold they could get before basically become immobile!," MacLennan said.
"But the experience was the opportunity of a lifetime and the students said they would do it all again if they could," she said.
Orlando has hosted the NFL Pro Bowl for the past three years and UCF athletic training students have participated every year.